Hamilton, Rosberg finish 1-2 in Sakhir
TEAMWORK: The Mercedes drivers were in a league of their own in Bahrain, with the Briton only just managing to best Rosberg and their nearest rival 22.9 seconds adrift
Lewis Hamilton won a thrilling Bahrain Formula One Grand Prix on Sunday after a duel with Mercedes teammate Nico Rosberg in a floodlit night race full of overtaking and wheel-to-wheel battles.
The win in Formula One's 900th Grand Prix was the Briton's second in a row, 24th of his career and also a second straight one-two for a team in a class of their own. Mercedes have now won all three races so far this year.
"Nico drove fantastically well throughout the race. It was very, very hard to keep him behind me," said Hamilton, the 2008 world champion who last enjoyed back-to-back wins four years ago with McLaren.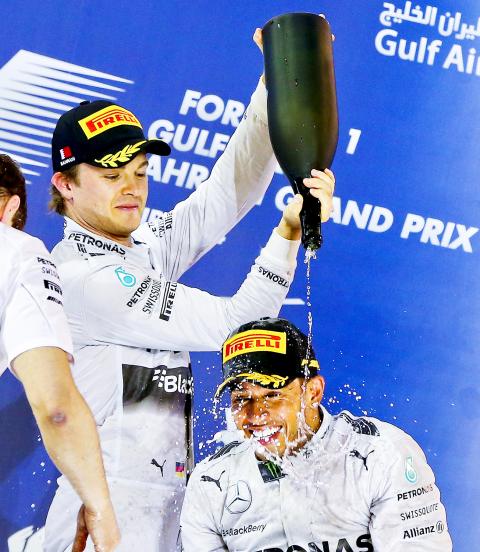 German Nico Rosberg of Mercedes pours champagne over teammate Lewis Hamilton after the team's one-two in the Bahrain Grand Prix at the Sakhir circuit near Manama on Sunday.
Photo: EPA
"I was on the knife edge the whole time and a real relief when I got across the line," said the Briton, who won by 1.085 seconds and described the race as the hardest since his 2007 debut season.
Sergio Perez took third, 22.9 seconds behind Rosberg, as Mercedes-powered Force India celebrated their second-ever podium finish.
Rosberg, winner of the season-opener in Australia, stayed top of the overall standings with 61 points to Hamilton's 50.
"I strongly dislike coming second to Lewis ... but it was definitely the most exciting race I have ever done in my entire career," said the German, who had started on pole position.
Hamilton, whose triumph put him level on wins with late Argentine great Juan Manuel Fangio, made the better start from second place on the grid and led into the first corner.
However, he was never able to shake off Rosberg, with both jostling for the lead in a race that made a mockery of suggestions the new V6 turbo-hybrid era had turned flat-out racers into fuel-saving taxi drivers.
"Warn him that [that] was not on," Rosberg shouted over the radio after one attempt to get past Hamilton forced the German to run wide.
The Briton's task was made tougher when the safety car came out 15 laps from the end, after Venezuelan Pastor Maldonado T-boned the Sauber of Mexican Esteban Gutierrez at turn one and flipped it spectacularly through the air.
Lotus' Maldonado was given a stop/go penalty and a five-place grid drop for the next race, while Gutierrez went to hospital for checks.
With Rosberg on the faster, soft tires and ready to pounce as soon as racing resumed, it looked like Hamilton was sure to be passed, but he held on to dash to the finish.
Behind them, the rest of the field was fighting similar battles, with teammates scrapping for position.
Australian Daniel Ricciardo finished fourth, despite starting 13th and behind quadruple champion teammate Sebastian Vettel, who ended up sixth after letting his young teammate through early on.
Nico Hulkenberg split the two Red Bulls in fifth and held up Ricciardo for long enough to ensure Perez's podium, with Williams teammates Felipe Massa and Valtteri Bottas seventh and eighth.
Ferrari's past champion duo, Spaniard Fernando Alonso and Finland's Kimi Raikkonen, rounded off the scoring positions in ninth and 10th on a dismal evening for the Italian team, while McLaren failed to get either of their cars to the finish.
Organizers said the race had drawn its biggest-ever crowd of 31,000 and was untroubled by anti-government rallies elsewhere that also protested F1 since it is seen as legitimizing the government.
Comments will be moderated. Keep comments relevant to the article. Remarks containing abusive and obscene language, personal attacks of any kind or promotion will be removed and the user banned. Final decision will be at the discretion of the Taipei Times.