Pure Youth rally in third quarter to outpace Tigers
A 22-8 run in the game-turning third quarter transformed an eight-point deficit at the half into a six-point advantage as Pure Youth Construction rallied to top the Dacin Tigers 81-74 in Game 5 of the semi-finals to clinch the best-of-seven series at the Sinjhuang Sports Complex in New Taipei City last night.
Tsai Wen-cheng continued his red-hot shooting for the two-time defending champs by pouring in a game-high 28 points despite being heavily guarded by the Cats to send his club into the championship finals for the third straight year.
"I just wanted to give it my best to help our team win and the shots seemed to fall for me tonight," Tsai said after the game.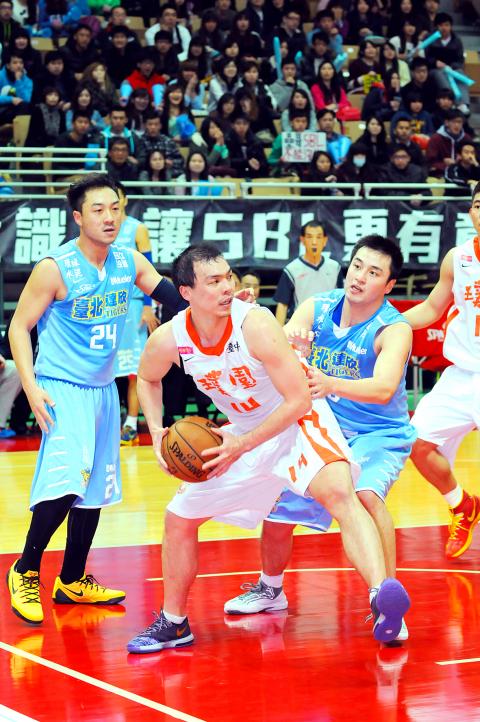 Pure Youth Construction player Tsai Wen-cheng, center, secures a rebound in their game against the Dacin Tigers at the Sinjhuang Sports Complex in New Taipei City last night.
Photo Courtesy of the SBL
He single-handedly outscored the Tigers 10-8 in the decisive third to live up to his distinction as last season's regular-season and finals MVP.
Also starring for the Builders was Chien Chia-hung, who followed a great outing in Game 4 on Thursday that earned him a starting spot last night by netting 17 with 10 rebounds in a double-double that gave the Dacin defense more than they could handle.
With their backs against the wall, the Tigers came out firing with a solid first quarter that saw Reggie Okosa and Lin Guan-luen team up for 16 to take a 20-17 lead after one quarter.
They extended their lead by five in a sound second quarter, with Okosa doing as he pleased in an eight-point outburst.
However, the Tigers' lack of bench depth due to starting guard Chang Chih-fong being out of the lineup due to injury ultimately caught up with them as they were outhustled and outsubstituted by Pure Youth in the fateful third, which put them in a hole too deep to escape from, ending their season on a down note.
TAIWAN BEER 63, LEOPARDS 83
The Taiwan Mobile Cloud Leopards easily handled Taiwan Beer in in Game 5 of their semi-final series in Sinjhuang to take a 3-2 lead in the best-of-seven affair between the two squads.
Luke Nevill was the man of the hour for the Leopards with a game-high 29 points and 11 rebounds to rally his team back from as many as 11 down in the first quarter.
The Leopards are one win shy of their first appearance in the Championship Finals ever.
Comments will be moderated. Keep comments relevant to the article. Remarks containing abusive and obscene language, personal attacks of any kind or promotion will be removed and the user banned. Final decision will be at the discretion of the Taipei Times.