Palacio hands Inter derby win with last-minute goal
A late goal from Rodrigo Palacio gave Inter a 1-0 win over city rivals AC Milan in an entertaining derby in Serie A on Sunday.
Palacio struck four minutes from time to send three-quarters of the San Siro into a frenzy.
There was an odd atmosphere at the San Siro ahead of kickoff since Milan fans were banned from bringing in their pre-match choreography and Inter supporters had removed their banners as a show of solidarity.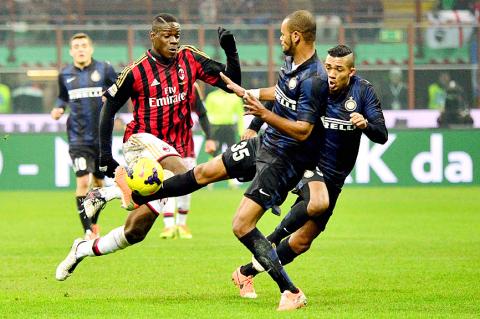 AC Milan forward Mario Balotelli, left, fights for the ball with Inter defender Rolando in their Serie A match at the San Siro on Sunday in Milan, Italy.
Photo: AFP
Andrea Poli missed an open goal for Milan, while Inter had a strong penalty claim turned down shortly before halftime after Cristian Zapata made a clumsy challenge on Palacio.
Mario Balotelli, who spent a troubled few seasons at Inter before moving to Manchester City, had a number of chances against his former club.
Milan midfielder Sulley Muntari was sent off in stoppage-time after he shoulder-barged Zdravko Kuzmanovic for wasting time.
"We were obviously tired in the last 20 minutes," Milan manager Massimiliano Allegri said. "I didn't manage to do my last substitution when I wanted to because the ball didn't go out. I don't have to reproach the lads for anything, Inter had a good game, especially defensively. I'm disappointed because it was a balanced game apart from in the last 20 minutes."
Milan slipped into the bottom half of the table, while Inter are fifth.
"A derby is a derby, but it was even more important to win after three draws and a bad defeat," Inter manager Walter Mazzarri said.
Also on Sunday, ACF Fiorentina moved to three points behind SSC Napoli after Rossi secured a late 1-0 win against US Sassuolo eight minutes from time, taking advantage as the ball bounced off a defender before he fired it into the bottom left corner.
The US-born Rossi, who plays for Italy, is the top scorer in Serie A with 14 goals, three more than Juve's Carlos Tevez.
Elsewhere in Seria A, Luca Toni scored twice as newly promoted Hellas Verona beat SS Lazio 4-1, while Torino also scored four goals as they came from behind to beat AC Chievo Verona 4-1, as UC Sampdoria held Parma to a 1-1 draw and Alessandro Diamanti's powerful strike gave Bologna a 1-0 win over Genoa.
Earlier, league leaders and two-time defending champions Juventus beat Atalanta BC 4-1 to maintain a five-point advantage over AS Roma, who eased to a 4-0 victory over bottom club Catania.
Roma moved five points ahead of Napoli, who drew at Cagliari on Saturday. Juventus are to host Roma immediately after the winter break.
On Saturday, Cagliari chairman Massimo Cellino said his players will all be allowed to leave the club because it was not fair that they had to keep playing in an unfinished stadium.
Cellino is still angry about a long-running stadium saga which led to Cagliari playing home matches on the mainland in Trieste near the border with Slovenia last year.
"Our players have played for two-and-a-half year[s] in the street and for this reason, they're all allowed to leave," he told reporters after the draw at home to Napoli.
"Whoever wants to leave I'll give a kiss goodbye, for whoever wants to stay it's their own business. I don't care, these players have done too much and for me to keep them here would be an injustice," Cellino said.
"I can't make these players play in a stadium that wouldn't even be fit for a third-division team," he added. "They've had to travel all around Italy for two years because we were not allowed a home stadium. I can't keep anyone in these conditions."
In October, Cagliari returned to the Stadio Comunale Sant'Elia, which had been the club's home since 1970 until a row with the local council saw them kicked out in April last year, after a project to redevelop the ground was approved.
However, much of the stadium is still a building site and the venue is still only fit to host 5,000 fans.
Cellino said one of the club's best players, Belgian midfielder Radja Nainggolan, would be transferred.
"Nainggolan is definitely leaving, there are six or seven teams after him. He'll be gone tomorrow [Sunday], let alone January, and I'll send him away if he doesn't want to leave," the Cagliari boss said.
"I don't know where Nainggolan is going and I don't care. He can choose his club, in any case I neither need nor care about money," Cellino added.
The in-form Sardinian side are 12th in the standings after a six-match unbeaten run and Nainggolan has been a target for several clubs, including Roma, Milan and Fiorentina.
However, the Belgian told Sky Sport Italia on Saturday that he did not want to leave the club.
"You journalists are the ones who should be talk about the transfer market, not me. I haven't received any offers and I am happy to play here at Cagliari," the Belgian said.
Comments will be moderated. Keep comments relevant to the article. Remarks containing abusive and obscene language, personal attacks of any kind or promotion will be removed and the user banned. Final decision will be at the discretion of the Taipei Times.