F1: Ferrari says Raikkonen is not an anti-Alonso choice
'HURTS A LITTLE': Alonso welcomed the Finn to the team, while his former team, Lotus, said they can take their time finding a replacement for the most desirable F1 vacancy
Ferrari say their decision to bring 2007 world champion Kimi Raikkonen back to the Formula One team next season will help and not hurt Fernando Alonso's chances.
"For anyone thinking that the choice of Kimi is somehow an anti-Alonso choice, I can put their minds at rest," team principal Stefano Domenicali told the team's Web site.
"At Ferrari, everyone knows the interests of the team come first and only then those of the individual. Fernando is a key asset for this team and he will be for a long time. I'm sure he is the first to be happy with a choice made to strengthen the group, because he is too intelligent not to realize that a stronger team can only be an advantage," the Italian added.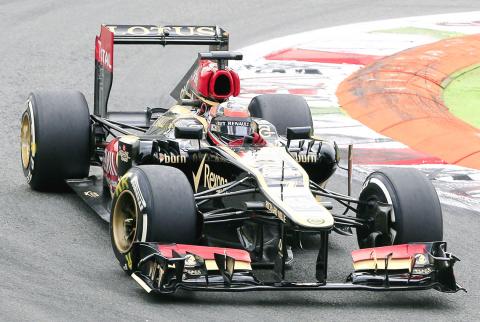 Then-Lotus F1 Team driver Kimi Raikkonen drives at the Autodromo Nazionale circuit in Monza on Sunday in the Italian Formula One Grand Prix.
Photo: AFP
Double world champion Alonso had made clear before the appointment that he would be happy to continue with under-performing Brazilian Felipe Massa as his teammate.
In comments on Wednesday, after the announcement from Maranello, the Spaniard paid tribute to the departing Massa and welcomed his new "traveling companion," without mentioning the Finn by name.
Domenicali said the driver combination of Alonso and Raikkonen was the best Ferrari could have and both would start on equal terms.
The Italian also addressed concerns about Raikkonen's ability to work as a team player, and in helping to develop and improve the car technically.
"Everyone has their own ways and you can't expect a Finn to start telling jokes in Italian or playing the clown," he said. "Honestly, I think the combination of Fernando's expressive and passionate Latin character and the cool style, to call it that, of someone like Kimi, seems to appeal to many," he said. "As for the technical side of things, not only do we know full well how much Kimi can contribute at an important time like this... but we also have first hand information from James Allison as to how much the Finn has also progressed in this area over the past two years."
Allison was with Raikkonen at Lotus, where he was technical director, before starting work with Ferrari this month.
Lotus can take time to announce a replacement for Raikkonen because they are now the Formula One team with the most sought after driver vacancy, team principal Eric Boullier said on Wednesday.
Lotus are the fourth-most competitive outfit this season.
"We are currently in discussion with a few people and will make a decision shortly," Boullier told the team's Web site. "We are in the privileged position of being the most desirable team on the grid with a seat available, so we are therefore in no rush to announce anyone without establishing what will be the best for our team and the future."
Germany's Nico Hulkenberg, the Sauber driver who had been tipped to join Ferrari when it seemed Raikkonen could be headed for Red Bull, looks an early front-runner, but Massa could be another option.
Boullier said there was no bitterness about the Finn's decision to join Ferrari, the team with which he won the 2007 championship, alongside Alonso.
"Two years ago, when we decided to sign him, quite a few people thought we were crazy," said the Frenchman of a racer who had spent 2010 and 2011 competing in the world rally championship and NASCAR. "And what happened in the end? We've been working with an amazing racer, who scored points for the team 27 times in a row, won two races, put motivation at a very high level at Enstone, and got on very well with his teammate. Now, it's time to think about the future. We remain a medium-sized team and there are some areas in which we're not in a position to fight against the other top teams just yet."
Lotus had hoped to retain Raikkonen and greeted Ferrari's announcement with a Twitter posting declaring: "So #Kimi is off to #Ferrari for 2014; it hurts a little bit..." along with a photograph of two rabbits mating.
Comments will be moderated. Keep comments relevant to the article. Remarks containing abusive and obscene language, personal attacks of any kind or promotion will be removed and the user banned. Final decision will be at the discretion of the Taipei Times.