Illegal weight threatens Oracle Team's defense
After years of preparation and countless controversies, software mogul Larry Ellison's Oracle Team USA is poised to defend the America's Cup against Emirates Team New Zealand beginning on Sept. 7.
However, first it must beat back a cheating scandal that threatens to blacken the reputation of Oracle and several of the biggest names in yacht racing, and could make it harder for the US team to hang on to the 162-year-old trophy.
An international jury of five sailing experts has been trying to determine exactly how three Oracle catamarans competing in preliminary regattas known as the America's Cup World Series came to be altered with heavier fittings, and illegal lead and resin hidden in their frames. The jury will hold a hearing tomorrow in San Francisco, and is expected to shortly thereafter rule on whether individual Oracle team members have engaged in "gross misconduct," and whether the team as a whole has brought disrepute to the event.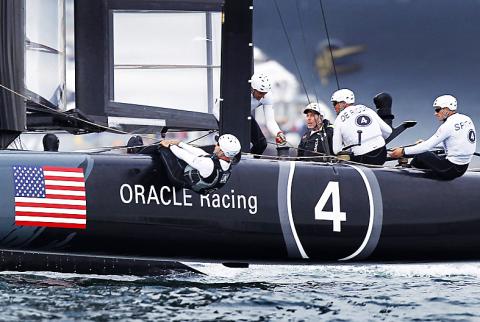 Oracle founder Larry Ellison, center, in black jacket, sails with skipper James Spithill during the America's Cup World Series semi-final in San Diego, California, on Nov. 18, 2011.
Photo: Reuters
Oracle could be docked points in the Cup regatta, which they can ill afford in the face of what looks to be a stout challenge from New Zealand, who on Sunday clinched the challenger slot by beating Italy's team in the Louis Vuitton Cup.
Individual Oracle sailors and shore crew members — though not the team itself — could be banned from the event.
"There has been cheating going on. I won't use any other word because it is obviously cheating," said Bob Fisher, 78-year-old yachtsman and author of a book on the history of the America's Cup. "It looks really bad."
The alterations came to light at the end of last month, when an America's Cup measurement committee examining an Oracle 13.7m catamaran in advance of a youth sailing regatta found that a piece of the yacht's carbon fiber structure known as a king post weighed 2.3kg more than it should have.
The US team had sailed the yacht — a smaller version of the 22m catamarans being used for the Cup itself — and two others that were also illegally modified, to win the World Series competition. In contrast to the Cup boats, which can be customized within a strict set of rules, all the so-called AC45s used in the World Series were built to the same specifications in the same New Zealand boat shop at the same time.
After a measurement committee notified Oracle about the extra weight, team chief executive Russell Coutts offered a quick mea culpa and Oracle formally forfeited its victories. Coutts, a legendary New Zealand sailor who skippered his country's boats to America's Cup victories in 1995 and 2000, said unauthorized modifications had been made to the yachts without management's knowledge.
Competitors and others in the sailing community quickly derided that explanation, saying they could not imagine skippers sailing without knowing their boats had been altered.
Still, Ben Ainslie, one of Oracle's two helmsmen, would appear to have a good alibi: He was sailing for his fourth Olympic gold medal last summer when the extra weight was added to a yacht that he later skippered in the World Series.
"Obviously someone on the team thought it was the best place to put the weight," Ainslie said. "I don't know if they even realized they were breaking the rules. It's frustrating for us, but 99.9 percent of the team have nothing to do with it."
Whoever did it was not very smooth. An Aug. 15 measurement committee report described "a discolored plastic bag secured with multiple cable ties" that was filled with lead and resin and was "so tightly wedged into the kingpost that it could not be removed intact."
Oracle insists it gained no competitive edge from the added weight. Yet some sailors wondered if other, more significant alterations could have been made removed afterward, leaving just the few telltale lead-filled bags that the measurement committee uncovered.
Ironically, Oracle last year pushed to add a rule about harming the sport's reputation. Dubbed the "the Dalton rule," some say it stemmed from the US team's effort to muzzle Grant Dalton, New Zealand's outspoken managing director, who has repeatedly criticized this year's America's Cup event.
The Dalton rule empowers the jury to punish Oracle by subtracting points before the best-of-17 races begin.
Ellison's Oracle team, as defending champions, have the right to set the rules, specify boat design and choose the venue for this year's competition.
The decision to use expensive, high-tech 22m catamarans, which can travel faster than 80kph, has been fiercely criticized for keeping many competitors away and making the races too dangerous. A British Olympian, Andrew "Bart" Simpson, was killed in a training accident in May.
Oracle referred questions to Tom Ehman of the Golden Gate Yacht Club, which is sponsoring Oracle and the America's Cup event. Ehman said he was not allowed to discuss questions pending before the international jury.
Ehman has launched accusations of his own, alleging that New Zealand and Italy's Luna Rossa had trespassed on the Oracle AC45s during a "reconnaissance mission." He lodged a formal protest last week and then withdrew it, saying he needed more time to gather evidence.
"We have multiple witnesses who said members of Team Emirates and Luna Rossa were climbing all over our AC45s to find something," he said. "Whether it's a technical trespass under California law, I don't know, but it's bad sportsmanship."
Some watching the sport say the recent events are in keeping with a history of gamesmanship in the modern America's Cup, dating to a 1983 controversy when Australia imposed a blanket of secrecy over its innovative winged keel.
Comments will be moderated. Keep comments relevant to the article. Remarks containing abusive and obscene language, personal attacks of any kind or promotion will be removed and the user banned. Final decision will be at the discretion of the Taipei Times.