Isinbayeva's tirade sparks furor
RAINBOW RANT: The pole vault gold medalist, who will serve as 'mayor' of one of the Sochi Winter Olympic villages next year, spoke in favor of her nation's anti-gay stance
The rainbow colors two Swedish athletes painted on their fingernails in support of gays and lesbians sent a clear message and brought a swift rebuke from a Russian star, perhaps even a glimpse of what is to come at the Sochi Winter Olympics next year.
Speaking at the world championships, pole vault gold medalist Yelena Isinbayeva condemned homosexuality and criticized the Swedes for their gesture critical of Russia's new anti-gay legislation.
The law, which bans gay "propaganda," has drawn sharp criticism and led some Western activists to call for a boycott of the Winter Olympics in the Russian resort.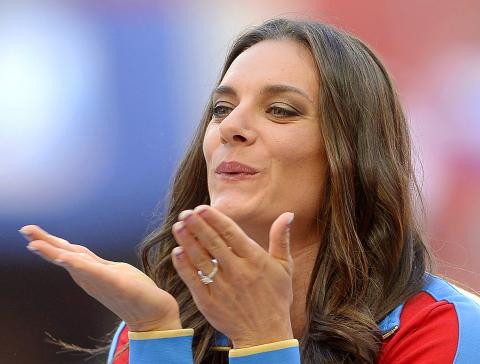 Russia's Yelena Isinbayeva blows a kiss after receiving a gold medal for winning the women's pole vault at the IAAF World Championships in Moscow on Thursday.
Photo: EPA
Isinbayeva won her third world title on Tuesday before a boisterous home crowd and drew even louder cheers on Thursday when she received her gold medal, but before accepting it, the woman who will serve as "mayor" of one of the Sochi Olympic villages spoke in favor of the anti-gay stance.
"If we allow to promote and do all this stuff on the street, we are very afraid about our nation because we consider ourselves like normal, standard people," Isinbayeva, a two-time Olympic champion, said in English. "We just live with boys with woman, woman with boys. Everything must be fine. It comes from history. We never had any problems, these problems in Russia, and we don't want to have any in the future."
Swedish high jumper Emma Green Tregaro, who won a bronze medal at the 2005 worlds, and sprinter Mao Hjelmer sported rainbow colors on their fingernails for their events at Luzhniki Stadium, which also hosted the 1980 Moscow Olympics.
"The first thing that happened when I came to Moscow and pulled my curtains aside was that I saw the rainbow, and that felt a little ironic," Green Tregaro said in a video posted on the Web site of the Swedish newspaper Expressen. "Then I had a suggestion from a friend on Instagram that maybe I could paint my nails in the colors of the rainbow and that felt like a simple, small thing that maybe could trigger some thoughts."
Isinbayeva said it was wrong for the Swedes to make such a statement while competing in Russia.
"It's unrespectful [sic] to our country. It's unrespectful to our citizens because we are Russians. Maybe we are different from European people and other people from different lands," Isinbayeva told reporters. "We have our home and everyone has to respect [it]. When we arrive to different countries, we try to follow their rules."
Russia's new law does not explicitly ban participation in gay pride parades or promotion of lesbian, gay, bisexual and transgender equality online, but anyone wearing a rainbow flag on the street or writing about gay relationships on Facebook, for instance, could be accused of propagandizing.
The International Olympic Committee (IOC) and soccer governing body FIFA have asked the Russian government for more clarification. It remains unclear if the new law will be enforced during the Sochi Olympics or the FIFA World Cup.
The International Association of Athletics Federations (IAAF), the sport's governing body, said the opinions of all athletes should be respected.
"The IAAF constitution underlines our commitment to principle of nondiscrimination in terms of religious, political or sexual orientation," IAAF spokesman Nick Davies said. "Allied to this is our belief in free expression as a basic human right, which means we must respect the opinions of both Green Tregaro and Isinbayeva."
The IOC declined to comment.
"You will understand that at this stage we cannot comment on reported opinions/comments," IOC spokeswoman Emmanuelle Moreau said.
US middle-distance runner Nick Symmonds was shocked by Isinbayeva's comments.
Symmonds won a silver medal in the 800m at about the same time that Isinbayeva won her pole vault title.
"Oh, my god. I can't believe she said that. It's bad," Symmonds said. "For Yelena to come out and say we are normal, standard Russian citizens — I'm paraphrasing here — and we don't stand for that. I want to say to Yelena: 'You understand a very large portion of your citizens here are gay and lesbian people. They are standard people, too. They were created this way. For you to tell them that they're not normal and standard, that's what we're taking an issue with.' That's why we have to continue to demonstrate and to speak out against the ignorance that she's showing."
Symmonds said he dedicated his silver medal to his gay and lesbian friends, as he said he would in a blog entry for Runner's World before the championships began.
"While I was here, I wanted to focus on athletics. I wanted to win a medal. That was my job," Symmonds said. "Now that I'm done doing that job, if there's something I can do, if this gives me a platform to voice my opinion and speak out about the atrocities that I've seen here, that's what I'd like to do."
Isinbayeva has set 28 world records and won seven major titles, including gold medals at the 2004 and 2008 Olympics, but she said this week that she plans to take a break from the sport to have a baby. She was part of the team that helped Russia win the right to host the 2018 FIFA World Cup.
Asked by Russian TV if she had any intentions of becoming a politician, Isinbayeva said: "I have blabbed so much today and, as usual, everything was turned upside down."
Fans cheered when Isinbayeva entered the stadium to receive her gold medal and roared their approval when she stood on the top step of the podium, thrusting her arms in the air and jumping with glee.
IAAF treasurer Valentin Balakhnichev of Russia put the gold medal around her neck and kissed her cheeks, and when the Russian anthem began, Isinbayeva started singing, but soon broke down, burying her face in her hands. She quickly regained her composure and kissed her medal while the anthem played on.
Before posing with silver medalist Jenn Suhr of the US and Cuban bronze medalist Yarisley Silva, Isinbayeva dried her eyes and checked her fingertips for smeared makeup. She was all smiles in the ensuing photos and then addressed the adoring crowd, speaking into a microphone as her image flashed on giant screens.
Comments will be moderated. Keep comments relevant to the article. Remarks containing abusive and obscene language, personal attacks of any kind or promotion will be removed and the user banned. Final decision will be at the discretion of the Taipei Times.