FEATURE: Argentine soccer giants River Plate open university
Deep in the depths of Buenos Aires' iconic Monumental Stadium, not far from where Mario Kempes once inspired Argentina to World Cup glory in 1978, fitness trainer Fernando Mas is planning for the future.
However, while the famous 65,000-capacity arena situated above him rocks to the sound of raucous chanting whenever home club River Plate or Argentina's national team are playing, today a hushed, scholarly silence prevails.
Mas, 29, is one of about 70 students at the recently inaugurated River Plate University, believed to be the first institution of its kind operated by a soccer club anywhere in the world.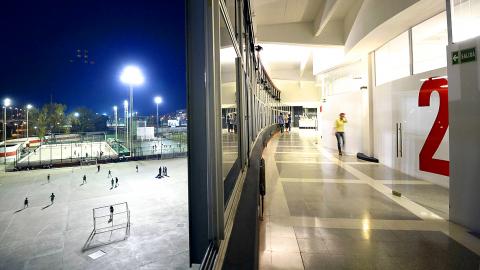 Training facilities at River Plate University in Buenos Aires, Argentina, are pictured on June 13.
Photo: AFP
The son of legendary 1960s and 1970s River forward Oscar "Pinino" Mas admits that a lifelong association with the club was responsible for guiding him toward the university.
"I've chosen it above all because it's River," Mas told reporters. "Not only am I a supporter, but I also love this club and know a lot of people here."
"The club is not satisfied with just soccer, which is at the heart of the team. This university is a testament to the club's greatness," he said.
However, while Mas' return to education may have been colored by his loyalty to the club, there are, above all, practical reasons for enrolling.
"I didn't want to be doing nothing. I wanted to start studying again and I needed a professor to pressure me and show me what to do," he laughed.
"My line of thought was to return to studying, but also I am a fitness trainer and I think that here, in a few years, like in Europe, a diploma will be required to sit on the bench," with substitutes and the technical team, he said.
The most successful club in Argentine soccer's long history, River was founded more than a century ago. An educational system was first set up under the club's auspices as far back as 1928, although it was restricted to players only.
Today, River teaches about 2,000 students from kindergarten through to university age, a one-stop shop catering to all.
It is possible to sign up a child "and for him to go through kindergarten, primary school, secondary school and then higher education or university," said Marcela Stronatti, head of River's primary school. "It's an important academic offer and a very prestigious one in our country."
River Plate University chancellor Juan Carlos Pugliese said the club is a "social institution."
"We're more than 100 years old and we have developed an education system. Today we've realized that the club had to go up one level and create a university," he said.
"There are a lot of universities that have a football team, but we are the only team with a university and really, a comprehensive educational system," he added.
The university offers four areas of study: sports marketing, sports administration, business administration and physical education.
"We want to shape professionals who correspond to different facets of the sporting world," Pugliese said.
A Mexican and Colombian are the first foreign students to enroll in the private institution, where classes cost 1,200 pesos per month (US$220), with a discount for team members. Those behind the university hope that more foreigners will enroll.
Teachers and administrators point to several soccer players, both active and retired, who passed through River's school, including former Argentina international Hernan Crespo and the current darling of the national side Gonzalo Higuain, who has just moved to SSC Napoli from Real Madrid.
Agustina, a young mother of two girls, an eight-month-old and three-year-old, enrolled her children in River Plate's nursery and kindergarten, and expects her children to spend the entirety of their education at the school.
"The school is good and it's difficult to get a spot. I'm for River, and the girls as well — but my husband roots for Independiente," she said. "There's a prejudice that you have be from River to come here. The school is excellent, and that's why we chose it, whether you are a member of the club or not."
Comments will be moderated. Keep comments relevant to the article. Remarks containing abusive and obscene language, personal attacks of any kind or promotion will be removed and the user banned. Final decision will be at the discretion of the Taipei Times.