MLB: Stars, new signings gather as season gets under way
SHOWTIME: A flurry of changes and new signings that has fanned hopes from Toronto to Texas is to be put to the test from Sunday, when the MLB season begins
The stars are gathering in Los Angeles and Canada's club could be poised for a return to past glory in the Major League Baseball (MLB) season that gets underway on Sunday.
A lively trade and free-agent market has fanned hopes from Toronto to major league outposts in Kansas City and Seattle, and on to the City of Angels, where the LA Dodgers have more than doubled their payroll.
A corresponding feeling of dread descended on fans of the New York Yankees, who suddenly stopped spending and were hit by anxieties over age and injury, and in Miami, where the Marlins dumped salaries after a poor debut season in their new ballpark.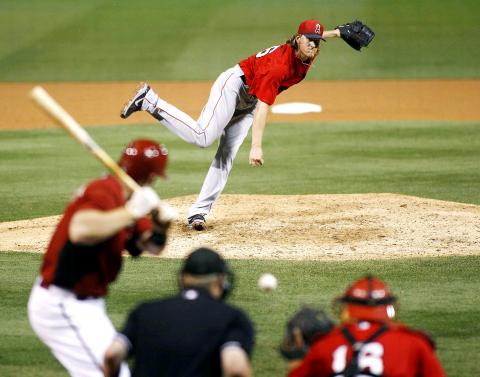 Los Angeles Angels starting pitcher Jered Weaver delivers a pitch against the Arizona Diamondbacks in the fifth inning of their MLB Cactus League spring training game in Scottsdale, Arizona, on Tuesday.
Photo: Reuters
Another ominous Florida cloud threatened MLB, which was investigating reports linking some prominent players, including Alex Rodriguez and Ryan Braun, to an anti-aging clinic that allegedly supplied prohibited drugs.
With all that brewing, the San Francisco Giants focused on keeping their championship crew together, trusting that their pitching staff led by Matt Cain would give them a chance at a third World Series in four years.
The Texas Rangers and Houston Astros launch the season and a new Lone Star State divisional rivalry on Sunday when they meet as American League West foes.
Houston shifted from the National League, balancing the majors with 15 teams in each league and setting up a steady diet of interleague play throughout the season.
Texas have juggled a lineup that took them into the 2010 and 2011 World Series, with slugger Josh Hamilton, clubhouse leader Michael Young and power-hitting catcher Mike Napoli now gone.
Hamilton signed a five-year contract with the Los Angeles Angels worth US$125 million, joining a cast that includes three-time National League MVP Albert Pujols and reiging American League Rookie of the Year Mike Trout.
The Dodgers have spent big to battle the Giants for NL West supremacy, and the Angels for their home city's affection and cable TV ratings.
Dodgers owners, including ex-Lakers great Magic Johnson, who triggered the "Showtime" style of five NBA title teams, put a new TV deal worth at least US$7 billion over 25 years to work.
After a trade with the Boston Red Sox late last season brought in Adrian Gonzalez, Carl Crawford and Josh Beckett for US$250 million in contracts, the Dodgers added free-agent pitcher Zack Greinke in the off-season for US$147 million.
The Dodgers have more than doubled the estimated US$95 million payroll they began with last season, and this year will be surpassing the Yankees' record mark of US$210 million.
The Yankees, who during the bombastic reign of late owner George Steinbrenner spent whatever it took to try and satisfy a "World Series or bust" mentality, have grown budget-conscious under the regime of his sons, Hal and Hank.
Unlike the National Football League, the National Basketball Association and the National Hockey League, baseball does not employ a salary cap to hold down costs, instead using a luxury tax to punish owners that exceed the payroll limit.
Hit with a US$19.3 million penalty this offseason as the only team taxed, and with stiffer penalties kicking in next season, the Yankees were striving to stay under the US$189 million threshold for next year, rather than shopping for big bats.
They let home-run hitters Nick Swisher, Raul Ibanez and catcher Russell Martin leave via free agency. Spring injuries to Mark Teixeira and Curtis Granderson added to mounting concerns about aging stars Alex Rodriguez, out at least until mid-season, and Derek Jeter, coming back from a broken ankle.
While getting older may be a curse for the Yankees, it could turn the Washington Nationals into champions.
The NL East-winning Nationals, who won an MLB-best 98 games last season, caused a stir when they shut down young pitching ace Stephen Strasburg (15-6) in early September over worries about overtaxing his arm.
Strasburg was missed in the playoffs as Washington lost to the St Louis Cardinals, but his restrictions have been removed and Washington could be primed to bring the first World Series crown to the US capital in 89 years.
Atlanta, perennial NL East contenders, added the Upton brothers, Justin and B.J., over the offseason to add punch to their attack.
Toronto restructured their roster, livening up the offense with shortstop Jose Reyes, and the rotation with Josh Johnson and Mark Buehrle as part of a blockbuster trade with Miami.
A deal with the Mets brought them Cy Young knuckleballer R.A. Dickey in their bid to supplant the Yanks in the AL East and recapture the glory of their 1992-1993 World Series triumphs.
In the AL Central, the Royals added pitching to their emerging offense by dealing prospect Wil Myers to Tampa Bay for starters James Shields and Wade Davis, though reigning AL champions Detroit still look to be the class of the division.
The Cincinnati Reds, who won 97 games last year, remain a solid favorite in the NL Central with the consistent St Louis Cardinals always a threat.
The AL West, which includes the pitching-rich, division-winning Oakland As, Rangers and Angels, could grow even more competitive, with Seattle beefing up on offense after adding Kendrys Morales and Mike Morse.
Comments will be moderated. Keep comments relevant to the article. Remarks containing abusive and obscene language, personal attacks of any kind or promotion will be removed and the user banned. Final decision will be at the discretion of the Taipei Times.