Crosby nets to extend Penguins' win streak
Sidney Crosby scored the game's only goal late in the second period as the Pittsburgh Penguins extended their winning streak to 13 with a 1-0 victory over the Montreal Canadiens on Tuesday night.
Pittsburgh goaltender Marc-Andre Fleury stopped all 22 shots he faced, but did not play in the third period following a collision in front of the Penguins' net. Tomas Vokoun filled in and made 15 saves to give Pittsburgh just the fourth combined shutout in franchise history.
Fleury appeared woozy after getting slammed into by teammate Tyler Kennedy and Montreal's Brian Gionta late in the second period. He laid on the ice for a moment to collect himself, but did not come out of the dressing room for the third.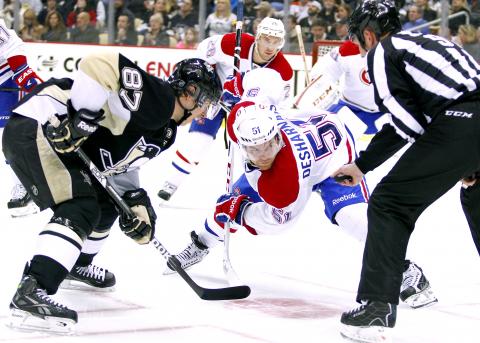 Sidney Crosby of the Pittsburgh Penguins, left, and David Desharnais of the Montreal Canadiens take a face-off in their game at the Consol Energy Center in Pittsburgh, Pennsylvania, on Tuesday.
Photo: AFP
Carey Price made 24 saves for the Canadiens, but could not stop Montreal from losing consecutive games for the first time this season.
Crosby finally broke through in a tight game with 6 minutes, 41 seconds remaining in the second period, taking a long lead pass from Chris Kunitz, then sending a wrist-shot from the right circle over Price's right shoulder for his 15th goal of the season.
RANGERS 5, FLYERS 2
In Philadelphia, Rick Nash scored twice, while Derek Stepan had a goal and three assists as New York extended their dominance of Philadelphia.
Brad Richards and Chris Kreider also scored for New York, who have won 11 of the past 12 meetings with Philadelphia.
Rangers coach John Tortorella became the 30th coach in NHL history to reach 400 wins, as his team maintained their hold on the eighth and final playoff spot in the Eastern Conference.
Wayne Simmonds and Jakub Voracek scored for Philadelphia.
CANUCKS 1, BLUE JACKETS 0, SO
In Vancouver, Cory Schneider stopped 17 shots and Maxim Lapierre scored the only goal in a shootout, as Vancouver won their fifth straight by defeating Columbus.
Schneider only saw two shots in the first period, but stopped 15 in the final 45 minutes for his seventh career shutout and his third this season.
He stopped all three Columbus attempts in the shootout.
The Canucks moved past Minnesota into third place in the Western Conference, regaining the Northwest Division lead.
Sergei Bobrovsky made 34 saves for Columbus, who lost their second in a row, but are still on a 7-1-3 run.
BLACKHAWKS 2, FLAMES 0
In Chicago, Ray Emery made 16 saves for his first shutout in more than three years, while defensemen Nick Leddy and Brent Seabrook scored as Chicago snapped a two-game losing streak.
Emery improved to 12-0 in recording his 12th career shutout and his first since Feb. 1, 2010, when he blanked the Flames while with Philadelphia.
Emery was tested several times, but the Blackhawks outshot the Flames 35-16 in sending them to their 10th straight road loss (0-9-1).
MAPLE LEAFS 3, PANTHERS 2
In Toronto, Joffrey Lupul scored twice in the third period and Ben Scrivens made 40 saves in Toronto's victory over Florida.
Lupul scored on a power play 22 seconds into the third to put Toronto ahead 2-1. Florida tied it 23 seconds later when Shawn Matthias banked in the puck off Leafs defenseman Mike Kostka, and Lupul brought the Air Canada Center crowd to their feet again at 3:12 with his second of the game.
Lupul has six goals in four games since returning from a broken forearm.
Scrivens preserved the one-goal lead with a glove save off Tyson Strachan with 7:15 left.
Dion Phaneuf also scored for Toronto, while Tomas Fleischmann scored the other for Florida.
ISLANDERS 3, CAPITALS 2
In Washington, John Tavares broke a tie with 5:18 left to help New York beat Washington.
Matt Moulson forced a turnover by Washington defenseman Mike Green next to the Capitals' net and fed Tavares in the right circle for his 20th goal of the season.
Michael Grabner and Josh Bailey also scored for the Islanders. Mike Ribeiro and John Carlson scored for Washington.
New York's Evgeni Nabokov made 20 saves. Braden Holtby stopped 28 shots for Washington.
In other games, it was:
‧ Jets 4, Hurricanes 1
‧ Oilers 3, Blues 0
‧ Lightning 2, Sabres 1
Comments will be moderated. Keep comments relevant to the article. Remarks containing abusive and obscene language, personal attacks of any kind or promotion will be removed and the user banned. Final decision will be at the discretion of the Taipei Times.