FIFA left red-faced after chaotic draw
ANOTHER FIFA FIASCO: At the draw for next year's Confederations Cup, Uruguay and Tahiti were initially placed in the same position, causing embarrassment for officials
Hosts Brazil will face Japan in the opening match of next year's Confederations Cup in Brasilia on June 15 although FIFA were left red-faced following a chaotic draw on Saturday.
The draw should have been simple as hosts Brazil and world champions Spain were automatically placed at the head of the two Groups, A and B, with the six other contestants placed in the remaining slots.
The only proviso was that Italy be kept apart from Spain, to separate the two European countries, and Uruguay kept apart from Brazil, to separate the two South American ones.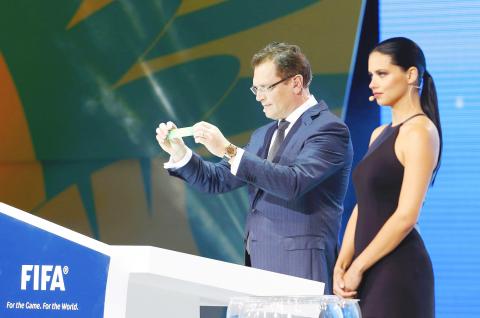 FIFA secretary general Jerome Valcke, left, holds up the name Japan next to Brazilian model Adriana Lima during the official draw for next year's FIFA Confederations Cup in Sao Paulo, Brazil, on Saturday.
Photo: Reuters
Italy were to be in Group A with Brazil, while Uruguay were going to be placed in Group B with Spain.
However, when Uruguay's name was drawn, Alex Atala, Brazil's top chef who was helping FIFA general secretary Jerome Valcke make the draw, put his hand in the Group A bowl and drew out position A3.
Valcke placed Uruguay in B3, but Tahiti were later paired in the same position.
"That doesn't go at all, Tahiti must be in B3," Valcke said when he realized the mistake.
Tahiti were then placed in position B3 and Uruguay moved to place B2, meaning they would face Spain in their opening match.
"It was a bit of a chaotic draw, sorry for that," Valcke told a packed auditorium, which included Brazilian President Dilma Rousseff and FIFA president Sepp Blatter.
"It's sad these things happen in life, this is my first time," he said afterwards.
The completed draw placed Brazil, who have won the last two tournaments, with Japan, CONCACAF champions Mexico and Italy, runners-up to Spain in this year's European Championship.
Spain, the world and European champions, will open their campaign against South American champions Uruguay in Recife, Brazil, on June 16. Oceania champions Tahiti and the African champions, who will be decided on Feb. 10, complete the quartet.
The final takes place in Rio de Janeiro on June 30.
Belo Horizonte, Brasilia, Fortaleza, Recife, Rio de Janeiro and Salvador will host matches in the eight-team tournament, which is seen as a major organizational test ahead of the 2014 World Cup.
Stadiums in Fortaleza and Belo Horizonte are scheduled to be ready this month, while the other four are expected to be ready in March.
The six stadiums together cost US$2 billion, making it the most expensive Confederations Cup since the tournament took its current shape in 1997.
Brazil won the right to host the World Cup in 2007, but delayed a whole year before deciding which 12 cities would be chosen to hold matches.
Most of the stadiums are on schedule although many are also over budget and the government's own Court of Audits says at least four of the 12 will be white elephants after the tournament.
A more worrying issue is transport infrastructure. Brazil's airports are old and rundown and few cities have adequate public transport networks.
Authorities promised to modernize airports and build new bus and metro lines, but so far little work has been done.
The Confederations Cup competition has already captured the public's imagination, with FIFA reporting 132,000 tickets sold before Saturday's draw.
Comments will be moderated. Keep comments relevant to the article. Remarks containing abusive and obscene language, personal attacks of any kind or promotion will be removed and the user banned. Final decision will be at the discretion of the Taipei Times.