NLCS: Vogelsong strikes out nine as Giants force Game 7
Ryan Vogelsong struck out a career-best nine batters in another strong post-season performance as the San Francisco Giants forced a decisive Game 7 in the National League Championship Series with a 6-1 victory over the St Louis Cardinals on Sunday.
Marco Scutaro hit a two-run double and Buster Posey drove in his first run of the series with a ground-out in the first inning as San Francisco struck early to support Vogelsong.
San Francisco's Matt Cain and St Louis' Kyle Lohse were set to pitch yesterday in a rematch of Game 3, won by the Cardinals. There was a forecast of rain in the Bay Area during the day.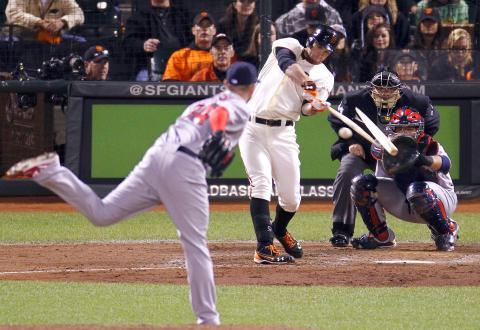 Brandon Belt of the San Francisco Giants, second left, hits a broken bat single against St Louis Cardinals relief pitcher Marc Rzepczynski, left, in the eighth inning of Game 6 of their National League Championship Series in San Francisco on Sunday.
Photo: Reuters
"This place is going to be loud, I can tell you that," Vogelsong said.
The wild-card Cardinals sure seem to like the all-or-nothing route this month, while San Francisco thrive playing from behind.
Five games with their year on the line, five wins for these gutsy Giants this post-season, it comes down to one game for the past two World Series champions to get back, with the Detroit Tigers waiting.
Pitching to chants of "Vogey, Vogey" from the sellout crowd of 43,070 at AT&T Park, the right-hander did not allow a hit until Daniel Descalso's broken-bat single to center with two outs in the fifth inning. Vogelsong struck out the side in the first and had already fanned five through two innings.
Scutaro had no chance for a collision with Matt Holliday this time. In their first game back at AT&T Park since Holliday took out the second baseman with a hard slide in Game 2, Holliday was scratched about an hour before first pitch because of tightness in his lower back, with Allen Craig replaced him in left-field.
It hardly mattered the way Vogelsong pitched.
The Cardinals managed their only run on Craig's two-out single in the sixth. St Louis had gone 15 innings without scoring after left-hander Barry Zito won 5-0 on Friday in Game 5.
"I just tried to do really the same thing he did, come out and set the tone early for us," Vogelsong said.
Vogelsong had his second stellar seven-inning outing against the Cardinals in a week, allowing four hits and one run in seven innings. He walked one in a 102-pitch performance and lowered his post-season ERA — all this year — to 1.42.
"I just believe that it's my time," Vogelsong said.
After taking a 3-1 lead back home at Busch Stadium, Mike Matheny's Cardinals would have to find some offense in a hurry if they want to get back to the World Series.
The Cards might just prefer close calls — just like last year.
They won the National League's second wild card on the second-to-last day of the regular season, then won at Atlanta to reach the Division Series. The Cardinals rallied from a 6-0 deficit with a four-run ninth inning to stun the Washington Nationals 9-7 in Game 5 of that series.
The Giants got to St Louis ace Chris Carpenter again. The Cards most successful post-season pitcher with 10 victories looked out of sync for the second straight start — and he left with a nearly identical line as in his 7-1 Game 2 loss on Monday last week, down to the hits, earned runs, unearned runs and innings.
Carpenter was done in by one big inning this time, too. He allowed six hits and five runs, two earned, in four innings.
Vogelsong reached on shortstop Pete Kozma's fielding error in the second, scoring Brandon Belt after he led off the inning with a triple. Scutaro came up two batters later and doubled home two more runs.
The 10 unearned runs allowed by the Cardinals are the most in an NLCS, according to STATS, LLC — topping the nine given up by the Braves in 2001 and the Dodgers in 1985.
San Francisco never faced an elimination game in 2010 on the way to winning the World Series, but they had to go the distance in each of their first two post-season series this year.
They became the first team in major league history to come back from a 2-0 deficit to win a best-of-five series by winning three straight on the road as they did at Cincinnati.
Comments will be moderated. Keep comments relevant to the article. Remarks containing abusive and obscene language, personal attacks of any kind or promotion will be removed and the user banned. Final decision will be at the discretion of the Taipei Times.