Tigers advance after mauling Oakland
PITCHERS OF THE PLAYOFFS: Prior to Verlander, the last Detroit pitcher to record a shutout in the playoffs was Joe Coleman, who did so in 1972 against the Athletics
Justin Verlander posted his first career playoff shutout as the Detroit Tigers advanced to the second round of the Major League Baseball playoffs with a 6-0 win over the Oakland Athletics on Thursday.
Reigning American League Cy Young winner Verlander struck out 11 batters, and scattered four hits and walked one for Detroit, who will appear in their franchise's sixth AL Championship Series and the third in the last seven years.
"We had our backs against the wall all year and now we are playing our best baseball when it matters," Verlander said.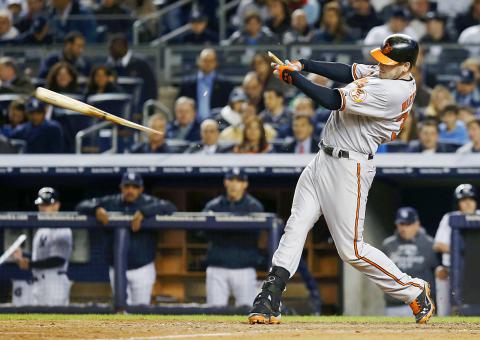 The Baltimore Orioles' Matt Wieters hits a broken bat single against the New York Yankees in their MLB playoff game in New York on Thursday.
Photo: Reuters
In the other AL playoff game Thursday, J.J. Hardy's RBI double in the 13th inning kept the Orioles' season alive as Baltimore took a 2-1 victory over the New York Yankees in Game 4 of their best-of-five series.
Joe Coleman was the last Detroit pitcher to record a shutout in the playoffs. He did it in game three of the 1972 ALCS against the Athletics.
The 29-year-old Verlander came into this post-season with 3-3 mark and a 5.57 ERA over eight starts, but won both of his starts in this series.
"Once he gets on his game it is like a locomotive going at top speed," A's manager Bob Melvin said. "He was on his game tonight."
The ace pitcher surrendered just one run over 16 innings and finished with a total of 22 strikeouts for the Tigers, who won the series 3-2.
Including the playoffs, he has won his last six starts and has posted a superb 0.64 ERA during the span.
A's pitcher Jarrod Parker gave up four runs on seven hits and a walk in 6-1/3 innings in the loss.
Orioles pitcher Pedro Strop was credited with the win. He allowed one hit and struck out two over two innings of scoreless relief at Yankee Stadium.
"All game I had been telling myself not to do too much, but that wasn't working," Hardy said. "So I told myself during that [13th inning] bat to do a little more. Fortunately I got one I could elevate. It was intense. We understood every play matters and our bullpen did a great job tonight."
The series is now tied at 2-2 with the decisive Game 5 set for yesterday night.
Nate McLouth hit a home run in the victory, while Jim Johnson pitched a perfect 13th inning to post his second save of the series.
Yankees pitcher David Phelps surrendered the deciding run and was given the loss.
Robinson Cano knocked in the lone run for New York, who hit zero-for-nine with runners in scoring position and left 10 men on base.
It was the second extra inning game between the two teams in as many days.
On Wednesday, Yankees Raul Ibanez tied the game with a solo homer in the ninth and three innings later, he blasted another home run into the second deck in right field to give New York a thrilling 3-2 win.
The teams now head to a deciding game after splitting the first two games in Baltimore.
Comments will be moderated. Keep comments relevant to the article. Remarks containing abusive and obscene language, personal attacks of any kind or promotion will be removed and the user banned. Final decision will be at the discretion of the Taipei Times.