McCarthy steers Athletics past the Baltimore Orioles
AMERICAN LEAGUE
In Baltimore, Maryland, Brandon McCarthy pitched seven strong innings for his first win this season, leading Oakland past Baltimore 5-2.
McCarthy (1-3) has received very little run support this season, but had more to work with this time thanks chiefly to Eric Sogard's two-run homer in a three-run second inning.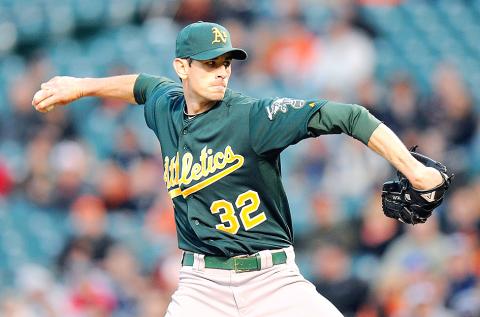 Brandon McCarthy of the Oakland Athletics pitches against the Baltimore Orioles at Oriole Park in Camden Yards in Baltimore, Maryland, on Friday.
PHOTO: AFP
Jake Arrieta (1-2) allowed four runs in 5-2/3 for Baltimore, which had a four-game winning streak snapped.
RAYS 8, RANGERS 4
In Arlington, Texas, Tampa Bay's Evan Longoria homered and drove in four runs to power the Rays past the Texas Rangers and to their sixth straight victory.
Longoria hit a three-run homer in the first inning and added an RBI single in the fourth for the Rays, who had a season-high 16 hits.
Tampa Bay ace James Shields (4-0) became the first starter in the American League to win four games this season. Shields struck out eight and allowed four runs in six innings.
Rangers starter Matt Harrison (3-1) gave up a career-worst 14 hits in five innings.
YANKEES 7, TIGERS 6
In New York, Derek Jeter scored on a passed ball in the ninth inning, giving New York a tight victory over Detroit, which suffered their fifth straight loss.
Jeter drew a one-out walk from Brayan Villarreal (0-1) and advanced to third on a wild pitch. Villarreal's 2-0 pitch to the next batter glanced off the catcher's glove and Jeter barely beat the toss back to Villarreal at home plate.
Mariano Rivera (1-1), the fourth Yankees reliever, worked a perfect ninth for the win. The bullpen pitched 3-2/3 scoreless innings.
The Tigers were without Delmon Young, who was arrested in the early hours of Friday for a fight at the team hotel during which he allegedly yelled anti-Semitic epithets.
MARINERS 9, BLUE JAYS 5, 10 INNS
In Toronto, Michael Saunders hit two home runs, including a Grand Slam in the 10th inning as Seattle rallied to beat Toronto and extend their winning streak to four games.
Saunders started a two-run rally in the ninth with a homer, then hit the winning long shot off Luis Perez (2-1) in the 10th.
Mariners reliever Charlie Furbush (2-1) got two outs for the win.
The Blue Jays were undone by three errors as their losing streak reached four games.
RED SOX 10, WHITE SOX 3
In Chicago, Darnell McDonald hit a tiebreaking three-run double and homered to help Boston rally past Chicago and notch a fifth straight win.
The White Sox led 3-2 after five innings, but the Red Sox responded with a five-run sixth inning, highlighted by McDonald's bases-clearing double.
Boston starter Daniel Bard (2-2) threw seven strong innings for the win.
Chicago starter John Danks (2-3) allowed seven runs in 5-2/3 innings.
In other AL play, it was:
‧ Indians 3, Angels 2
‧ Royals 7, Twins 6
NATIONAL LEAGUE
AP, LOS ANGELES
Los Angeles pitcher Clayton Kershaw won his 10th straight decision as the Dodgers beat the Washington Nationals 3-2 on Friday in a clash of the early pacesetters in the National League.
Kershaw (2-0) allowed three hits over eight innings, with six strikeouts and only one walk. He became the first Dodgers pitcher to win 10 consecutive decisions since Ramon Martinez across the 1995 and 1996 seasons.
Kershaw also joined Ed Roebuck and Orel Hershiser as the only Dodgers to win 12 decisions in a row at home since the franchise moved from Brooklyn to Los Angeles in 1958. Kershaw's home streak has spanned 16 starts, with a 1.22 ERA.
Andre Ethier hit a two-run homer for the Dodgers, while Kenley Jansen pitched a hitless ninth for his first save of the season.
Washington starter Ross Detwiler (2-1) allowed three runs over six innings.
BRAVES 6, PIRATES 1
In Atlanta, Georgia, Tommy Hanson (3-2) allowed one run in six innings to steer Atlanta past Pittsburgh. Dan Uggla and Chipper Jones came through in a four-run seventh.
A.J. Burnett (1-1) went six innings for the Pirates, pitching well but not enough to prevent his eighth loss in nine career decisions at Turner Field.
CARDINALS 13, BREWERS 1
In St Louis, Missouri, the hosts scored eight runs in the third inning to set up a rout of Milwaukee. Matt Holliday had three hits for the Cardinals, who set season highs for an inning and a game.
St Louis starting pitcher Jake Westbrook (3-1) gave up one run over seven innings. He has allowed two earned runs or less in all four of his starts this season.
The Cardinals sent 12 batters to the plate in the third to prematurely end the night for Brewers starter Yovani Gallardo (1-2), who gave up eight earned runs in two-plus innings. He lost for the ninth time in 10 regular-season starts against St. Louis.
ROCKIES 18, METS 9
In Denver, Colorado, Carlos Gonzalez was at the center of an 11-run fifth inning, hitting a homer and a single to drive in five of his six RBIs, as Colorado punished New York.
Ramon Hernandez hit his sixth career Grand Slam — and first for the Rockies this season — as Colorado set a season high for runs.
In other NL play, it was:
‧ Diamondbacks 5, Marlins 0
‧ Astros 6, Reds 4
‧ Padres 5, Giants 3
‧ Cubs 5, Phillies 1
Comments will be moderated. Keep comments relevant to the article. Remarks containing abusive and obscene language, personal attacks of any kind or promotion will be removed and the user banned. Final decision will be at the discretion of the Taipei Times.