NBA: Heat beat Mavs in NBA season opener
SWEET REVENGE: In a rematch of last year's Finals, and just after Dallas raised their championship banner, LeBron James and Dwyane Wade led Miami to victory
The Miami Heat gained a little revenge for their loss in last year's NBA Finals, by spoiling the Dallas Mavericks' championship celebration with a resounding 105-94 victory on Sunday's opening day of the season.
LeBron James was on fire as Miami ran away with the game, taking a 97-65 lead after three quarters, before allowing Dallas, who never led, to make the score respectable in the fourth.
The game was part of Christmas opening day to the delayed and reduced 66-game regular season, after the five-month lockout during the dispute between players and owners over a new collective contract.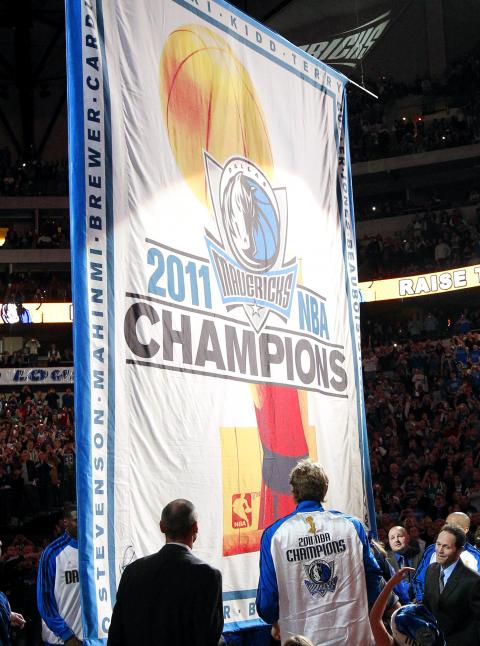 Dallas Mavericks head coach Rick Carlisle, left, and forward Dirk Nowitzki look at the championship banner from the 2010-2011 season as it is raised before their NBA game against the Miami Heat in Dallas, Texas, on Sunday.
Photo: Reuters
The Heat had to wait in their locker room as the Mavericks raised their championship banner minutes before the start of the game, as Dallas players, wearing "2011 NBA Champions" on the back of their tracksuits, celebrated.
However, when the game got underway, finals MVP Dirk Nowitzki and teammates Jason Kidd and Jason Terry were swept aside by an impressive Heat, who showed exactly why they are the favorites for the title this season.
James scored 37 points and had 10 rebounds and six assists, while Dwyane Wade contributed 26 points with eight rebounds and six assists, as the Heat's two biggest names offered an early reminder of their quality.
Dallas Mavericks forward Dirk Nowitzki, second left, goes up for a shot against Miami Heat forward Udonis Haslem as Dallas guard Jason Kidd, left, and Miami forward Shane Battier, second right, watch during their NBA game in Dallas, Texas, on Sunday.
Photo: Reuters
The pattern for the game was set in the first quarter with Miami establishing a 32-17 lead, while Dallas had more turnovers than rebounds.
Dallas looked to be missing the defensive influence of Tyson Chandler, who they traded to the Knicks, and their biggest offseason arrival, Lamar Odom from the Los Angeles Lakers, was ejected in the third quarter and ended with four points and four rebounds.
Miami began with the same starting lineup that ended Game 6 of last season's finals, but gave first-round draft pick Norris Cole an early chance and he impressed.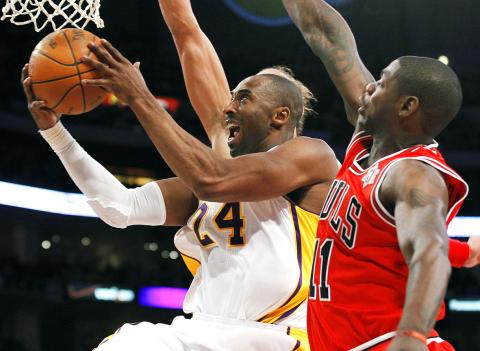 The Los Angeles Lakers' Kobe Bryant passes the Chicago Bulls' Ronnie Brewer, right, and Joakim Noah, back, to score during their NBA game in Los Angeles on Sunday.
Photo: Reuters
The Heat looked improved in a number of areas with Udonis Haslem now back to full fitness and free-agent signing Shane Battier making his debut.
BULLS 88, LAKERS 87
In Los Angeles, Derrick Rose scored 22 points and hit the go-ahead jump shot with 4.8 seconds to play as the Bulls rallied from an 11-point deficit in the final four minutes to edge Los Angeles.
Luol Deng scored 21 points and blocked Kobe Bryant's short shot right before the buzzer as the Bulls hung on for a thrilling finish to both clubs' first-ever Christmas meeting.
Bryant scored 28 points and committed eight turnovers, while playing with a torn wrist ligament for the Lakers, who nearly shook off their tumultuous preseason for a surprising win. Instead, Los Angeles were outscored 17-5 in the final 3:36.
THUNDER 97, MAGIC 89
In Oklahoma City, Kevin Durant scored 30 points to help Oklahoma City win their season opener with a victory over Orlando.
Durant led the league in scoring the past two seasons, including averaging 27.7 last season. On Sunday, he was 11-of-19 from the field and added five rebounds and six assists.
James Harden added 19 points and the Thunder held Orlando star Dwight Howard to just 11 points.
Ryan Anderson scored 25 points for the Magic.
CLIPPERS 105, WARRIORS 86
In Oakland, California, new prize acquisition Chris Paul had 20 points and nine assists in his much-anticipated debut, helping Los Angeles comfortably beat Golden State.
Blake Griffin added 22 points and seven rebounds as the Clippers spoiled Mark Jackson's debut as Warriors coach.
David Lee had 21 points and 12 rebounds for the Warriors.
Comments will be moderated. Keep comments relevant to the article. Remarks containing abusive and obscene language, personal attacks of any kind or promotion will be removed and the user banned. Final decision will be at the discretion of the Taipei Times.