FOOTBALL: Falcons aid playoff hopes by crushing inept Jaguars
The Atlanta Falcons had little difficulty dispatching the woeful Jacksonville Jaguars 41-14 at the Georgia Dome on Thursday to keep their pursuit of a playoff place on track.
The Falcons improved to 9-5 and moved ahead of the Detroit Lions in the hunt for an NFC postseason spot, while the Jaguars fell to 4-10.
Jacksonville's rookie quarterback Blaine Gabbert had a miserable game and gave up two fumbles which Atlanta converted into 10 points, including a 13-yard return for a touchdown by Corey Peters early in the third that stretched the Falcons lead to 34-0.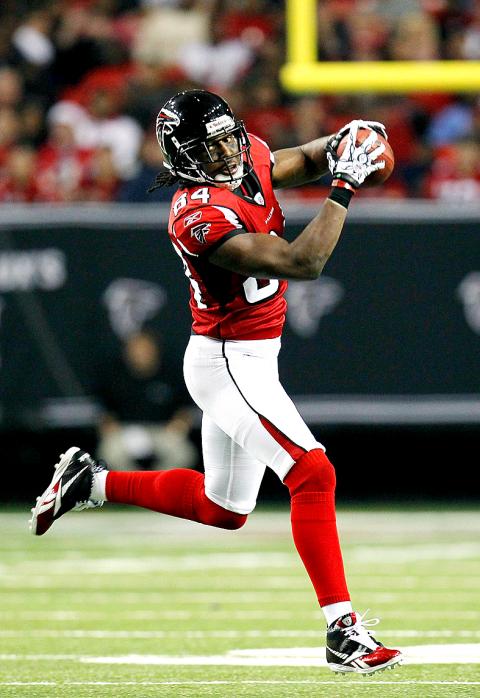 The Atlanta Falcons' Roddy White makes a catch in the first half of their game against the Jacksonville Jaguars at the Georgia Dome in Atlanta, Georgia, on Thursday. White caught 10 passes for 135 yards and two touchdowns.
Photo: AFP
Julio Jones scored on a 29-yard reception on the Falcons opening drive and after a Matt Bryant field goal, Michael Turner extended Atlanta's lead to 17-0 on a five-yard run early in the second quarter.
Falcons receiver Roddy White caught 10 passes for 135 yards and two touchdowns.
Zach Potter returned a blocked punt 46 yards to score Jacksonville's first touchdown late in the third quarter and Chastin West added another in the final minute of the game.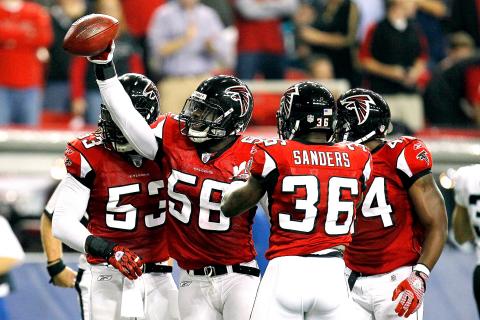 The Atlanta Falcons' Sean Weatherspoon, second left, holds up the ball after recovering a fumble by the Jacksonville Jaguars in their game in Atlanta, Georgia, on Thursday.
Photo: AFP
Comments will be moderated. Keep comments relevant to the article. Remarks containing abusive and obscene language, personal attacks of any kind or promotion will be removed and the user banned. Final decision will be at the discretion of the Taipei Times.