MLB players set for Taiwan series
Led by Robinson Cano and Curtis Granderson of the New York Yankees, Major League Baseball players made their first official appearance in Taipei at a press conference at the Grand Hyatt last night to preview the Taiwan All-Star Series against Taiwan's national team.
Manager Bruce Bochy of the San Francisco Giants, MLB International official Jim Small and Tim Slavin, a representative of the MLB Players' Association, were welcomed by Sports Affairs Council Vice Minister Chen Shih-kwei, who joined New Taipei City Mayor Chu Li-luan, event promoter Eric Chang of Bros Sports Marketing and other political leaders and baseball officials.
"This is a milestone in baseball history, to have the top players from the MLB playing in Taiwan," Chen said in his welcoming speech.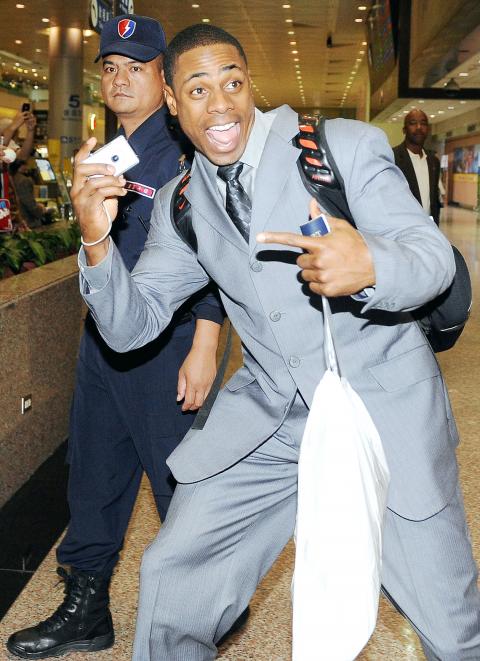 Curtis Granderson of the New York Yankees gestures at the crowds meeting a team of Major League Baseball players as he arrived at Taiwan Taoyuan International Airport yesterday.
Photo: Chu Pei-hsiung, Taipei Times
The Sports Affairs Council has been very supportive, making visits by high-profile sports teams possible, he said, while also recognizing the role of the founder of Bros Sports Marketing, who made a name for himself as Taiwan's top sports promoter by spearheading efforts to get the Los Angeles Dodgers to visit Taiwan last year.
"What better way to love baseball and Taiwan than by bringing Major Leaguers to play in front of our fans," Chang said at the press conference.
The big league players are scheduled to take to the field at the Sinjhuang Baseball Stadium for a light workout this afternoon in preparation for tomorrow night's opener against a national squad that features Wang Chien-ming of the Washington Nationals and several minor league players, as well as Taiwanese players who ply their trade in Japan's Nippon Professional Baseball in a highly anticipated match.
Game 2 and Game 3 will follow in the city of Taichung on Thursday and Friday, before Game 4 and Game 5 in Greater Kaohsiung on Saturday and Sunday to conclude the five-game series. The visitors are scheduled to fly out of Kaohsiung on Sunday night, ending their week-long visit.
"Baseball is such an important part of the culture of Taiwan," Small said in response to the enthusiastic welcome the visitors had received. "[Baseball] is very important to Taiwan and Taiwan has been very important to the MLB."
Comments will be moderated. Keep comments relevant to the article. Remarks containing abusive and obscene language, personal attacks of any kind or promotion will be removed and the user banned. Final decision will be at the discretion of the Taipei Times.