Taipei side win Gaelic football title
The men of Taipei's own Gaelic football team, the Taiwan Celts, were crowned champions at this year's Asian Gaelic Games in Suwon, South Korea, on Sunday.
The men's and women's teams trained all year to compete in the Gaelic Athletic Association's (GAA) Asian tournament, which is held once a year. Teams representing various Asian countries compete in the Asian Plate Championship.
The men's team defeated China's Shanghai Gaelic Football Club in the finals 2,6 - 0,6 to bring the title to Taipei for the first time in the Celts' 16-year history.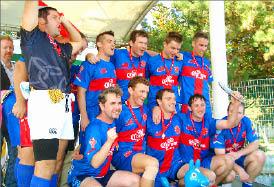 The Taiwan Celts men's Gaelic football team celebrate winning the Gaelic football tournament at the Asian Gaelic Games in Suwon, South Korea, on Sunday.
Photo: Mike O'Connor
Earlier in the day, the Celts beat a team from India in the quarter-finals and Busan in the semi-finals to secure their place in the final against their Chinese rivals.
It was the first time in more than three years the women's team was able to come together and compete in Division C of the GAA tournament.
They were strong and undefeated on the first day of competition, but were knocked out at the quarter-final stage on the second day.
Francis Hamilton and Wu Wan-yun (Hippo) were selected for the men's and women's All-Star teams respectively, rounding off a very successful weekend for Taiwan Celts GAA Club.
Comments will be moderated. Keep comments relevant to the article. Remarks containing abusive and obscene language, personal attacks of any kind or promotion will be removed and the user banned. Final decision will be at the discretion of the Taipei Times.