Brewers take a firm grip against the Diamondbacks
The Milwaukee Brewers scored five runs in the sixth inning to beat Arizona 9-4 on Sunday and take a 2-0 grip on their National League Division Series.
In Philadelphia, the Cardinals ensured the Phillies did not get a similar stranglehold on the other best-of-five National League Division Series as they rallied for a 5-4 victory that knotted the series at 1-1.
Milwaukee's Ryan Braun hit a two-run homer and slugger Prince Fielder singled in a run for the Brewers, who are now one win away from taking the series.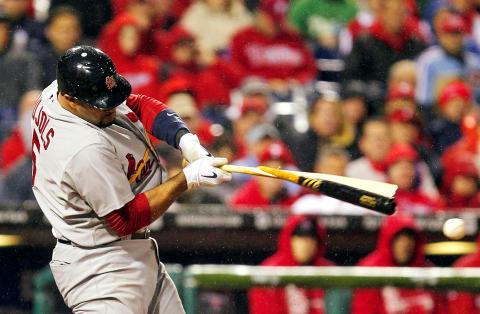 Albert Pujols of the St Louis Cardinals hits a broken-bat single against the Philadelphia Phillies in the ninth inning of Game 2 of their National League Division Series game in Philadelphia on Sunday.
Photo: Reuters
Jonathan Lucroy's safety squeeze sparked Milwaukee's sixth-inning outburst, which came after Arizona relief pitcher Brad Ziegler was irked by a balk call.
With the score tied at 4-4 and runners on first and third with one out, Jerry Hairston took off from third for home as Lucroy bunted toward first base.
"It's a free RBI if you execute and I really work hard to get that down," Lucroy said of his bunt. "A safety squeeze, all you've got to do is get it down to the right area."
Ziegler could not get the ball to catcher Miguel Montero and by the time the inning ended Milwaukee led 9-4.
Lucroy and Yuniesky Betancourt both advanced on Ziegler's wild throw. After Mark Kotsay was intentionally walked to load the bases, Corey Hart singled in a run.
Nyjer Morgan drove in two more with a single and Braun — who had homered in the first — singled in one more to end Ziegler's day.
Brewers starter Zack Greinke struggled in his first post-season appearance, giving up three home runs, but his woes did not prevent the Milwaukee Brewers from taking the first 2-0 playoff series lead in the club's history.
They will try to complete the sweep in Game 3 today in Arizona.
The Diamondbacks had home runs from Paul Goldschmidt in the second, Chris Young in the fourth and Justin Upton in the fifth.
"When you go on the road, you want to at least take one. If you don't, you've got to go home and defend your own turf," Upton said, looking ahead to the next two games in Arizona. "They played well at their home place, got two wins, but we've got to do the same thing."
The Phillies don't face quite such a big task as they head to St Louis for Game 3, but they'll have to rebound from a defeat in which ace pitcher Cliff Lee allowed five runs on a season-high 12 hits as the Phillies squandered a four-run lead.
"I wasn't able to make my pitches, so I take full responsibility," said Lee, who even had the luxury of a 3-0 Phillies lead after the first inning and a 4-0 lead after the second.
The Cardinals scratched their way back and took the lead in the seventh when Allen Craig led off with a triple off center fielder Shane Victorino's glove.
St Louis slugger Albert Pujols then lined a single over shortstop Jimmy Rollins to give the Cardinals a 5-4 lead.
The Cardinals had tied it up in the sixth when Ryan Theriot smacked a two-out double and Jon Jay followed with a single that scored Theriot to make it 4-4.
St Louis started their rally with three runs in the fourth inning.
While Cardinals starting pitcher Chris Carpenter struggled, six St Louis relievers combined for six shutout innings as the unlikely wild-card team earned the split of the first two games.
"We've been doing this all year. We don't give up," closing pitcher Jason Motte said. "People counted us out — we kind of went out there and just kept playing hard."
Comments will be moderated. Keep comments relevant to the article. Remarks containing abusive and obscene language, personal attacks of any kind or promotion will be removed and the user banned. Final decision will be at the discretion of the Taipei Times.