Toronto Blue Jays massacre Baltimore
LEADING THE PACK: Twenty-one-year-old Venezuelan rookie pitcher Henderson Alvarez notched up the first win of his MLB career after tossing eight scoreless innings
AMERICAN LEAGUE
Jose Bautista bashed his Major League-leading 39th home run of the season as the Toronto Blue Jays crushed the Baltimore Orioles in a 13-0 blowout victory on Wednesday.
Stringing together 20 hits and four homers, the Blue Jays quickly had former teammate Jo-Jo Reyes chased after he was charged with seven runs in less than three innings in his first start against Toronto since the team waived him earlier this month.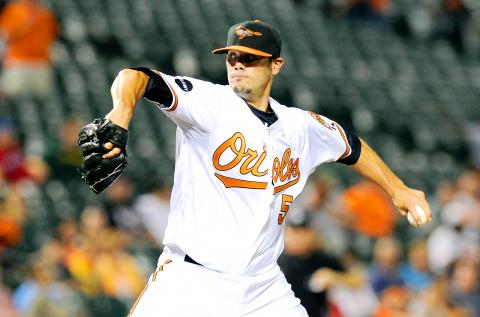 Zach Phillips of the Baltimore Orioles pitches in his debut against the Toronto Blue Jays in Baltimore, Maryland, on Wednesday.
PHOTO: AFP
The Blue Jays (68-68) raced ahead with six runs in the third inning as Kelly Johnson and Jose Molina each hit blasts. The visitors added four more runs in the fourth, and capped the scoring on Bautista's long drive to left field in the sixth.
The offensive firepower helped rookie pitcher Henderson Alvarez earn the first win of his career, the 21-year-old Venezuelan tossing eight scoreless innings for just three hits.
Red Sox 9, Yankees 5
In Boston, Jacoby Ellsbury of the Red Sox hit a tiebreaking two-run homer in the sixth inning to lift the Boston to a 9-5 win over the New York Yankees on Wednesday, improving their lead over their archrivals in the American League East race.
The Red Sox moved 1-1/2 games above New York and improved to 11-3 against the Yankees this season.
David Ortiz and Jason Varitek also hit two-run homers for Boston.
Red Sox starter Josh Beckett (12-5) allowed six hits in seven innings, improving to 4-0 with a 1.85 ERA in five starts against the Yankees this season.
New York scored four runs in the sixth and went ahead 5-4, but in the bottom of the inning, Phil Hughes (4-5) allowed three runs, capped by Ellsbury's homer.
Rays 4, Rangers 1
In Arlington, Texas, James Shields pitched eight shutout innings to steer Tampa Bay past Texas.
Shields (13-10) walked only one and struck out seven, giving him 1,001 for his career.
Johnny Damon homered for the Rays.
David Murphy hit a two-out RBI single for Texas in the ninth, but Kyle Farnsworth struck out Yorvit Torrealba to end the game.
Texas starter Alexi Ogando (12-7) lasted only 2-2/3 innings, allowing three runs.
Tigers 5, Royals 4
In Detroit, Michigan, Wilson Betemit capped Detroit's three-run eighth inning with a tiebreaking RBI double against his former team Kansas City.
Austin Jackson went 4 for 4 and scored three times for the AL Central-leading Tigers, while Miguel Cabrera added two hits.
Detroit reliever Daniel Schlereth (2-1) pitched an inning to get the victory and Jose Valverde got Alcides Escobar to fly out with runners on first and second to end the game.
Kansas City's Blake Wood (5-2) got the loss.
In other AL play, it was:
‧ Mariners 2, Angels 1
‧ Indians 4, Athletics 3, 16 inns
‧ Twins 7, White Sox 6
NATIONAL LEAGUE
AP, CINCINNATI, Ohio
Philadelphia's Hunter Pence homered for the second straight game as the Phillies beat the Cincinnati Reds 3-0 on Tuesday, putting the National League leaders a season-best 40 games over .500.
Pence led off the sixth with a homer off Dontrelle Willis (0-4), extending his hitting streak to seven games.
Philadelphia starter Cliff Lee (15-7) got his sixth straight win, coming within one out of a shutout before being removed with two outs and bases loaded in the bottom of the ninth.
Lee hasn't lost in five weeks and has given up only six earned runs in his last six starts. He's been especially tough on the road, where he hasn't allowed a run in his last 30-2/3 innings.
The Phillies' second straight shutout gave them 19 this season, most in the majors.
Braves 3, Nationals 1
In Atlanta, Georgia, two milestone home runs — Chipper Jones' 450th and Derek Lowe's first — gave -Atlanta the early lead and victory over Washington.
Jones hit his homer in the second inning. The 38-year-old Lowe lined a full-count pitch over left field in the third inning for his first homer in his 405th career at-bat. Lowe, a career .149 hitter, entered the game hitting .182 this season.
Lowe (9-12) gave up only two hits over the first six innings. Craig Kimbrel pitched the ninth for his 41st save, setting a major league rookie record.
Nationals starter John Lannan (8-11) gave up three runs in seven innings as his streak of five straight wins over the Braves ended.
Giants 4, Cubs 0
In San Francisco, pitcher Madison Bumgarner matched his career high with 11 strikeouts, leading San Francisco over Chicago, avoiding a series sweep.
Bumgarner (9-12) went eight scoreless innings, while Jeff Keppinger and Pablo Sandoval hit back-to-back homers in the fourth inning for the hosts.
Keppinger then drove in a run with a single in the fifth off Rodrigo Lopez (4-6), who lost his third straight outing and dropped to 0-5 in eight career starts against San Francisco.
The Giants shook up the roster before the game, designating infielder Miguel Tejada and outfielder Aaron Rowand — the team's second-highest paid player — for assignment.
In other NL play, it was:
‧ Dodgers 4, Padres 2
‧ Mets 3, Marlins 2
Comments will be moderated. Keep comments relevant to the article. Remarks containing abusive and obscene language, personal attacks of any kind or promotion will be removed and the user banned. Final decision will be at the discretion of the Taipei Times.