Greene wins first UK gold
DAY OF SURPRISES: Jennifer Simpson of the US shocked the field of 1,500m runners as she sped past the favorites to take gold, winning the US' first 1,500m title in 28 years
Dai Greene kept his cool to win the men's 400m hurdles yesterday, giving next year's Olympic hosts Britain their first gold medal of the world championships.
Greene crossed the line in 48.26 seconds, with Puerto Rico's Javier Culson taking silver in 48.44 seconds and South Africa's L.J. van Zyl winning bronze with a time of 48.80 seconds.
Culson and Bershawn Jackson of the US went out quickly, but Greene kept his composure throughout, even when trailing before the penultimate hurdle, finding the strength to cross the line in first place.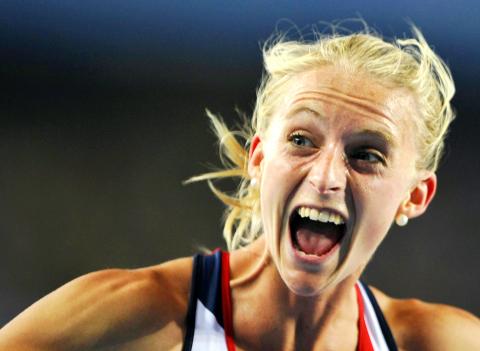 Britain's Hannah England celebrates coming in second in the women's 1,500m final at the IAAF World Championships in Daegu, South Korea, yesterday.
PHOTO: REUTERS
In a golden half-hour for the US, three Americans won world championship titles, none more surprising than Jennifer Simpson getting the first 1,500m victory since Mary Decker-Slaney in 1983.
Jesse Williams added the first high jump world title in two decades and Lashinda Demus ran the third-fastest time in history to take the women's 400m hurdles.
At the end of the night, the US led the medal standings with seven gold medals and 12 overall. Russia was closest with four gold and 12 in total.
Double-amputee runner Oscar Pistorius reached his first major final, leading off South Africa's 4x400m relay team and helping them qualify with a national record.
Simpson did not even figure in the top 10 of this season's performers before outpacing all the favorites and winning the first title for the US in the race in 28 years.
With her mouth open, Simpson sped past rivals on the finishing straight and then, with big eyes, looked at the giant screen facing her in Daegu Stadium to see if it really, truly, happened.
She closed her eyes and raised her fists in disbelief.
Williams, conversely, was as composed as can be in a nerve--racking event like the high jump. He was perfect through the winning height of 2.35m, needing one jump less than Aleksey Dmitrik of Russia.
Both failed three times at 2.37m to give the US their first men's high jump title since Charles Austin at the 1991 worlds in Tokyo.
Meanwhile, Taiwanese long-jump competitor Lin Ching-hsuan failed to qualify in 14th place with a mark of 7.30m. Compatriot Chang Ming-huang, in the shot-put competition, also failed to advance after a throw of 19.6m put him in 11th place.
Additional reporting by staff writer
Comments will be moderated. Keep comments relevant to the article. Remarks containing abusive and obscene language, personal attacks of any kind or promotion will be removed and the user banned. Final decision will be at the discretion of the Taipei Times.