Santana pitches no-hitter for Angels
PERFECT GAME: Ervin Santana pitched the third no-hitter in the major leagues this season, and the first solo no-hitter for Los Angeles since Sept. 30, 1984
AMERICAN LEAGUE
Ervin Santana pitched the first solo no-hitter for the Angels in nearly 27 years, striking out 10 batters to lead Los Angeles over the Cleveland Indians 3-1 on Wednesday.
Santana allowed two runners — an error on the leadoff batter that resulted in a first-inning run and a walk in the eighth.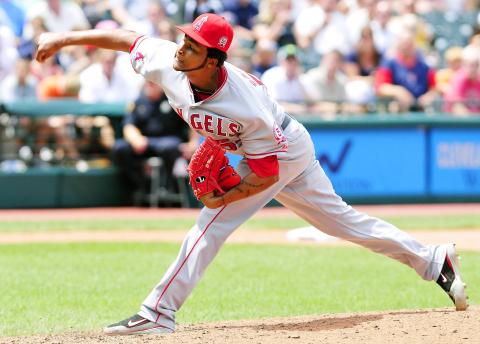 Starting pitcher Ervin Santana of the Los Angeles Angels of Anaheim pitches during the ninth inning of a no-hitter against the Cleveland Indians at Progressive Field on Wednesday in Cleveland, Ohio. The Angels defeated the Indians 3-1.
Photo: AFP
Santana (6-8) threw the Angels' first complete-game no-hitter since Mike Witt's perfect game on Sept. 30, 1984, against Texas. Mark Langston (7 innings) and Witt (2 innings) combined to hold Seattle hitless on April 11, 1990.
This was the third no-hitter in the major leagues this season. Minnesota's Francisco Liriano did it against the White Sox on May 3 and Detroit's Justin Verlander beat Toronto on May 7.
This was the first no-hitter at Progressive Field, a ballpark that opened as Jacobs Field in 1994. The last pitcher to hold the Indians hitless was Jim Abbott of the Yankees on Sept. 4, 1993.
The win was Santana's third in 11 starts since May 30.
MARINERS 9, YANKEES 2
In New York, Seattle ended their 17-game losing streak as Ichiro Suzuki and rookie Dustin Ackley led a 17-hit attack against New York.
Felix Hernandez (9-9) pitched seven innings for his third straight win in the Bronx. Suzuki had four hits and scored two runs. Ackley tripled among his three hits and drove in three runs.
Seattle scored five runs off three relievers in the seventh — highlighted by Mike Carp's bases-loaded triple.
It was the longest skid in the major leagues since Kansas City lost 19 in 2005.
The Mariners came in hitting .218 during the streak. Phil Hughes (1-3) allowed nine hits and two runs over six innings.
WHITE SOX 2, TIGERS 1
In Chicago, Alejandro De Aza hit a two-run homer in his first at-bat of the season as Chicago downed Detroit.
De Aza, who was called up earlier in the day to fill a roster spot opened by a trade, connected against Max Scherzer (11-6) in the second for his first major league homer.
Austin Jackson hit a leadoff homer in the seventh, but that was it for Detroit against John Danks (4-8) and two relievers.
Danks matched a career high with 10 strikeouts while improving to 4-0 with a 0.98 ERA in his last six starts. The left-hander allowed six hits and walked three.
Sergio Santos got the last out for his 21st save.
BLUE JAYS 3, ORIOLES 0
In Toronto, Ricky Romero came within two outs of a complete game to win for the first time in five starts and J.P. Arencibia homered as Toronto blanked Baltimore.
Romero (8-9) struck out Adam Jones to begin the ninth, but was replaced by Jon Rauch after Vladimir Guerrero reached on a wild third strike and Derrek Lee was hit by a pitch. The left-hander allowed four hits, walked three and struck out nine.
Rauch got Matt Wieters and Mark Reynolds to fly out, recording his eighth save in 12 opportunities.
Romero had not won since June 26 in St Louis, going 0-2 with a 5.87 ERA in four starts. He is 5-1 in his past seven starts against Baltimore, including 4-0 at home.
In other AL action, it was:
‧ Red Sox 12, Royals 5
‧ Twins 7, Rangers 2
‧ Athletics 13, Rays 4
NATIONAL LEAGUE
AP, PHILADELPHIA
Matt Cain pitched into the eighth inning to outduel Cole Hamels and lead the San Francisco Giants to a 2-1 win over the Philadelphia Phillies on Wednesday.
The National League West leaders won for the third time in four games, and big-name help was on the way. The defending World Series champions agreed to a trade with the Mets for All-Star slugger Carlos Beltran, who told his New York teammates he had waived his no-trade clause and accepted the deal.
The trade was expected to be announced early yesterday.
Without Beltran, the Giants scratched out two runs to deny Hamels (12-6) his NL-best 13th win.
Javier Lopez got three outs and Brian Wilson finished for his 32nd save. The Giants have won 12 of 17.
METS 8, REDS 2
In Cincinnati, Lucas Duda took over for Carlos Beltran and homered to help the New York Mets beat Cincinnati.
Beltran showed up in the clubhouse before the game to say goodbye to his Mets teammates. Duda replaced Beltran in right field and the rookie homered off Bronson Arroyo (7-9), who could not extend his long run of success against New York.
Mike Pelfrey (6-9) gave up seven hits in his second complete game of the season, including Joey Votto's second homer of the series.
David Wright also homered and drove in four runs. Daniel Murphy had a career-high four hits.
BRAVES 2, PIRATES 1, 10 INNINGS
In Atlanta, David Ross hit a bases-loaded single in the 10th inning as Atlanta beat Pittsburgh for their second straight victory in extra innings.
The teams played 19 innings on Tuesday night before Julio Lugo scored the winning run on a disputed call at the plate that umpire Jerry Meals later acknowledged was incorrect.
Ross became Atlanta's starting catcher on Wednesday when the Braves placed Brian McCann on the 15-day disabled list with a left oblique injury. Ross came through with two hits, driving in both Atlanta runs.
ASTROS 4, CARDINALS 2
In St Louis, Astros rookie Jose Altuve drove in the go-ahead run in the ninth inning with his third hit as Houston snapped a five-game losing streak with a victory over St Louis.
Jason Bourgeois also had three hits and unintentionally helped the Astros score an insurance run on Altuve's hit when center fielder Jon Jay's off-line throw to the plate glanced off his leg. Bourgeois jumped at the last instant before the ball struck his leg and changed course en route to the backstop.
Cardinals manager Tony La Russa made an unsuccessful protest.
Chris Carpenter worked seven strong innings for the Cardinals, who fell a half-game behind the Brewers for the NL Central lead hours after acquiring pitcher Edwin Jackson in a three-team deal with the Blue Jays and White Sox that cost them outfielder Colby Rasmus.
Clint Barmes hit a two-run homer for Houston.
BREWERS 2, CUBS 0
In Milwaukee, Prince Fielder hit his 23rd home run and Rickie Weeks needed to be helped off the field when he injured his left ankle running out a throw to first in Milwaukee's victory over Chicago.
Fielder homered off Carlos Zambrano (7-6) to start the second before Weeks hit a bouncing ball to shortstop Starlin Castro. Weeks stretched to beat the throw, landing awkwardly at the bag and stumbling down the first-base line.
The All-Star second baseman went to the hospital for further tests after being helped off the field.
Brewers owner Mark Attanasio said during the game that initial X-rays showed Weeks' ankle was not broken, but Weeks was not putting weight on the leg after the injury.
Marlins 7, Nationals 5
In Washington, Javier Vazquez pitched seven strong innings, Emilio Bonifacio extended his hitting streak to 25 games and Mike Cameron hit two home runs as Florida beat Washington for their fourth straight win.
Vazquez (7-9) allowed one run and six hits. John Buck hit a two-run single off Livan Hernandez (5-10).
Mike Stanton's homer put the Marlins ahead in the second. Florida are 13-5 since July 5.
Trailing 7-1, the Nationals scored four runs in the ninth off Steve Cishek. After allowing Michael Morse's two-run single, Leo Nunez retired Laynce Nix on a fly to deep right to earn his 28th save in 31 chances.
DIAMONDBACKS 4, PADRES 3
In San Diego, Justin Upton homered twice and Xavier Nady added a two-run shot to lead Arizona past San Diego.
Ian Kennedy (12-3) won his fourth straight start, limiting San Diego to two runs and four hits with nine strikeouts over six innings.
Upton reached 20 homers this season and extended his hitting streak to eight games with two solo drives off Cory Luebke (3-5).
During his hitting streak, Upton is batting .567 (17 for 30) with four homers and 15 RBIs.
Nady hit his fourth of the year off Luebke in the seventh to break a two-all tie and send Arizona to their fourth straight win.
ROCKIES 3, DODGERS 1
In Los Angeles, Aaron Cook outpitched Hiroki Kuroda with seven scoreless innings and Troy Tulowitzki had two RBI singles among his three hits as Colorado avoided a three-game sweep.
Cook (2-5) scattered six hits, struck out two and walked two in his longest outing of an injury-delayed season.
The right-hander, who missed the first three months with a broken finger on his pitching hand, has won consecutive starts after going 0-5 with a 5.82 ERA in his first seven outings.
Huston Street pitched the ninth for his 27th save in 29 attempts.
Colorado broke through in the fifth, when Tulowitzki drove in Eric Young Jr from second with the Rockies' third straight two-out single.
Comments will be moderated. Keep comments relevant to the article. Remarks containing abusive and obscene language, personal attacks of any kind or promotion will be removed and the user banned. Final decision will be at the discretion of the Taipei Times.