Clijsters falls in Round 2, Soderling powers through
A CLEVER RUS: The Belgian second seed was beaten by No. 114 Arantxa Rus, while German player Sabine Lisicki may be joining Djokovic's gluten-free super-diet
Kim Clijsters, so near and yet so far from French Open glory in the past, suffered more agony on the clay with a sudden second-round defeat yesterday, but fellow twice runner-up Robin Soderling powered through.
Taiwanese players experienced a mixed bag of results in Paris yesterday as Chan Yung-jan defeated American Jill Craybas 6-1, 6-4 in the women's singles second round, while her compatriot Lu Yen-hsun and his partner Somdev Devvarman of India were defeated in the first round of the men's doubles.
Marcel Granollers and Feliciano Lopez of Spain beat the men's pair 6-3, 6-4.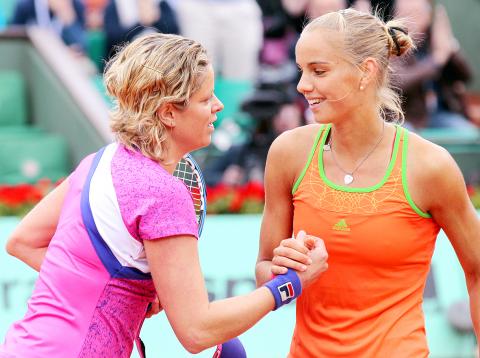 Arantxa Rus of the Netherlands, right, shakes hands with Belgium's Kim Clijsters yesterday after Rus won their women's second-round French Open tennis championship match at Roland Garros, in Paris.
Photo: AFP
On Wednesday, Chan and partner Eric Butorac of the US advanced to the second round after defeating Vania King of the US and Daniel Nestor of Canada 3-6, 6-3, 12-10.
Czech dark horse Petra Kvitova made her move on the outside with a 6-4, 6-1 victory over China's Zheng Jie and 12th seed Agnieszka Radwanska also reached the third round by overcoming India's Sania Mirza.
Women's second seed Clijsters, a doubt before the tournament after injuring her ankle at her cousin's wedding, looked to have shrugged off the ill effects and a chilly breeze in a dominant first set before folding 3-6, 7-5, 6-1 to Dutchwoman Aranxta Rus.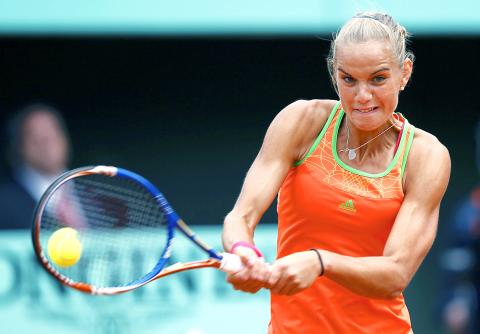 Arantxa Rus of the Netherlands returns to Kim Clijsters of Belgium yesterday during the French Open tennis tournament at Roland Garros in Paris.
Photo: Reuters
Belgian Clijsters was runner-up in 2001 and 2003 and her exit was her worst performance at Roland Garros since her debut in 2000. The Australian and US Open champion was also on a 15-match winning streak at grand slams.
Rus, the world No. 114, was ecstatic.
"I just wanted to go for every point. I'd like to play every day like this," she said at courtside.
Sabine Lisicki returns to Vera Zvonareva in Paris on Wednesday.
Photo: Reuters
Sweden's Soderling lost out in the final in the last two years to Roger Federer and Rafael Nadal.
The fifth seed is flying beneath the radar in Paris with all the focus on Nadal after his first-round struggles and the immense form of rival Novak Djokovic, but Soderling showed he too was a force with a 6-3, 6-4, 6-4 win over Albert Ramos.
Cheered on by a smattering of Swedes with painted faces on a half-full Court Suzanne Lenglen, Soderling displayed why he is so dangerous on clay with strengths in all areas making up for an occasional inability to kill off a point.
Men's champion Nadal had to battle back from two sets to one down to beat John Isner on Tuesday in his first five-set match at Roland Garros, prompting pundits and fans to wonder whether his bid for a sixth title in seven years was doomed to failure.
He was to meet fellow Spaniard Pablo Andujar later yesterday. Andujar will not trouble Nadal with his serve as giant American Isner did, but the world No. 1's general demeanor will be closely watched — not leastly by Djokovic.
Russia's Maria Sharapova was to play Caroline Garcia and, like Serbian Djokovic, she is quickly becoming the hot tip for victory at the famous French tennis venue — which beat competition from the Paris suburbs in February to keep hosting the event beyond 2016.
Meanwhile, on Wednesday, holder Francesca Schiavone of Italy sped into the third round of the French Open as she crushed Russian Vesna Dolonts 6-1, 6-2 on Wednesday.
The fifth-seed dropped serve in the opening game, but then reeled off 11 games in a row.
World No. 101 Dolonts stayed in the match with another break, but Schiavone wrapped it up after 72 minutes when her opponent returned a serve long.
She will face Chinese 29th-seed Peng Shuai for a place in the last 16.
On the men's side, Djokovic refused again on Wednesday to divulge the secrets of his French Open super-diet, comparing constant questions on the subject to being quizzed about his sex life.
Serb second seed Djokovic has given up bread and pasta after developing an allergy to gluten, but he will not reveal what he eats instead.
"Because it's private. There are some things I can speak about; there are some things I can't," he said. "I can tell you who is my girlfriend, but I cannot tell you what I do with my girlfriend. This is a difference."
Djokovic reached the last 32 on Wednesday when Romania's Victor Hanescu was forced to retire from their second-round tie with a left thigh injury.
Djokovic was leading 6-4, 6-1, 2-3 when Hanescu called it quits.
The Serb will face Argentina's Juan Martin del Potro for a place in the last 16.
Djokovic says his unbeaten run is down to his diet and now Sabine Lisicki hopes she too will benefit in the long run after discovering she is allergic to wheat products.
German Lisicki was on the verge of upsetting third seed Vera Zvonareva in the second round of the French Open on Wednesday but, with the finishing line in sight, she crumbled on court and had to be carried off on a stretcher sobbing.
Yesterday, the 21-year-old explained why her health had suddenly deteriorated.
"I am sad that my body let me down. Doctors recently discovered that I am intolerant to gluten — meaning I can't eat eg pasta, one of my biggest energy sources," Lisicki, who was seen munching on a couple of bananas on Wednesday, said on her Web site.
"My body needs to adjust to the big change and needs some time. It is good that we found out and it will only make life better in the long run."
Pasta and bread were once staple food items for top athletes as they were the most important sources of energy. Not any more.
Serbian Djokovic, who is on a 39-match winning streak in 2011, changed his diet nine months ago after his nutritionist carried out tests and established he was allergic to gluten.
Like Djokovic, Lisicki's body cannot cope with many carbohydrate products and she will need to find substitute food items so that she can find the energy to last the distance in three-set matches.
The new diet has definitely paid off for Djokovic.
"I have lost some weight but it's only helped me because my movement is much sharper now and I feel great physically," Djokovic, who has beaten Rafael Nadal in four finals this year, said recently.
ADDITIONAL REPORTING BY STAFF WRITER
Comments will be moderated. Keep comments relevant to the article. Remarks containing abusive and obscene language, personal attacks of any kind or promotion will be removed and the user banned. Final decision will be at the discretion of the Taipei Times.