Cano double helps Yanks beat Orioles
USING YOUR HEAD: A Baltimore Orioles pitcher struck a Yankees batter in the head in the 15th inning. The latter collapsed, but walked to first base before leaving the game
AMERICAN LEAGUE
Robinson Cano doubled in two runs in the 15th inning as the New York Yankees beat the Baltimore Orioles 4-1 on Wednesday after Mariano Rivera blew a one-run lead in the ninth.
After Mike Gonzalez gave up Cano's double, he struck Chris Dickerson in the head with a fastball. Gonzalez was immediately ejected and Dickerson remained motionless on the ground for several minutes. After being helped to his feet, Dickerson walked to first base before leaving the game.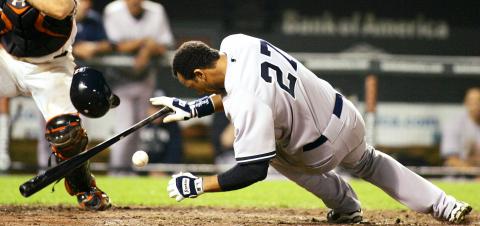 New York Yankees batter Chris Dickerson falls to the ground after getting hit in the head by a pitch from Baltimore Orioles relief pitcher Mike Gonzalez in the 15th inning of their American League baseball game in Baltimore, Maryland, on Wednesday.
Photo: Reuters
Mark Teixeira led off the 15th with a single off Jeremy Accardo (2-1). Rodriguez followed with a single and Cano hit a liner to right-center that Adam Jones bobbled, allowing Cano to take third.
Gonzalez then hit Dickerson. With Baltimore out of relief pitchers, Jeremy Guthrie — the scheduled starter for yesterday — came in and gave up a sacrifice fly to Brett Gardner.
RED SOX 1, TIGERS 0
In Boston, Jarrod Saltalamacchia doubled off the wall in left field in the eighth inning, scoring Carl Crawford from first base and sending Boston over Detroit for their fifth straight victory.
Boston's Clay Buchholz and Detroit's Phil Coke each pitched seven shutout innings. Then Daniel Bard, who replaced Buchholz to start the eighth, threw one pitch before the game was delayed for 26 minutes by rain. When play -resumed, Bard (1-3) retired the side in order.
WHITE SOX 1, INDIANS 0
In Chicago, Jake Peavy allowed just three hits in his home debut this season, outpitching Justin Masterson and making Adam Dunn's sacrifice fly in the first-inning stand up in Chicago's victory over Cleveland.
Peavy (1-0) struck out eight to cool off a Cleveland lineup that scored 31 runs in its three previous games. The 29-year old right-hander had his fifth career shutout and ninth complete game. He allowed only one runner past first base, did not walk a batter and threw 111 pitches.
Masterson (5-2) pitched his third career complete game. He allowed one run on five hits.
RAYS 6, BLUE JAYS 5
In Toronto, Matt Joyce homered and Elliot Johnson had three RBIs to help Tampa Bay snap Toronto's winning streak at six games.
Rays rookie right-hander Jeremy Hellickson (5-2) won his fourth straight start, allowing four runs, three earned and five hits in 5-2/3 innings. Kyle Farnsworth gave up a run in the ninth when Yunel Escobar's grounder drove in Rajai Davis, but held on for his ninth save in 10 opportunities.
The Blue Jays made five errors, one shy of the team record they committed on May 13, 1982, at Texas.
In other AL play, it was:
‧ Mariners 3, Angels 0
‧ Rangers 5, Royals 4, 11 innings
‧ Twins 4, Athletics 3, 10 innings
NATIONAL LEAGUE
AP, PHILADELPHIA
Cole Hamels threw eight impressive innings and Jimmy Rollins drove in the go-ahead run with a sacrifice fly in the eighth inning as the Philadelphia Phillies beat the Colorado Rockies 2-1 on Wednesday to end a four-game losing streak.
Hamels (5-2) allowed one run and five hits, striking out eight for his first victory against the Rockies. He entered 0-3 with an 8.22 ERA in three career starts against Colorado, including two in the post-season.
Ryan Madson finished for his seventh save in seven chances.
PIRATES 5, REDS 0
In Cincinnati, Charlie Morton threw a five-hitter for his second career shutout and Pedro Alvarez hit a three-run homer to help Pittsburgh end a six-game losing streak.
Morton (5-1) avoided heavy rain for a change and stymied Cincinnati again. He threw a five-hitter for a 6-1 victory at Great American Ball Park on April 15, coming within one out of his second career shutout.
Alvarez ended his streak of 15 games without driving in a run when he connected in the fourth off Bronson Arroyo (3-4). Andrew McCutchen added a two-run shot in the seventh.
In other NL play, it was:
‧ Mets 3, Nationals 0
‧ Giants 8, Dodgers 5
‧ Cubs 7, Marlins 5
‧ Cardinals 5, Astros 1
‧ D'backs 5, Braves 4, 11 innings
‧ Brewers 5, Padres 2
Comments will be moderated. Keep comments relevant to the article. Remarks containing abusive and obscene language, personal attacks of any kind or promotion will be removed and the user banned. Final decision will be at the discretion of the Taipei Times.