Djokovic pushed to the limit by Murray
Top-ranked Rafael Nadal and world No. 2 Novak Djokovic will resume their budding rivalry in the Rome Open final.
Nadal overcame a stiff first-set challenge from Richard Gasquet before rolling to a 7-5, 6-1 win in the semi-finals on Saturday, while Djokovic was pushed to the limit in a 6-1, 3-6, 7-6 (7/2) victory over fourth-ranked Andy Murray, extending his unbeaten streak to 38 matches after 3 hours, 1 minute of grueling baseline rallies.
"I think anyone who saw the match knew that the winner was not decided until the last point," Djokovic said. "It was a fantastic match to be a part of."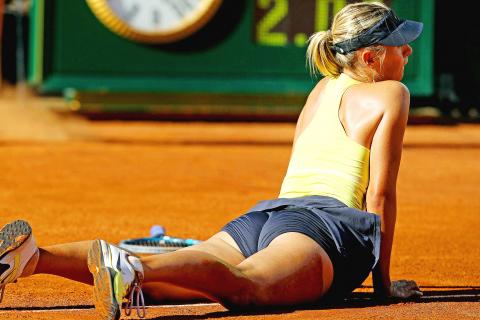 Russia's Maria Sharapova lies on the ground in her Rome Open semi-final against Caroline Wozniacki of Denmark at the Foro Italico in Rome on Saturday.
Photo: EPA
Djokovic has won all 36 of his matches this year, trailing only John McEnroe's 42-0 start in 1984.
"Obviously it's a great run," said Murray, who served for the match at 5-4 in the third set. "I'm just disappointed with myself that I should have ended it tonight."
Djokovic beat Nadal in title matches in Indian Wells and Miami earlier this year, then also won in Madrid last weekend, his first victory over the Spaniard on clay.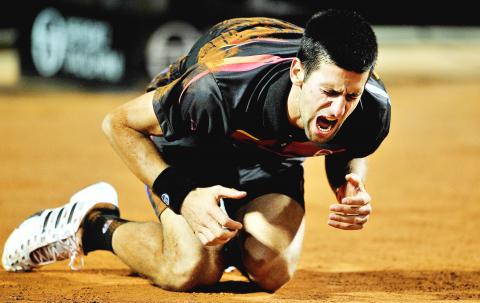 Serbia's Novak Djokovic falls to the ground in his Rome Open semi-final against Andy Murray of Scotland at the Foro Italico in Rome on Saturday.
Photo: AFP
This tournament is another key clay-court warm-up for the French Open, which starts next weekend.
"Every aspect of the game will be important," Nadal said. "I know Djokovic is playing at an exceptional level right now, but I just have to fight to the end like I always do. If I don't beat him tomorrow, then the next match."
"I'll probably play with less pressure than before because I [am no longer] the favorite," added Nadal, who should be much fresher physically.
Nadal has won this tournament five of the last six years and owns a 31-1 record at the Foro Italico.
In the women's final, Maria Sharapova will meet last year's French Open runner-up Sam Stosur.
Sharapova outslugged top-ranked Caroline Wozniacki 7-5, 6-3 and Stosur beat fourth-seeded Li Na of China 7-6 (8/6), 6-0.
Murray was unable to hold serve in the opening set, which Djokovic dominated with the help of an effective spinning drop shot.
In the second set, Murray began to win the longer points, taking a key break to go up 5-3 when Djokovic netted a backhand to conclude a tense rally in which neither player was taking many risks.
Murray double faulted when he served for the match at 5-4 in the third, letting Djokovic back into the set, even though the Serb was in apparent physical trouble — stretching his legs between points.
Murray then fell apart in the tiebreaker and was upset with himself for failing to close out the match.
"It's the first time it's ever happened and I'm going to make sure it's the last," Murray said.
Still, Murray will head to Roland Garros encouraged.
"I can win the French if I play my best and I get myself prepared mentally and physically," he said.
In his match, Nadal faced break points in three different games during the opening set, but won all of them to improve his career record against Gasquet to 9-0.
"It was a complicated situation on my serve in the [first set], but I managed to pull through," Nadal said. "I'm happy to make the final after a difficult week."
Nadal said he no longer had a fever or any pain from a virus that slowed him earlier in the week.
"Every day I'm playing better after that disastrous first day," Nadal said, referring to his three-set win over Italian qualifier Paolo Lorenzi in his opener. "I'm happy with my clay-court season. How I'm playing in the last couple of matches is the way forward, more aggressively."
Despite the loss, the 16th-seeded Gasquet should take some confidence into the French Open. The Frenchman eliminated Roger Federer in the third round and beat seventh-seeded Tomas Berdych in the quarter-finals.
"It was a fantastic tournament for him," Nadal said. "I'm happy to see him back at his best. He's a good friend."
The seventh-seeded Sharapova will be playing her second final of the year, having fallen to Victoria Azarenka in Miami in March. In addition to her father, Yuri, Sharapova began working with a new coach — former Swedish professional Thomas Hogstedt — at the start of the year.
"Every year I feel better and better [on clay]," Sharapova said, adding that she also recovers quicker now between tough matches on the surface.
Early in the second set, Sharapova fell stomach-first to the clay chasing down a shot. That point gave Wozniacki a 2-0 lead, but Sharapova eventually won the final five games and raised both arms to the sky and let out a big smile after landing a forehand-return winner on her first match point.
Stosur hadn't reached a final since losing to Francesca Schiavone at Roland Garros last year.
"I was very disappointed and I had to look at the positive side because I had a very good tournament ... I have played some good matches and tournaments in the past 12 months, but I just was not able to get the last bit again," Stosur said.
Comments will be moderated. Keep comments relevant to the article. Remarks containing abusive and obscene language, personal attacks of any kind or promotion will be removed and the user banned. Final decision will be at the discretion of the Taipei Times.