Suicide squeeze powers Indians past winless Red Sox
AMERICAN LEAGUE
The winless Boston Red Sox lost their sixth in a row for their worst start since 1945 when the Cleveland Indians squeezed home the only run in the eighth inning for a 1-0 victory on Thursday.
Boston, favored by many to win the World Series, were to return to Fenway Park for their home opener yesterday against the New York Yankees.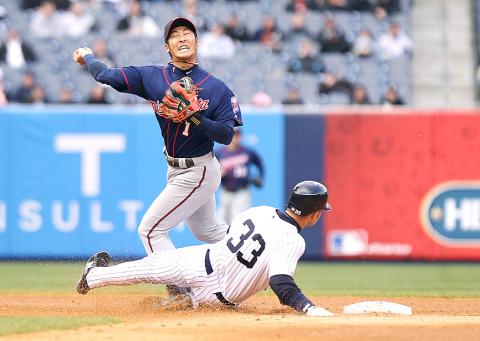 The New York Yankees' Nick Swisher, right, slides into and injures the Minnesota Twins' Tsuyoshi Nishioka in an attempt to break up a double play on Thursday at Yankee Stadium in the Bronx, New York.
Photo: AFP
Asdrubal Cabrera's suicide-squeeze bunt put the Indians ahead in their fourth straight victory.
They trapped pinch-runner Darnell McDonald off second base for the final out.
Cleveland swept the three-game series, which came after Texas swept the Red Sox to open the year.
YANKEES 4, TWINS 3
In New York, Derek Jeter passed Hall of Famers Rogers Hornsby and Jake Beckley for 33rd place on the MLB's all-time hits list with a single and a double, while New York's relievers held off Minnesota in their first game since blowing a big lead.
A.J. Burnett (2-0) improved to 7-0 in 12 April starts for the Yankees, allowing two runs on five hits in six innings. With the Yankees up 4-3, Rafael Soriano pitched a scoreless eighth two days after he surrendered a 4-0 lead in a game Minnesota won in extra innings.
The Twins lost heralded Japanese import Tsuyoshi Nishioka to an apparent broken left leg when Nick Swisher slid into him at second base while breaking up a double play. Nishioka was 0 for 4 with a strikeout on Thursday to drop his average to .208.
ATHLETICS 2, BLUE JAYS 1
In Toronto, Trevor Cahill pitched eight strong innings for his first win of the season, while Conor Jackson singled home the go-ahead run for Oakland to come from 1-0 down in the eighth to beat Toronto and avoid a three-game sweep.
Cahill (1-0) came in 0-2 with an 8.04 ERA in three starts against Toronto, but kept the Blue Jays in check. He allowed one run and three hits, walked none and struck out seven.
Toronto's Ricky Romero allowed one run and four hits in 7-1/3 innings. He walked two and struck out five.
Oakland infielder Mark Ellis went in as a defensive replacement in the eighth to appear in his 1,000th MLB game.
In other AL action, it was:
‧ Orioles 9, Tigers 5
‧ White Sox 5, Rays 1
NATIONAL LEAGUE
AP, PHILADELPHIA
Roy Halladay pitched seven sharp innings for his first win of the season, while Wilson Valdez had a career-high four hits as the Philadelphia Phillies beat the New York Mets 11-0.
Halladay (1-0) allowed six hits and struck out seven. The reigning NL Cy Young Award winner gave up one run in six innings in the opener against Houston and avoided a loss when the Phillies rallied in the ninth for a 5-4 win.
The four-time NL East champions are off to a 5-1 start in a season where nothing less than a second World Series title in four years will be considered a success.
New York starter Jonathon Niese (0-1) got roughed up by an offense that's averaging 7.2 runs and 12.7 hits per game. The left-hander allowed six runs and eight hits in four innings.
Valdez, filling in for injured All-Star Chase Utley, finished 4 for 4 with three RBIs, two doubles and two singles. Placido Polanco drove in four runs and Raul Ibanez hit a two-run homer.
ASTROS 3, REDS 2
In Cincinnati, Ohio, Matt Downs doubled home the tiebreaking run with two outs in the ninth inning as Houston held on for their first win of the season over previously unbeaten Cincinnati.
The Astros were the last NL team to win a game.
Downs, who had struck out in all three of his at-bats this season, doubled off Nick Masset (0-1) for the lead. Closer Brandon Lyon, who blew his only other save chance on opening day, gave up a pair of two-out singles, before getting pinch-hitter Ramon Hernandez to ground into a forceout.
The Reds won their first five games for the first time since 1990. They were the lone NL team left without a loss — Texas are still perfect in the American League.
In other NL action, it was:
‧ Nationals 5, Marlins 3, 11 inn
‧ Rockies 7, Pirates 1
Comments will be moderated. Keep comments relevant to the article. Remarks containing abusive and obscene language, personal attacks of any kind or promotion will be removed and the user banned. Final decision will be at the discretion of the Taipei Times.