NBA: Magic blast past slumping Rockets
DWIGHT'S BACKUP: Magic center Dwight Howard was in foul trouble throughout, but forwards Brandon Bass and Ryan Anderson took advantage of the holes left for them
The Orlando Magic blew away the slumping Houston Rockets in the third quarter en route to a 110-95 win and their eighth consecutive victory on Friday.
The Rockets kept pace early to trail 53-50 at halftime, but the Magic racked up 17 unanswered points in the third quarter to take command and send the Rockets crashing to their fourth successive loss.
Brandon Bass and Jason Richardson scored 18 points each to lead the Magic, while Ryan Anderson scored 16 off the bench.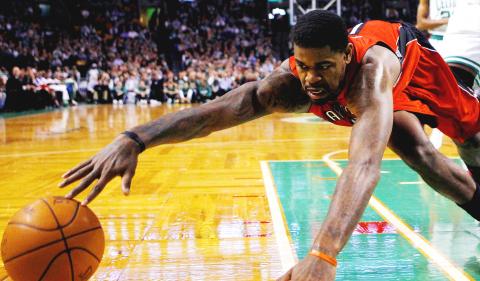 Toronto Raptors forward Amir Johnson reaches for a loose ball in the first quarter against the Boston Celtics in Boston on Friday.
PHOTO: REUTERS
Dwight Howard was limited to just under 27 minutes due to foul trouble but contributed a double-double with 13 points and 11 rebounds.
"I thought he [Howard] was huge in the third quarter because he draws so much attention and that opened up a lot of other people," Magic head coach Stan van Gundy said. "A lot of what Brandon [Bass] and Ryan [Anderson] got tonight was because of the way people play on Dwight."
Rockets guard Kevin Martin led all scorers with 27 points, but scored just eight in the second half while the Rockets offense fell apart.
Luis Scola scored 14 points and Patrick Patterson added 12 off the bench for Houston.
"We just fell apart in the third quarter," Rockets coach Rick Adelman said. "We struggled offensively and we just gave in on the other end."
LAKERS 101, HORNETS 97
In Los Angeles, Kobe Bryant had 25 points to move into ninth place on the NBA's career scoring list, as the Los Angeles Lakers beat the New Orleans Hornets.
Pau Gasol had 21 points and 13 rebounds for the two-time defending champions, who have rebounded from a prolonged holiday skid and stories of minor team discord with five wins in six days.
Bryant followed up his milestone basket in the third quarter with two key buckets in the final two minutes.
David West had 23 points and 12 rebounds for the Hornets.
SPURS 90, PACERS 87
In Indianapolis, San Antonio got back on the winning track by edging Indiana.
Having lost successive games, the league-leading Spurs were again less than convincing, but 25 points from Manu Ginobili helped secure the win.
Tim Duncan had 15 points and 15 rebounds for San Antonio, which overcame a 15-point deficit to become the first team in the league to win 30 games.
Tyler Hansbrough had career highs of 23 points and 12 rebounds in his first start of the season for the Pacers, who have lost five of six.
Indiana shot 1-for-15 in the fourth but still had a chance to take the lead in the final seconds, however Roy Hibbert's hook shot fell short.
HEAT 101, BUCKS 95, OT
In Milwaukee, surging Miami beat Milwaukee in overtime to extend its road-winning streak to 12 games.
Miami has won 20 of its last 21 but this was by far one of the grittiest games the Heat have played as they inch closer to the 1971-1972 Lakers' record streak of 16 consecutive road wins.
Chris Bosh had 16 points and 12 rebounds, including 10 of his 16 in the fourth quarter and overtime, while LeBron James added 26 points and 10 rebounds.
Andrew Bogut had a career-high 27 rebounds for the Bucks.
CELTICS 122, RAPTORS 102
In Boston, a victory over Toronto secured Boston's 3,000th win.
Rookie Luke Harangody had career highs with 17 points and 11 rebounds. He had never played more than 16 minutes in a game and had only four career points, but got in early for the undermanned Celtics.
Paul Pierce scored 20 for Boston, which tied a season high for points in a half with 67 in the first and never let the Raptors get closer than 12 in the second half.
DeMar DeRozan led Toronto with 20 points.
KNICKS 121, SUNS 96
In Phoenix, New York buried Phoenix under a barrage of 17 three-pointers.
Amar'e Stoudemire scored 23 points in his first trip back to Phoenix since leaving for New York, while Raymond Felton had his first career triple-double with 23 points, 11 assists and 10 rebounds as New York handed Phoenix their second-heaviest home loss in 11 years.
Stoudemire, given a rousing ovation when he was introduced, had 19 by halftime. However, it was the Knicks' sharpshooters, looking much like the high-flying Suns of old, who turned the game into a blowout with a 38-point third quarter.
In other NBA action, it was:
‧ Grizzlies 110, Jazz 99
‧ 76ers 105, Bulls 99
‧ Trail Blazers 108, T'wolves 98
‧ Warriors 116, Cavaliers 98
‧ Wizards 97, Nets 77
Comments will be moderated. Keep comments relevant to the article. Remarks containing abusive and obscene language, personal attacks of any kind or promotion will be removed and the user banned. Final decision will be at the discretion of the Taipei Times.