NBA: Celtics take thriller over New York Knicks
Paul Pierce hit a fadeaway jumper with four-tenths of a second left to give the Boston Celtics a dramatic 118-116 triumph over the New York Knicks on Wednesday for their 11th victory in a row.
The Celtics improved their Eastern Conference-best record to 20-4, while the Knicks, who took an eight-game winning streak into the Atlantic Division showdown, dipped to 16-10.
The Knicks were in control for most of the high-quality contest before the game turned into a see-saw battle in the final minutes.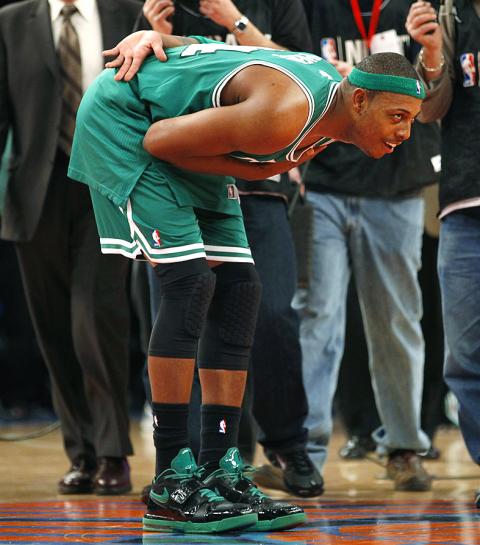 Boston Celtics' Paul Pierce bows to the crowd on Wednesday after the Celtics defeated the New York Knicks in New York.
PHOTO: REUTERS
"We didn't have control of the game at all, but we never stopped fighting," Boston sharpshooter Ray Allen told reporters.
New York led by eight after the first quarter and by seven after each of the next two quarters.
Allen coolly sank a three-pointer from the corner with a minute left to put Boston ahead 116-113 for Boston's first lead since 7-5 in the first quarter.
A three-point play off a drive by Danilo Gallinari tied it with 12.2 seconds remaining, but Pierce dribbled down the clock before unleashing his winning jumper from 4.5m.
At the buzzer, New York's Amare Stoudemire caught the inbounds pass and unleashed a long shot that swished through the hoop for an apparent game-winning three-pointer that sent the sold-out Madison Square Garden crowd into delirium.
Replays, however, showed the clock had expired before Stoudemire fired up his shot, so the call was overruled and Boston was declared the winner.
"We had them all night," Stoudemire told reporters. "We played great basketball tonight. They did a good job down the stretch scoring the ball."
Stoudemire said that New York's performance against the top-flight Celtics answered critics who questioned the quality of the opposition during the Knicks' winning streak.
"We definitely earned our respect," he said. "I guarantee you that Boston respects us."
Pierce led the Celtics with 32 points, while Stoudemire topped all scorers with 39 points as he extended his club record streak to nine games in a row with at least 30.
Allen said one key to the climactic finish was the exquisite timing by Pierce on the go-ahead basket that left Stoudemire with precious little time to get off his shot.
"That goes back to our -possession when he [Pierce] hit the shot, taking as much time off the clock as we could," he said. "Imagine if they had .8 or .9 on the clock. That makes it a different story."
Allen had 26 points, going four-for-five from beyond the three-point line, while point guard Raymond Felton contributed 26 points and 14 assists on the losing side.
The Knicks face another tough test today, entertaining LeBron James, Dwyane Wade and the Miami Heat.
MAVERICKS 103, TRAIL BLAZERS 98
In Dallas, Caron Butler matched his season high with 23 points as Dallas got back on track with a victory over Portland.
Dirk Nowitzki scored 12 of his 21 in the fourth quarter for the Mavericks, whose 12-game winning streak was snapped by Milwaukee on Monday.
Dallas-area native LaMarcus Aldridge scored 20 of his season-high 35 points in the fourth quarter for the Blazers, who lost their third in a row.
Portland rallied from a 17-point third-quarter deficit, tying it at 93-93 with 2:07 left. However, Nowitzki hit from 2mr with 1:49 remaining to give Dallas the lead for good.
SPURS 92, BUCKS 90
In San Antonio, Texas, Manu Ginobili hit a fallaway jumper as time expired, lifting San Antonio over Milwaukee.
Ginobili scored the last of his 26 points on a 5.5m over the outstretched arm of Luc Mbah a Moute, who missed a shot that would have given the Bucks the lead seconds earlier.
The Spurs improved their NBA-best record to 21-3 and stayed unbeaten against Eastern Conference teams. They also wrapped up a 6-0 homestand.
In other NBA action, it was:
‧ Lakers 109, Pacers 94
‧ Thunder 117, Rockets 105
‧ Heat 101, Cavaliers 95
‧ Bulls 110, Raptors 93
‧ Grizzlies 113, Bobcats 80
‧ Hornets 94, Kings 91
‧ Suns 128, Timberwolves 122
‧ 76ers 105, Clippers 91
Comments will be moderated. Keep comments relevant to the article. Remarks containing abusive and obscene language, personal attacks of any kind or promotion will be removed and the user banned. Final decision will be at the discretion of the Taipei Times.