Despite loss of Favre, Vikings win 38-14
SEA CHANGE? This sinking of Buffalo saw the Vikings improve their win-loss ratio to 5-7 after two consecutive wins under interim head coach Leslie Frazier
Tarvaris Jackson came off the bench for an injured Brett Favre and threw for 187 yards and two touchdowns as the Minnesota Vikings beat Buffalo 38-14 on Sunday.
Adrian Peterson rushed for 107 yards and three touchdowns on a tender right ankle for the Vikings, who have won both matches under interim head coach Leslie Frazier to improve their win-loss record to 5-7.
Favre said he sprained his throwing shoulder, which occurred on the first series of the game after a big hit by Bills linebacker Arthur Moats. Jackson came in and led the Vikings to 31 first-half points. However, he also threw three interceptions, including one that Drayton Florence returned 40 yards for a touchdown.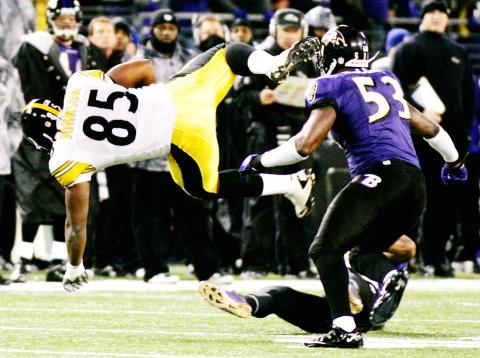 Pittsburgh Steelers tight end David Johnson, left, is upended by Baltimore Ravens safety Dawan Landry, back, as Ravens linebacker Jameel McClain moves in during the first half of their game in Baltimore, Maryland, on Sunday.
Photo: Reuters
Florence had two interceptions for the Bills (2-10). Buffalo committed five turnovers and had just 9 yards passing in the first half to lose its second in a row following two straight wins.
Steelers 13, Ravens 10
In Baltimore, Ben Roethlisberger threw a nine-yard touchdown pass to Isaac Redman with 2:51 left after Troy Polamalu forced a fumble as Pittsburgh beat Baltimore to gain sole possession of first place in the AFC North.
A fierce defensive battle turned when Polamalu hit Joe Flacco's arm on a safety blitz. The loose ball was taken 19 yards by Lamarr Woodley to the Baltimore 9, setting up Pittsburgh's lone touchdown.
Cowboys 38, Colts 35 OT
In Indianapolis, Peyton Manning had two interceptions returned for touchdowns and his fourth of the day set up David Buehler for a 38-yard field goal that gave Dallas the win in overtime.
Manning finished 36 of 48 for 365 yards with two touchdowns and his second straight four-interception game. He's thrown a career-high 11 picks in the past three weeks with four of those going back for TDs.
Dallas (4-8) rushed for a season-high 217 yards and led most of the way thanks to Manning's miscues. The Colts (6-6) fell one game behind first-place Jacksonville in the AFC South.
When Manning's third-down pass to Jacob Tamme was deflected by Mike Jenkins, linebacker Sean Lee picked off his second pass of the day and ran it back 13 yards to the Colts 36. Six plays later, -Buehler won it.
Jaguars 17, Titans 6
In Nashville, Maurice Jones-Drew ran for a career-best 186 yards and Rashad Jennings and David Garrard each ran for a touchdown for Jacksonville.
The win allowed the Jaguars (7-5) to take over first-place in the AFC South.
Tennessee (5-7) started veteran Kerry Collins at quarterback, but the Titans were unable to avoid their fifth straight loss. The Titans have now gone 13 quarters without scoring a touchdown.
Falcons 28, Bucs 24
In Tampa, Eric Weems scored from a 102-yard kickoff return and Matt Ryan threw a nine yard touchdown pass to Michael Jenkins as Atlanta rallied from a 10-point deficit for its sixth straight victory.
Ryan led his sixth fourth-quarter comeback of the season for the NFC South leaders, keeping a 10-play, 67-yard march alive with a 25-yard completion to Roddy White on third-and-20. The Falcons (10-2) also benefited from a couple of costly penalties on the Bucs.
Rookie LeGarrette Blount rushed for 103 yards and fullback Earnest Graham threw a two yard touchdown pass to John Gilmore for Tampa Bay (7-5), which fell to 0-5 against teams with winning records.
Chiefs 10, Broncos 6
In Kansas City, Jamaal Charles rushed for 116 yards and Matt Cassel threw a three-yard pass to Leonard Pope for the only touchdown as Kansas City avenged a 20-point loss to Denver three weeks ago.
Knowshon Moreno rushed for 161 yards for the Broncos (3-9), who are enduring one of their worst stretches in decades, losing 17 of their past 22 games under coach Josh McDaniels.
In spite of all their blunders, the Chiefs (8-4) stayed unbeaten in six home games and remained on top of the AFC West.
Seahawks 31, Panthers 14
In Seattle, Marshawn Lynch rushed for a career-high three touchdowns, Lofa Tatupu returned an interception 26 yards and Seattle used a 21-point third quarter to rally past Carolina.
Lynch scored on a pair of one yard runs in the third -quarter, sandwiched around Tatupu's -interception of Carolina rookie Jimmy Clausen. Lynch added a 22-yard touchdown run in the fourth quarter as Seattle (6-6) avoided an embarrassing loss and stayed even with St Louis in the NFC West race.
Sunday's other results:
‧ Rams 19, Cardinals 6
‧ Raiders 28, Chargers 13
‧ Saints 34, Bengals 30
‧ Packers 34, 49ers 16
‧ Giants 31, Redskins 7
‧ Bears 24, Lions 20
‧ Browns 13, Dolphins 10
Comments will be moderated. Keep comments relevant to the article. Remarks containing abusive and obscene language, personal attacks of any kind or promotion will be removed and the user banned. Final decision will be at the discretion of the Taipei Times.