NHL: Kelly's hat trick clinches 3-1 win over NY Rangers
Chris Kelly scored all three goals in Ottawa's 3-1 victory over the New York Rangers on Sunday night.
Kelly scored a short-handed goal in the second period and completed his hat trick into an empty net in the game's final second. Kelly doubled his season goal total to six.
Pascal Leclaire made 25 saves for his second win of the season for Ottawa, which won for just the third time in 11 games. The struggling Senators (12-14-2) had been shut out in their previous two games at home.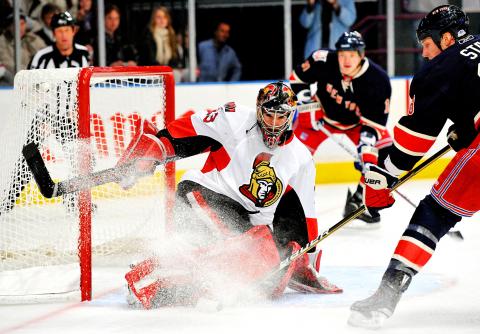 Pascal Leclaire, left, of the Ottawa Senators deflects a shot on goal by Marc Staal, right, of the New York Rangers during the second period of their game at Madison Square -Garden in New York City on Sunday.
PHOTO: AFP
Brandon Prust scored a short-handed goal for the Rangers (16-12-1), who lost for only the third time in nine games. Henrik Lundqvist finished with 22 saves.
Flyers 3, Islanders 2
At Uniondale, New York, Daniel Briere scored the tiebreaking goal with 5:44 left and Philadelphia held on to beat the New York Islanders yet again.
Philadelphia has won all three against the Islanders this season and has won 21 of the past 23 meetings between the Atlantic Division rivals. New York had taken a 2-1 lead in the third period on goals by P.A. Parenteau and Frans Nielsen in a span of 36 seconds.
Matt Carle and Andreas Nodl also scored for Philadelphia and Sergei Bobrovsky stopped 28 shots for the win.
Blackhawks 4, Flames 2
In Chicago, Dave Bolland scored two power-play goals and Chicago overcame the loss of star forward Patrick Kane in the opening minute.
Bryan Bickell and Jonathan Toews also scored power-play goals for Chicago.
Kane sustained an undisclosed lower body injury 46 seconds in and didn't return.
Jarome Iginla and Anton Babchuk scored on the power play for the Flames. Babchuk's goal was his first since joining Calgary in a trade from Carolina on Nov. 17.
Coyotes 3, Ducks 0
In Anaheim, California, Ilya Bryzgalov shut out his former team for the third time since leaving Anaheim, Taylor Pyatt scored on a deflection and Shane Doan connected during a power play to lead Phoenix.
Bryzgalov made 39 saves for his second shutout of the season and 18th of his NHL career. He was waived by the Ducks during the 2007-08 season and claimed by the Coyotes.
Lee Stempniak, playing in his 400th NHL regular-season game, scored into an empty net with 2:56 remaining.
Blues 3, Canucks 2
In Vancouver, British Columbia, Alexander Steen scored his second goal 6:11 into the third period and added an assist as St. Louis snapped a five-game losing streak.
Matt D'Agostini had a goal and an assist, and Jaroslav Halak made 21 saves as St Louis bounced back from a 2-1 overtime loss in Edmonton on Saturday when top center Andy McDonald sustained an upper body injury.
Comments will be moderated. Keep comments relevant to the article. Remarks containing abusive and obscene language, personal attacks of any kind or promotion will be removed and the user banned. Final decision will be at the discretion of the Taipei Times.