Surfing world mourns death of Andy Irons
The unexpected and mysterious death of surfing champion Andy Irons has left the tight-knit surfing world saddened and stunned.
From the waters of Puerto Rico to his home state of Hawaii, tributes poured out for the three-time world champion and soon-to-be father, who was found dead in his hotel bed on Tuesday in the Dallas area.
A police report released on Wednesday said the prescription drugs Xanax, an anti-anxiety medication, and the sleeping aid Ambien were found in Irons' hotel room. There were no signs of trauma or foul play.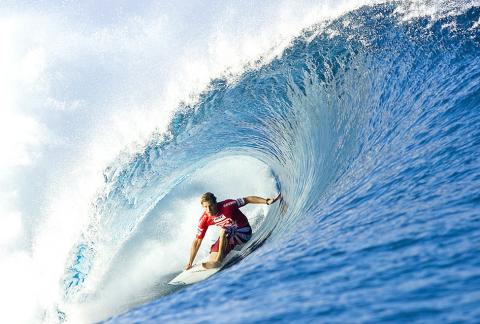 Three-time Association of Surfing Professionals world surfing champion Andy Irons surfs in the Billabong pro tour in Teahupoo, Tahiti, in an undated handout photo provided by the association.
PHOTO: AP, ASSOCIATION OF SURFING PROFESSIONALS
Tarrant County Medical Examiner Nizam Peerwani said a ruling on the cause of death could take several weeks, pending the completion of lab tests.
Police were called when Irons did not answer his wake-up call and was found by hotel workers, who went to check on him. Irons was on his back with his bed covers and pillows neatly set, according to police. He had checked into the hotel on Monday morning.
Irons was on a layover en route to his home on Kauai. He was returning from Puerto Rico, where he was supposed to compete in the Rip Curl Pro Search. However, he withdrew on Sunday, telling tournament organizers that he had become ill during an event in Portugal.
The 32-year-old surfer claimed the world championship in 2002, 2003 and 2004, and was a four-time winner of the prestigious Vans Triple Crown of Surfing.
Irons was making a strong comeback after taking last year away from surfing. He was also looking forward to being a father. His wife, Lyndie, is expecting the couple's first child next month.
Professionally, Irons was a fierce competitor and known for his rivalry with nine-time world champion Kelly Slater. Out of the water, Irons was remembered as a humble person who loved Hawaii. He was also intensely devoted to his family, friends and fans.
"Andy was incredible. I think he was a person that always wore his heart on his sleeve. He didn't try to impress anyone. He was just all about what he wanted to do. He was an amazing competitor," Australian surfer Mick Fanning said.
Irons was revered on Kauai, along with his younger brother Bruce, also a pro surfer. Irons' father brought him to the North Shore, where he was married three years ago.
In a 2002 interview, the day he won his first title, Irons said being a champion wouldn't change him as a person. And friends say that was true.
"I'm totally the same person. I'm just a Kauai boy with a title now," Irons said.
In Puerto Rico, more than 130 surfers along the island's north coast paddled out on Wednesday under overcast skies to clasp hands and form a circle as tradition dictates to honor a surfer who dies.
Fanning threw flowers into the middle as others cheered and splashed before they broke off one by one to catch a wave in honor of Irons.
"We're a surfing family," Fanning said in a statement. "We're all hurting right now."
The Association of Surfing Professionals said it would suspend competition again yesterday out of respect for Irons and expected the Rip Curl Pro Search to resume today.
The surfers grabbed their boards with one hand and clutched bright yellow flowers with their other as they shuffled quietly through the sand and entered the water.
Slater was among those who paddled out.
"Although he and I butted heads a lot a few years ago, I have so many good memories of Andy and we have become pretty good friends since," Slater said in a statement. "We're just baffled that he's gone."
In Hawaii, a local surf tournament was held on Sunset Beach with waves pounding the North Shore. The mood was somber with some grief-stricken surfers pulling out of the event.
Meanwhile, a flood of messages were posted online.
"RIP buddy you will always be in our hearts," tweeted Sunny Garcia, a former world champion from Hawaii.
Irons was scheduled to compete in the Triple Crown, which begins next week in Hawaii with the Reef Hawaiian Pro.
Irons' family released a statement thanking the surfer's friends and fans and requesting privacy "so their focus can remain on one another during this time of profound loss."
Comments will be moderated. Keep comments relevant to the article. Remarks containing abusive and obscene language, personal attacks of any kind or promotion will be removed and the user banned. Final decision will be at the discretion of the Taipei Times.