Matt Cain outduels Cole Hamels as San Francisco take 2-1 lead in NLCS
Cody Ross came through with another key hit this postseason while Matt Cain outdueled Cole Hamels as the San Francisco Giants beat the Philadelphia Phillies 3-0 on Tuesday to take a 2-1 lead in the National League Championship Series.
Ross hit an RBI single in the fourth inning to break a scoreless tie and fellow playoff first-timer Aubrey Huff followed with a run-scoring single. The Giants grabbed the edge in their best-of-seven series against the two-time defending NL champions — with two more games in their home ballpark.
Among those in the 43,320 crowd was home run king Barry Bonds in a front-row seat near San Francisco's dugout.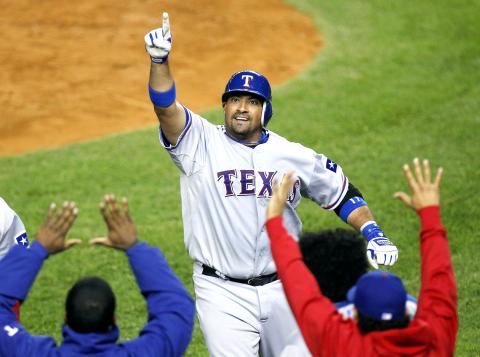 The Texas Rangers' Bengie Molina celebrates after hitting a two-out three-run home run against the New York Yankees in Game 4 of the ALCS in New York on Tuesday.
Photo: Reuters
Giants manager Bruce Bochy tweaked his lineup and it worked.
Aaron Rowand earned a start in center field, then doubled and scored on Freddy Sanchez's fifth-inning single.
This marked the third impressive pitcher's duel in as many games of this NLCS. First, it was Roy Halladay versus Tim Lincecum, then Roy Oswalt and Jonathan Sanchez.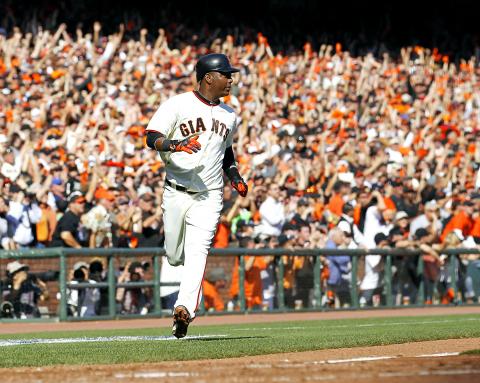 The San Francisco Giants' Edgar Renteria heads home to score on a hit by Cody Ross in the fourth inning against the Philadelphia Phillies during Game 3 of the NLCS in San Francisco on Tuesday.
Photo: Reuters
Phillies manager Charlie Manuel was considering going back to Halladay on short rest for Game 4 if his team trailed, though Joe Blanton was penciled in for the start. Rookie Madison Bumgarner, who pitched the division series clincher in Atlanta, goes for the Giants.
Cain allowed two hits over seven innings, struck out five and walked three in a strong 119-pitch effort.
Javier Lopez pitched the eighth and Brian Wilson finished it for his fourth postseason save and second in as many tries this series.
Cain and 2008 World Series MVP Hamels each began with three scoreless innings. The left-handed Hamels didn't allow a hit until Edgar Renteria's single to start the fourth, while Carlos Ruiz's one-out single in the third was the first off Cain.
After Renteria's hit, Sanchez sacrificed him to second. Buster Posey struck out swinging and former Phillies outfielder Pat Burrell walked. Ross followed with his single.
Comments will be moderated. Keep comments relevant to the article. Remarks containing abusive and obscene language, personal attacks of any kind or promotion will be removed and the user banned. Final decision will be at the discretion of the Taipei Times.