Off-target Rivera hands Rangers win
The Texas Rangers rallied for a 7-6 victory over the New York Yankees on Saturday when closer Mariano Rivera hit Jeff Francoeur with a pitch in the bottom of the ninth to allow the game-winning run to cross home plate.
Rivera entered the game in the inning with a one-run lead, but he gave up two hits and two walks, one intentional, to the first four batters he faced as Texas tied the score, before the normally reliable pitcher hit Francoeur to end the game.
"I was so shocked that I just started yelling: 'He hit me, he hit me,'" Francoeur told reporters. "Getting hit by a pitch is not the way you envision winning a game. You never really want to face him, but how can you not want to be in that situation? I know when I tell my kids, it will be a double in the gap. If they want to look up the boxscore when they are older, that's fine."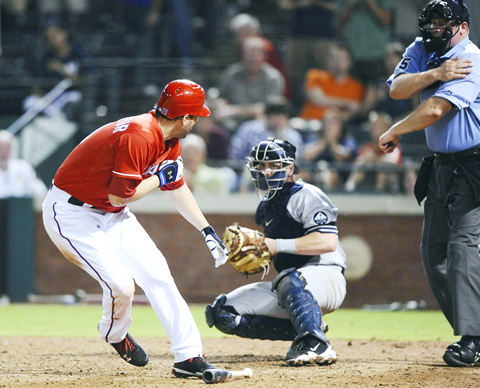 Jeff Francoeur of the Texas Rangers, left, gets hit by a New York Yankees pitch during their American League game in Arlington, Texas, on Saturday.
PHOTO: EPA
A one-hour rain delay with the score tied at 2-2 in the fifth inning transformed a pitchers duel between Rangers starter Tommy Hunter and A.J. Burnett into a slugfest, as both teams depleted their bullpens for the second consecutive game.
Burnett gave up two runs on four hits while striking out six batters in four innings, while Hunter allowed two runs on six hits and struck out eight in five innings before the delay.
Rivera was the seventh Yankees pitcher and was charged with his third blown save and third loss of the season, while Alexi Ogando, the Rangers seventh pitcher of the game, collected his fourth win for pitching a scoreless ninth inning for Texas.
Alex Rodriguez hit a three-run double in the eighth inning to give the Yankees a 6-5 lead, erasing a three-run deficit the Rangers built by scoring two in the sixth and one in the seventh after the delay.
Orioles 5, Tigers 3
In Detroit, Michigan, Adam Jones had four hits and Jeremy Guthrie pitched seven shutout innings to help Baltimore get the victory over Detroit.
Brian Roberts and Felix Pie had three hits apiece for Baltimore.
Guthrie (10-13) gave up five hits — all in the first three innings — and one walk. He is 3-0 with a sparkling 0.81 ERA in his last three starts.
Koji Uehara pitched the ninth for his ninth save and second in as many days.
Detroit's Max Scherzer (10-10) allowed four runs and a career-high 12 hits in six innings, snapping a five-start unbeaten streak.
Saturday's other results:
• Twins 1, Indians 0
• Royals 8, White Sox 2
• Athletics 4, Red Sox 3
• Rays 13, Blue Jays 1
• Angels 7, Mariners 4
AP, SAN DIEGO, California
Tim Stauffer threw six sparkling innings and Yorvit Torrealba homered as the San Diego Padres beat the San Francisco Giants 1-0 on Saturday to retain the National League West lead.
The Padres (80-61) snapped a virtual tie for the top spot in the division, taking a one-game lead over the Giants (80-63) after dropping the first two in the four-game set. San Francisco pulled within a percentage point of San Diego with Friday night's 1-0 win.
Stauffer, the club's long reliever, made just his third start of the season, but was sensational. He yielded three hits and pitched out of his only jam in the second.
Torrealba's fifth homer in the third landed in the right-field porch and helped San Diego win for just the fourth time in 16 games.
Luke Gregerson, Mike Adams and Heath Bell each pitched a hitless inning in the Padres' 18th shutout of the season. Bell earned his 40th save in 43 chances.
Marlins 4, Nationals 1
In Washington, Anibal Sanchez remained unbeaten against Washington, allowing four hits in seven-and-two-third innings to pitch Florida past the Nationals for the fifth straight time.
Emilio Bonifacio hit a two-run single to back Sanchez (12-9), who gave up one run, struck out four and walked none. He has a 2.29 career ERA against the Nationals, going 2-0 this year.
Wilson Ramos' RBI double in the eighth was the first earned run Sanchez allowed against the Nationals in 23-and-a-third innings.
Dodgers 6, Astros 3
In Houston, Texas, reliever Brandon Lyon's threw away a bunt for a tiebreaking two-run error in a three-run ninth inning to give Los Angeles a win over Houston.
Dodgers manager Joe Torre was ejected in the first inning by plate umpire Paul Emmel. Torre complained from the dugout after Casey Blake was called out on strikes, then left the dugout following the ejection to speak with Emmel.
With the score at 3-3, Trent Oeltjen singled off Lyon (6-6) and Reed Johnson reached on a bunt single down the first-base line.
A.J. Ellis bunted and Lyon picked up the sacrifice, then hesitated and threw wildly to first as two runs were scored. Ellis went to third on the error and scored on pinch-hitter James Loney's double.
Saturday's other results:
• Braves 6, Cardinals 3, 12 innings
• Mets 4, Phillies 3
• Reds 5, Pirates 4, 10 innings
• Cubs 1, Brewers 0
• Rockies 2, Diamondbacks 1
Comments will be moderated. Keep comments relevant to the article. Remarks containing abusive and obscene language, personal attacks of any kind or promotion will be removed and the user banned. Final decision will be at the discretion of the Taipei Times.