Ai Miyazato wins Safeway Classic, secures No. 1 spot
Ai Miyazato reclaimed the top spot in the world rankings by winning the LPGA Safeway Classic on Sunday for her fifth victory of the year.
The Japanese star closed with an even-par 72 to finish at 11 under, two strokes in front of Cristie Kerr, ranked No. 1 going into the event, and Choi Na-yeon.
Kerr shadowed Miayzato throughout the final round until hitting into the water on the par-4 18th on Pumpkin Ridge Golf Club's Ghost Creek Course.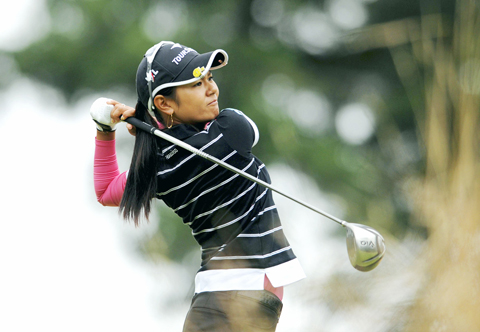 Ai Miyazato hits her tee shot on the fourth hole during the final round of the LPGA Safeway Classic on Sunday in North Plains, Oregon.
PHOTO: REUTERS
Kerr shot a 70, and Choi had a 71 in mostly sunny conditions on the rural course about a 20-minute drive west of Portland. Rain fell briefly about the time that the leaders teed off.
Miyazato, who led all three rounds, is among five players who have been jockeying for the No. 1 ranking, including Kerr, Jiyai Shin, Suzann Pettersen and Yani Tseng.
"It has been amazing. It is the first time I have a wire-to-wire win," Miyazato said. "I am really happy I made it. I had a good feeling with my short game right now."
The Safeway Classic, in its second year at Pumpkin Ridge, was marred on Saturday when Juli Inkster, in a strong position to contend in the final round, was disqualified.
The 50-year-old Hall of Famer was using a weighted training aid on her club to stay loose while waiting for 30 minutes to make the turn at the 10th hole. That broke rule 14-3, which meant disqualification.
Miyazato and Kim, playing in the final pairing of the day, battled on the back nine holes after Kim pulled even with Miyazato with a jaw-dropping chip from under a tree to birdie the par-3 11th.
However, Kim dropped two shots with bogeys on the 13th and 14th holes.
Playing in the group in front of them, Kerr was steady — but missed a chance to pull even with Miyazato by misjudging a 12-foot birdie putt on No. 17. Her chances slipped away with the shot into the water on the final hole.
"I just said to myself, 'How could you do that?'" she said.
Kerr won the Safeway Classic in 2008 at Columbia Edgewater Country Club near Portland International Airport.
Pettersen (69) and Kim Song-hee (72) finished at 8 under.
The highest-placed Taiwanese was Teresa Lu who finished at 9 under for a share of eighth place.
Tseng, who the Women's British Open on Aug. 1 for her second major victory of the season and third in three years, finished the event at 2 over along with fellow Taiwanese Candie Kung. Compatriot Amy Hung finished a shot further back.
M.J. Hur, the defending champion, was at 4 over and did not make the projected cut. The Safeway Classic is her first and only title to date.
Inkster had finished in a three-way tie for second at 8 under with Kim and Choi after two rounds. However, that was erased when she used the "doughnut" training aid to practice her swing before making the backed-up turn, and the image flashed on television.
LPGA director of tournament Competitions Sue Witters said a viewer watching the broadcast brought the violation to the attention of tournament officials via e-mail. By that time, Inkster was almost finished with her round.
"I had a 30-minute wait and I needed to loosen up," Inkster said in a statement. "It had no effect on my game whatsoever, but it is what it is. I'm very disappointed."
Additional reporting by staff writer
Comments will be moderated. Keep comments relevant to the article. Remarks containing abusive and obscene language, personal attacks of any kind or promotion will be removed and the user banned. Final decision will be at the discretion of the Taipei Times.