Young Yang the hero in Taiwan victory
'WILLPOWER' Yang Tsung-hua ensured that Taiwan will not have to face a relegation playoff, while in France, reigning champions Spain were dumped out in the quarter-finals
Yang Tsung-hua will not get much adulation or even recognition for his performance this weekend in Taiwan's Asia/Oceania Group I Davis Cup relegation playoff victory against the Philippines in Kaohsiung — but he should. \nAfter winning a tough singles match on Friday and teaming up with Yi Chu-huan to win a crucial four-setter in doubles on Saturday, the fatigued 19-year-old gave Taiwan an unassailable 3-1 lead in the best-of-five tie yesterday by pulling off a 2-6, 6-3, 6-2, 3-6, 6-3 victory against crafty veteran Cecil Mamiit. \n"I was really tired in the fifth set, but so was he [Mamiit] because he had also played three straight days. My willpower got me through that last set," Yang told Central News Agency after completing the first five-set match of his young career and withstanding the pressure of carrying his team in Davis Cup for the first time. \nWith Taiwan's top player, Lu Yen-hsun, not playing Davis Cup this year, Jimmy Wang still not fully recovered from a wrist injury and veteran Chen Ti fighting inconsistency and injuries, it was up to Yang to play a primary role in keeping Taiwan in Asia/Oceania Group I, just one notch below the World Group — the highest echelon of Davis Cup. \nTaiwan lost their first-round encounter to Australia 5-0 and needed to beat the Philippines to avoid a final showdown against South Korea in September for relegation to Group II. \nYang, who only turned professional this year and whose ranking rose inside of 300 (No. 295) for the first time this past week, admitted to feeling some pressure this weekend, before his instincts took over. \n"I felt nervous before my matches, but once I was out there, I didn't think about anything and I got plenty of encouragement from the coach," Yang said. \nIn yesterday's singles, Yang still showed he has plenty to learn about the professional game, admitting to having trouble with the changes of pace thrown at him by the 34-year-old Mamiit in the fourth set. \n"I had trouble picking up his shots," he said. \nHowever, Yang was able to impose his will in the final set to propel Taiwan to victory. \nYang does not intend to vie for a spot in the final Grand Slam of the year — the US Open — preferring to build his game and play second tier ATP Challengers to pick up ranking points. He felt his Davis Cup performance would have a positive impact on his future. \n"I think the Davis Cup has really helped me with my confidence and gaining experience, and it has prepared me better for my pro career," Yang said. \nThe victory over the Philippines meant Taiwan's Davis Cup campaign is over this year, but it has also given Yang some confidence for Taiwan's chances next year. \n"If Lu plays Davis Cup, I think we have a shot at reaching the World Group playoffs," Yang said. \nAustralia and Kazakhstan are the two countries that qualified for the World Group playoffs from Asia/Oceania Group I this year. \nIn the final singles match of the tie, Taiwan's Lee Hsin-han defeated Ruben Gonzales of the Philippines 6-3, 6-0 to complete Taiwan's 4-1 victory. \nEarlier on Saturday, France ended Spain's hopes of a hat-trick of Davis Cup triumphs by winning the doubles to take an unassailable 3-0 lead in their quarter-final in Clermont-Ferrand, France. \nFrench duo Michael Llodra and Julien Benneteau beat Fernando Verdasco and Feliciano Lopez in four sets to give France a first Davis Cup victory against Spain since 1923. \n"They played better than us in the doubles. It was a high-level game and we have nothing to feel guilty about," Spain captain Albert Costa told reporters. "It's a very distressing day. Our players have won the Davis Cup twice and they can be proud of what they did. This time we lost because we came across a better team." \nFrance will play the winners of the quarter-final in Moscow between Russia and Argentina, which was to be decided yesterday after Argentina's Horacio Zeballos and Eduardo Schwank won Saturday's doubles to give the south Americans a 2-1 lead. \nThe Czech Republic, beaten finalists last year, cruised into the semi-finals when they won Saturday's doubles rubber in Chile to go 3-0 ahead. \nChile managed just one set in the three completed rubbers in Coquimbo, despite the visitors being without Wimbledon runner-up Tomas Berdych and Radek Stepanek. \nThe Czechs will face either Serbia or Croatia in September. Serbia lead 2-1 with the reverse singles remaining. \nAfter Gael Monfils and Michael Llodra had given France a flying start on Friday with singles wins over David Ferrer and Verdasco respectively, Spain were left with a daunting task in Clermont-Ferrand, attempting to overturn a 2-0 deficit in the Davis Cup for the first time. \nBacked by an enthusiastic crowd, Llodra and Benneteau outclassed their opponents for two sets, before the Spanish launched a belated fightback. \nVerdasco and Lopez saved a match-point before extending the match to a fourth set, but eventually went down 6-1, 6-2, 6-7, 7-6. \nFrance celebrated in a team huddle and sang the Marseillaise with the home crowd joining in. \n"I knew it was going to be difficult and I had a big fright when they started to play in the third set and won the tiebreak," France coach Guy Forget told French television. "I hope it's just the beginning of a long story for that bunch of players. They were just great and I hope they will play with the same faith in September." \nLlodra said he hoped France, who were last in the final in 2002, would go on and win the trophy. \n"For the record, I was 11 when I watched Guy [Forget] and Henri [Leconte] beat the United States in the final of the Davis Cup in 1991," he said. "It has always been my dream to emulate them. We have beaten the holders and it's fantastic." \nRussia's Nikolay Davydenko said he was not sure whether he would play the first reverse singles yesterday after he and Igor Kunitsyn were beaten by Zeballos and Schwank. \nDavydenko, the world No. 6, was beaten by David Nalbandian on Friday in the singles and was clearly below-par again on Saturday. \n"We have a small hope for tomorrow and it's going to be very difficult, as being 2-1 down is not so easy," Davydenko said. \nSerbia need just one more point to beat Croatia in Split after Janko Tipsarevic and Nenad Zimonjic scored a crucial victory over Marin Cilic and Ivan Dodig in the doubles. \n"We believe Cilic can put up another great performance in the singles clash, it's not over yet," Croatia coach Goran Prpic told reporters.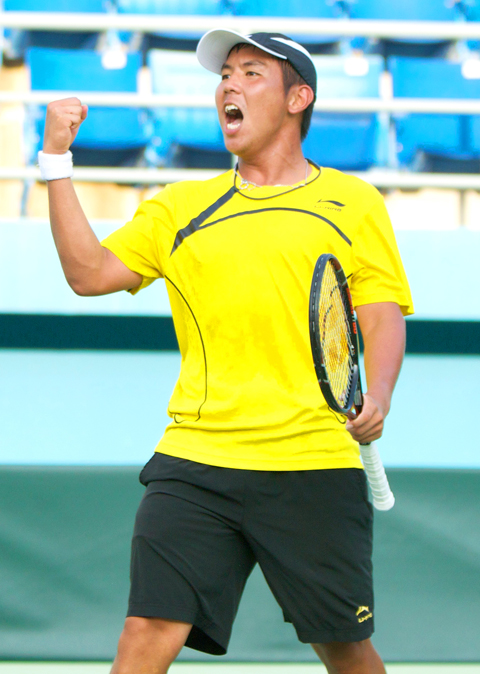 Taiwan's Yang Tsung-hua celebrates after defeating Cecil Mamiit of the Philippines during their Davis Cup Asia/Oceania Group I match in Kaohsiung yesterday.
PHOTO: COURTESY OF THE CHINESE TAIPEI TENNIS ASSOCIATION
Comments will be moderated. Keep comments relevant to the article. Remarks containing abusive and obscene language, personal attacks of any kind or promotion will be removed and the user banned. Final decision will be at the discretion of the Taipei Times.