Magic skin Bobcats 99-90 for first postseason sweep
WINNING RUN Charlotte led by two at halftime before the defending Eastern Conference champs bounced back in the fourth quarter with a run sparked by Mickael Pietrus
The Orlando Magic completed their first best-of-seven postseason sweep, dispatching the Charlotte Bobcats with a series-ending 99-90 victory on Monday.
Vince Carter dug himself out of a recent scoring slump with 21 points, while Jameer Nelson tallied 18 to help the Magic become the first team to advance to the second round of the playoffs.
The Magic will now face either Milwaukee and Atlanta, whose series is locked at 2-2 following the Bucks' 111-104 win on Monday.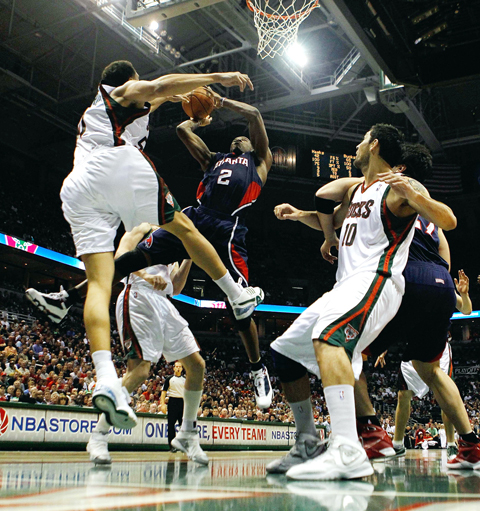 Joe Johnson, center, of the Atlanta Hawks goes up for a shot under pressure from Dan Gadzuric, left, of the Milwaukee Bucks as Carlos Delfino, front right, awaits a rebound opportunity in Game Four of the NBA Eastern Conference quarter-finals on Monday at the Bradley Center in Milwaukee, Wisconsin.
PHOTO: AFP
"That was a very difficult series," Orlando coach Stan Van Gundy told reporters. "We struggled to score points and get shots. They had a great game plan in the series and both teams played extremely hard. I was proud of our intensity and resolve."
Thomas had 21 points and nine rebounds for postseason debutantes Charlotte.
The Bobcats led by two at halftime before the defending Eastern Conference champions took control in the fourth quarter with a 10-0 run sparked by Magic reserve Mickael Pietrus that opened an 87-76 lead.
Pietrus made two three-pointers during the run and had 10 of his 13 points in the fourth. Carter also managed his first three-pointer of the series in the same period, having entered the game 0-for-12 from distance.
Orlando All-Star center Dwight Howard's postseason foul troubles continued when he was sent off in the final quarter with just six points and 13 rebounds.
SUNS 107, TRAILBLAZERS 88
In Phoenix, Arizona, Channing Frye and Jared Dudley came off the bench to score 20 and 19 points as Phoenix routed Portland 107-88 in game five of their opening round series.
Steve Nash scored 11 of his 14 points during the third quarter and also had 10 assists for Phoenix, which grabbed a 3-2 lead and can close out the series with a victory tomorrow in Portland.
Amare Stoudemire chipped in 19 points in the win.
"We got a lot of guys in our team who have confidence," Nash said. "We stayed with our game plan. We weren't always looking for the fast break and we had a nice rhythm to our game."
Andre Miller finished with 21 points, while Jerryd Bayless and LaMarcus Aldridge each added 17 for the Blazers, who wasted an early 14-point lead.
"When the game is open court we can use our quickness and our athleticism," Suns coach Alvin Gentry said.
"They're so long and so big. [Marcus] Camby and those guys just suck up everything on the boards when you're in a stagnant type of offence. We just tried to open up the floor," he said.
Brandon Roy was playing in his second game since undergoing surgery to repair a torn meniscus in his right knee. He was limited to five points.
On Saturday, Roy scored five of his 10 points in the final quarter of Portland's 96-87 victory. He was in the starting lineup on Monday, but picked up three fouls in the first half.
Miller scored 10 in the first quarter as the Blazers went 18-4 ahead.
Leading 84-66 going to the fourth, the game got testy. Portland's Martell Webster exchanged words with Leandro Barbosa after landing hard to the floor on a foul early in the final quarter.
The Suns led by as many as 27 in the fourth.
BUCKS 111, HAWKS 104
At Milwaukee, Carlos Delfino scored 22 points with six 3-pointers and Milwaukee pulled off its second straight playoff surprise, beating Atlanta to level the first-round series.
Brandon Jennings scored 23 points and John Salmons added 22 for the Bucks, who survived a fourth-quarter surge led by Atlanta stars Joe Johnson and Josh Smith. Now the Hawks head home for Game 5, desperately needing a win to stave off a surprising challenge by a team missing its best player, injured center Andrew Bogut.
Johnson scored 29 points, reserve Jamal Crawford had 21, and Smith had 20 points and nine rebounds.
Meanwhile, a bus carrying the Hawks team was hit by a car on Monday following a practice in Milwaukee but no injuries were reported, a team spokesman said.
The bus carrying the entire Hawks team, coaches and several staff was hit in the side by a Cadillac a block away from the Bradley Center, where the team finished their shoot-around ahead of the game against the Bucks.
"It was quite a jolt," a spokesman for the team said. "We couldn't ride the bus back to the hotel, we had to catch cabs. But other than that everybody is fine."
Comments will be moderated. Keep comments relevant to the article. Remarks containing abusive and obscene language, personal attacks of any kind or promotion will be removed and the user banned. Final decision will be at the discretion of the Taipei Times.