F1 drivers condemn twilight grand prix as too dangerous
Formula One (F1) drivers have slammed officials for keeping this weekend's Australian Grand Prix as a twilight race, saying conditions will be dangerous and their concerns have been ignored.
The race will begin at 5pm local time, meaning it will end in twilight, with drivers looking directly into a setting sun when they make the final turn into the start-finish straight.
"Last year it was extremely dangerous, the last 20 laps of the race," Renault's Robert Kubica said. "Going through the last corner was like going through a blind place, it was impossible to see."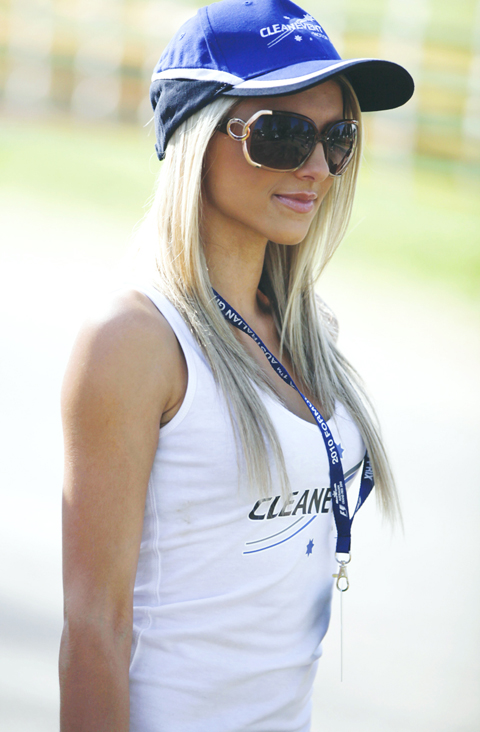 A grid girl is seen walking on the grounds of the Australian Formula 1 Grand Prix at the Albert Park circuit in Melbourne, Australia, yesterday. The Formula One Grand Prix of Australia will take place on Sunday.
PHOTO: EPA
"It's not nice to go in an F1 car through a corner where its really very difficult to see anything," he said. "To be honest, I am surprised to see it was this time."
The Grand Prix Drivers' Association made its views plain after the twilight race was pioneered last year to better suit European television audiences, demanding changes for this year.
"If we want it to change for next year, maybe we have to say we are very happy at the end of the race," Lotus' Jarno Trulli said. "We could start the race an hour before, which would not hurt anyone."
Red Bull's Mark Webber said "that is where it is, for lots of commercial reasons."
Meanwhile, Williams' Rubens Barrichello had his own queries for F1 officialdom, saying the rule change that narrowed the front tires this season had further reduced the possibility of overtaking, contributing to the opening race of the season earlier this month in Bahrain resembling something of a procession.
"Its not the weakness of the tire, its the weakness of the rule," Barrichello said. "We need more mechanical grip, its the only solution."
"Its very dodgy to overtake a car in front because we don't have the front tires," Barrichello said, adding that he would like to see the rules further tweaked during the season to improve the spectacle, but said no decision should be made yet.
Comments will be moderated. Keep comments relevant to the article. Remarks containing abusive and obscene language, personal attacks of any kind or promotion will be removed and the user banned. Final decision will be at the discretion of the Taipei Times.