Masters expectations high for Tiger
Arnold Palmer said Tiger Woods should do everything to put his sex scandal behind him while Colin Montgomerie said he expected Woods to overcome nerves and handle any hecklers on his return.
On the eve of the US$5.8 million US PGA Arnold Palmer Invitational, the main topic of conversation on Wednesday was Woods and his impending comeback at the Masters from a five-month break following a sex scandal.
"Move on. I think that's probably the best thing to do. Move on," Palmer said. "I suppose the best thing he could do would be open up and just let [reporters] shoot [questions] at him ... that might be the best way to move on."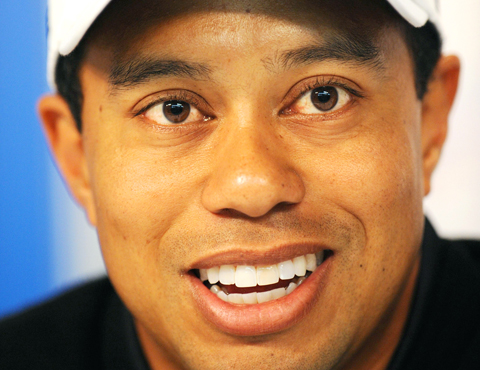 US golfer Tiger Woods speaks at a press conference at the Chevron World Challenge, at the Sherwood Country Cub in Thousand Oaks, California, on Dec. 17, 2008.
PHOTO: AFP
World No. 1 Woods, a 14-time major champion chasing the all-time record of 18 major titles set by Jack Nicklaus, often screams obscenities after poor shots, but has said he will be more respectful of the game when he returns.
Palmer, the 80-year-old US legend who helped popularize the sport a generation ago, held off on giving advice to Woods about that or about what more he needed to say after a public apology statement and two interviews last Sunday.
The first chance for Woods is tentatively set for April 5, the Monday before the Masters begins, when he is listed to conduct an afternoon news conference in a schedule released on Wednesday by Augusta National Golf Club.
Woods has admitted he is nervous about the reception he will receive from spectators at Augusta National, where he played practice rounds on Monday and Tuesday.
Unlike most PGA events, spectators at Augusta could lose their entry badges if they violate the traditional decorum of the Masters, so Woods might not have a true test from hecklers anyway.
But Scotsman Montgomerie, this year's European Ryder Cup captain, has been well-tested by US hecklers and doubts Woods will have any problems.
"It's very shrewd what he has done, to come back in the most controlled atmosphere possible, the Masters. The patrons are very knowledgeable and will respect him as the golfer that he is and I think that there will be no issue at all," Montogomerie said.
Montgomerie expects a Masters-like respect for Woods at the British Open in July at St Andrews.
"I think we'll be welcoming him with open arms when he comes over," Montgomerie said. "He has won in 2000 and 2005 [at St Andrews] and would start as a heavy favorite to do that again."
Comments will be moderated. Keep comments relevant to the article. Remarks containing abusive and obscene language, personal attacks of any kind or promotion will be removed and the user banned. Final decision will be at the discretion of the Taipei Times.