INTERVIEW: Luger carries Taiwan's Olympic dreams alone
The Taiwanese Olympic team at this year's Winter Games in Vancouver, Canada, consists of one athlete, Ma Chih-hung. It's the second consecutive Olympics for the 24 year-old luger from Pingtung, and the second consecutive Winter Games where he will be Taiwan's sole competitor. In Turin, Italy, four years ago, Ma was the youngest male luger, finishing 28th. Contributing reporter Eric Shih caught up with Taiwan's only hope for a medal just outside the Athletes' Village in Whistler, Canada
Taipei Times: Why did you begin competing in this type of sport?
Ma Chih-hung (馬志鴻): Before I started [luge], I was in track and field, but then I took the chance to try something different, a different kind of sport. I discovered I really liked it and went in a different direction. I enjoy the challenge.
TT: Where do you train?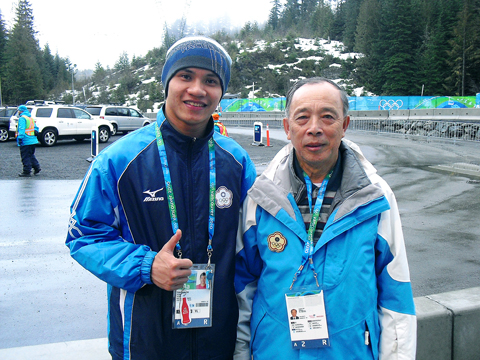 Olympic luger Ma Chih-hung, left, and Chinese Taipei Amateur Luge and Bobsleigh Association secretary-general Chen A-hsing explore the Vancouver Olympics Athletes' Village in Whistler, Canada, earlier this week.
PHOTO: ERIC SHIH
Ma: All over Germany and Austria.
TT: Do you train alone?
Ma: I train with athletes from different countries. Many athletes have teammates from the same country, but I am on my own. But because of this, I find other athletes to train with and we sort of form a team to keep each other company.
TT: Where is your coach from?
Ma: My coach is from Romania.
TT: This is your second Olympic Games. Last time you competed in Turin, Italy. What do you think is the difference between the two Games?
Ma: Both the track and the track times were faster in Turin than in Vancouver.
TT: How about the difference in preparation between the Games?
Ma: This time, I've been able to prepare for a long time and practice a lot. I've used the experience [from before] to help me. I'm satisfied with the past two days of practice, so I should be okay with the competition.
TT: What are your goals?
Ma: Of course — to get a medal and be in the top three. But there are so many countries competing and all the best athletes are here. These are the Olympic Games. So my goal is to see if I can break my own personal best time; that would be my best honor. If I can work hard, I will be satisfied.
I hope that every run is smooth and I hope I won't have an accident, that I won't flip the sled and that I won't crash. If I can do that, then I will beat my personal best.
TT: Where does your funding come from, the government?
Ma: Yes, some of the funding comes from Taiwan's Olympic committee and some comes from the National Council for Physical Fitness and Sports. The rest comes from the Chinese Taipei Amateur Luge and Bobsleigh Association. It covers my training and living expenses.
TT: You are from Pingtung, which is a very hot place. It's a very different environment from typical Winter Olympics conditions. How do you handle that?
Ma: The first time I saw snow, I had a great sense of anticipation. It felt very fresh, like being in a freezer. It was very exciting because it's so different.
Adapting to the cold wasn't easy at first, because of the big change, but gradually I was able to adjust and I was able to just concentrate on the sport. If I felt cold, then I would put on more clothes. It's not something I pay attention to now, because I've adapted.
TT: A lot of Taiwanese aren't familiar with your sport. Why were you able to succeed?
Ma: (laughs) In earlier Winter Olympics, Taiwan participated in more events. But now, because the Olympic standards are going up, the levels [required to qualify] are slowly getting higher. Taiwan's participation in these sports is becoming less and less frequent, as it is not easy to qualify.
I feel that, as long as I have the opportunity [to compete], I will try. Of course, [luge] is not popular [in Taiwan]. People don't pay attention to it. Still, seeking attention is not what it's about for me, as I enjoy the sport for its own sake and I can use it to explore my abilities. But, of course, if everyone were more aware of the sport, that would be a great thing.
I am still hopeful that I can get support from everybody.
I think it's important not to discriminate against certain sports. Don't say a sport is not good because it's not popular.
TT: Will you carry the Chinese Taipei Olympic flag?
Ma: I will carry the flag. [He was also the only athlete and the flag bearer at the Turin Olympics.]
TT: What are your feelings about that?
Ma: It's a huge honor. But it's only me [on the team] right now, so I hope other sports can qualify in the future. I hope by holding the flag, people will focus on our sports. I have to keep this going, so that [Taiwan] can compete in every [Winter] Olympics.
TT: Anything else?
Ma: Taiwan has broadcast rights this time. [This will] let the audience in Taiwan see sports that are uncommon. I am happy about this. Taiwanese will see a variety of sports and highlights that they don't usually see.
Everyone can see me compete, which is my honor and also my responsibility. The Olympic broadcast is like public education: It could encourage more Taiwanese to participate [in winter sports], so that we won't be absent from future Winter Olympics. It can also help give Taiwan more visibility. It could help improve physical education in Taiwan as well.
Comments will be moderated. Keep comments relevant to the article. Remarks containing abusive and obscene language, personal attacks of any kind or promotion will be removed and the user banned. Final decision will be at the discretion of the Taipei Times.