Portsmouth players set for new wages delay
Premier League crisis club Portsmouth said on Thursday their players' salaries for last month would not be paid until Tuesday.
The bottom-of-the-table side had hoped to make the outstanding payments on Thursday, but the money wasn't able to be cleared until after the New Year.
"Portsmouth Football Club expect to pay their first team squad's December salaries on Tuesday, January 5," a club statement said. "The club has been speaking to the Professional Footballers' Association and the players have been informed. The club has been assured of receipt of funds by Tuesday and the owner [Ali Al-Faraj] and board have been working hard on resolving the short-term delay."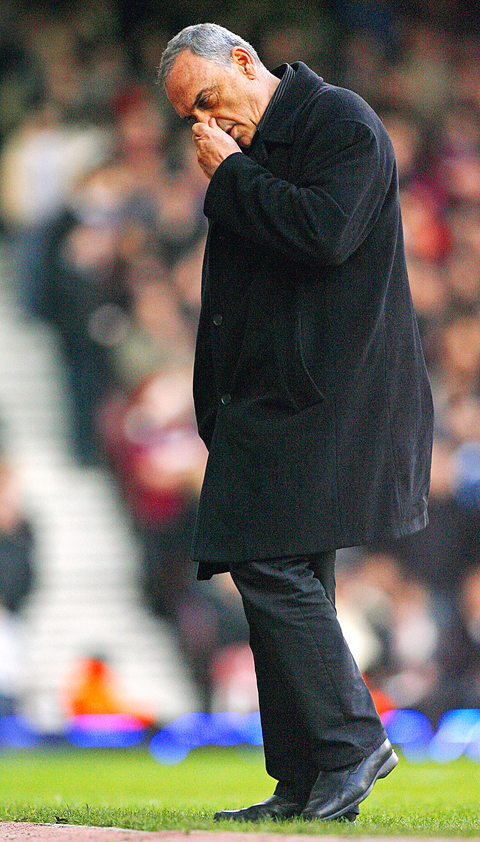 Portsmouth manager Avram Grant watches the Premier League match between West Ham United and Portsmouth in London on Thursday.
PHOTO: AFP
This is the third time this season Portsmouth have been unable to pay players' wages on time after similar delays in September and November.
Pompey, beset by problems both on and off the field, began the new year four points adrift at the bottom of the table following Wednesday's 4-1 home defeat by Arsenal at Fratton Park.
British tax authorities are threatening to take legal action against Portsmouth in respect to unpaid taxes of a reported £3.5 million (US$5.7 million), although Pompey officials have denied they have been served with a formal, winding-up order by HM Revenue and Customs (HMRC).
Meanwhile, former Portsmouth owner Sacha Gayadamak is owed at least £28 million by the club, Thursday's Guardian newspaper said.
Current manager Avram Grant cannot, as yet, look forward to bolstering the squad during this month's transfer window as Portsmouth remain subject to a Premier League transfer embargo over issues of unpaid transfer fees.
Portsmouth fans vented their frustration on Wednesday with chants during the Arsenal match of "Sack the board" and "Where's all our money gone?"
Portsmouth have twice changed hands this season with Saudi Arabian businessman Faraj taking over from Sulaiman Al-Fahim, who was only in charge for a matter of weeks after protracted takeover talks with Gaydamak.
Club chief executive Peter Storrie — himself charged with tax evasion by HMRC over allegations he concealed a signing-on fee for Amdy Faye — used Wednesday's program notes to try to reassure fans about Pompey's future.
"Off the field, the financial issues of the club have been prominent in the media once again," he said. "The majority of the reports are ill-informed, but such is the confidential nature of finance that we are not at liberty to put the record straight all of the time."
Storrie added: "It has been a very difficult year, but one thing you must believe is that Ali Al-Faraj and his associates are doing their very best to refinance the club so we can once again operate the business as we all want to.
Also See: FA Cup out to prove worth again
Comments will be moderated. Keep comments relevant to the article. Remarks containing abusive and obscene language, personal attacks of any kind or promotion will be removed and the user banned. Final decision will be at the discretion of the Taipei Times.