Janka scores 3rd World Cup win in a row
Carlo Janka's magnificent season continued on Sunday as the Swiss skier claimed his third World Cup win in as many days with victory in the giant slalom on the Birds of Prey course.
Janka, now a favorite for Olympic gold, won the super combined on Friday and then Saturday's downhill and leads the men's overall World Cup standings after his latest triumph in a remarkable start to the season.
The 23-year-old Swiss now has five podiums, including three victories, from six starts this season and will be strongly fancied across the disciplines in the Vancouver Games in February.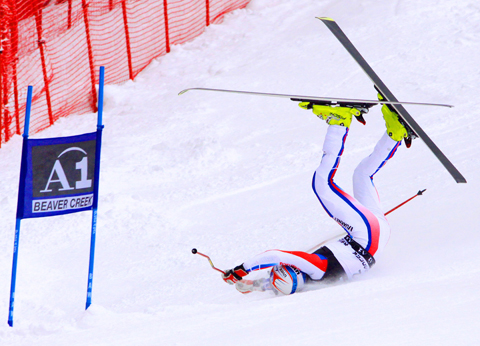 Thomas Fanara of France crashes in the second run of the men's World Cup slalom ski race in Beaver Creek, Colorado, on Sunday.
PHOTO: REUTERS
Brimming with confidence, Janka smoothly negotiated a course that featured fresh snow to complete his two runs perfectly in two minutes, 29.44 seconds.
The Swiss all-rounder's hat-trick makes him the first skier to claim three World Cup victories, in different disciplines in consecutive days, at the same venue since Frenchman Jean-Claude Killy in Franconia in 1967.
Janka's feat recalled the performance of Austrian Hermann Maier at Beaver Creek in 1999 when he won three times from four events and he blushed when reminded of those displays.
"That makes me a little proud," he said.
Janka, who led after the first run, beat Austrian Benjamin Raich by 0.47 seconds with defending overall World Cup champion Aksel Lund Svindal third.
Self-confidence is clearly not a problem for Janka and when asked by reporters between runs if he was nervous he laughed.
"Nervous? Why should I be nervous. I have just raced a perfect run," he said with a grin.
The experienced Raich, winner at Beaver Creek in the giant last year, was left to rue his mistakes.
"He is really strong, he's in perfect shape and he it is really hard to beat him," Raich said of Janka. "I had a chance to do that today, but I made some mistakes in the first part."
Svindal said he was hugely impressed by a skier who now heads the overall World Cup standings, which he claimed last season.
Comments will be moderated. Keep comments relevant to the article. Remarks containing abusive and obscene language, personal attacks of any kind or promotion will be removed and the user banned. Final decision will be at the discretion of the Taipei Times.