Fernando Alonso set to join Ferrari next year: report
Double world champion Fernando Alonso is set to join Ferrari next year with a decision coming as soon as next weekend at the Japanese Grand Prix, reports said on Monday.
Speculation has been rife in the Formula One paddock of an impending move and the driver himself said that his mind was made up.
"I don't think the podium changes the decision on who I drive for next season," he said after finishing third for Renault at the Singapore Grand Prix. "I have taken the decision already. You will know soon."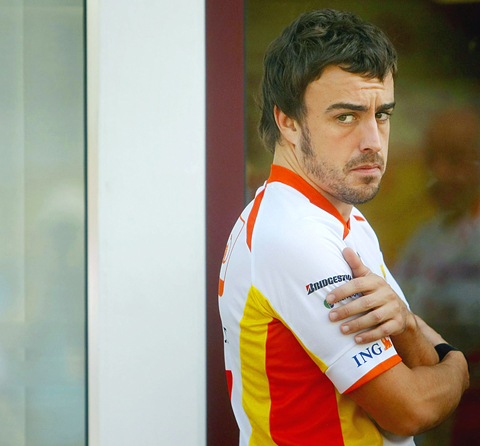 Spanish Formula One driver Fernando Alonso is pictured in the paddock prior to the Grand Prix of Singapore night race on Sunday.
PHOTO: EPA
The respected autosport.com Web site said lawyers had been working hard on the last few details of Kimi Raikkonen's release from his contract with Ferrari, a move that is likely to pave the way for the Finn to return to McLaren.
It said everything could be sorted out by next weekend, with Alonso partnering Felipe Massa, now back in training after the severe injuries he sustained at the Hungarian Grand Prix in July.
"I think that as soon as we are ready we will let you know. We don't want to wait too long," Ferrari team principal Stefano Domenicali was quoted as saying.
When asked if the announcement may come as early as Suzuka, Domenicali said: "It is a possibility, but it is not guaranteed."
Renault's stand-in managing director Jean-Francois Caubet said he would be sad to see Alonso leave.
"I think Fernando will miss Renault and Renault will miss Fernando," he said.
Once the Alonso announcement is made, autosport.com said Renault was expected to confirm that Polish driver Robert Kubica will lead its team next year.
Elsewhere, Rubens Barrichello is reportedly fighting to stay at Brawn GP, with Williams driver Nico Rosberg tipped to replace the veteran Brazilian.
Publication Notes
CPBL
Yesterday's results
• Brother Elephants 5,
La New Bears 2
• Sinon Bulls 12,
Uni-President Lions 1
Comments will be moderated. Keep comments relevant to the article. Remarks containing abusive and obscene language, personal attacks of any kind or promotion will be removed and the user banned. Final decision will be at the discretion of the Taipei Times.