Dodgers tally 17 to rout Brewers
PITCHER'S DOZEN: In his 12th appearance this season, Taiwanese reliever Kuo Hong-chih struck out three Milwaukee batters while allowing no hits or runs
NATIONAL LEAGUE
AP, LOS ANGELES, WITH STAFF WRITER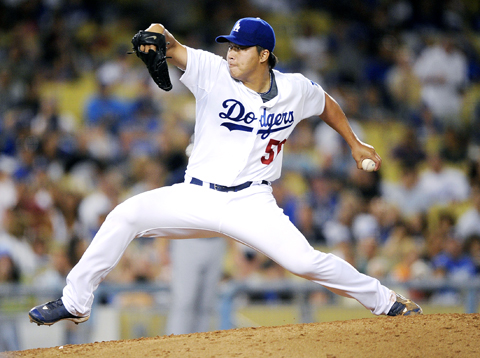 Los Angeles Dodgers relief pitcher Kuo Hong-chih of Taiwan throws against the Milwaukee Brewers during the seventh inning in Los Angeles on Tuesday.
PHOTO: AP
Manny Ramirez ended his 10-game RBI drought with a homer and a two-run double in the Los Angeles Dodgers' 17-4 victory over the Milwaukee Brewers in the National League on Tuesday.
Matt Kemp had a homer among his four hits while driving in five runs. Kemp had two hits and two RBIs during the seven-run sixth inning, while Russell Martin reached base five times and had three RBIs in the Dodgers' highest-scoring home game in 30 years. With a season-high in runs on 18 hits, Los Angeles improved the majors' best record to 66-41.
Left-handed reliever Kuo Hong-chih made his 12th appearance this season and his fifth since coming back from injury at the end of last month. The Taiwanese pitched one inning, striking out three without giving up any hits or runs.
In his last five appearances, he has pitched four-and-two-third innings, struck out six batters and has not allowed any runs, decreasing his earned run average from 6.75 to 3.6.
The Dodgers hadn't scored 17 runs at Dodger Stadium since May 25, 1979, against Cincinnati.
Ramirez homered off Yovani Gallardo (10-8) in the fifth. He hadn't driven in a run since his pinch-hit grand slam July 22.
Ramirez, in a 7-for-44 slump before his 12th homer, had a two-run single in the sixth.
DIAMONDBACKS 6, PIRATES 0
At Pittsburgh, Pennsylvania, Yusmeiro Petit took a no-hitter into the eighth inning and combined with Leonel Rosales on a one-hitter as Arizona beat Pittsburgh.
Petit (2-5), who snapped a seven-game losing streak with his first victory in more than 11 months in his most recent start, walked three and struck out four in eight innings. The right-hander threw a season-high 107 pitches — 73 for strikes — in going longer than seven innings for the first time in his career.
Ronny Cedeno lined a single to left after Ramon Vazquez led off the eighth with a walk, ending the quest for what would have been the second no-hitter in Diamondbacks history.
Ryan Roberts went 4 for 5 with two home runs for Arizona, which has won five of six, while Chris Young homered and Mark Reynolds had three hits and an RBI.
Petit was 8-15 with a 5.76 in 59 appearances, 29 starts, in his career.
The Pirates have lost three straight and eight of 10. They have been shut out in their last three meetings with Arizona over the past 11 days. They have been shut out 13 times in all, most in the majors.
In other NL action it was:
• Rockies 8, Phillies 3
• Cubs 6, Reds 3
• Nationals 6, Marlins 4
• Cardinals 12, Mets 7, 10 inns
• Giants 8, Astros 1
• Braves 9, Padres 2
AMERICAN LEAGUE
REUTERS AND AP, DETROIT, MICHIGAN, AND ST PETERSBURG, FLORIDA
Rookie pitcher Brian Matusz made a dream start to his Major League career on Tuesday, leading the Orioles to an 8-2 victory over the Detroit Tigers and spoiling Jarrod Washburn's arrival in Motor City.
Earlier, Washburn (8-7) had been named the American League pitcher of the month for July, but the hard-throwing lefty will have earned few votes this month for his first outing since leaving Seattle for Detroit a week ago.
Instead it was 22-year-old Matusz (1-0) who grabbed the spotlight, yielding just one run on six hits in five innings of sturdy work to seal the win.
"It was everything I dreamed of and more," Matusz told reporters. "I dreamed about that day since I was a little kid, every time someone makes their debut you think, that could be me some day. I'm not going to lie, I was nervous out there but once I got that first strike across I relaxed a little bit."
Arriving in Detroit via a trade deadline deal with the Mariners, the stage had been set for an ideal Motown introduction for Washburn with the AL East last place Orioles providing the opposition for the Central division leading Tigers.
The pitching assignments also looked like a mismatch, with Washburn, a World Series winner, going up against an untested rookie, who was summoned from the Orioles Double A minor league affiliate in Bowie earlier on Tuesday.
Washburn entered the game on a hot streak after allowing just three runs over his previous five starts but surrendered six runs on six hits, including two home runs, in five-and-a-third innings against the Orioles.
"I didn't do my job, I didn't have command," Washburn said. "I really wanted to get on the right foot and have a good start and give everybody a good first impression but it was exactly the opposite of that. I wanted to get this one out of way but I didn't want to get it out of the way like this. I'm looking forward to five days from now and getting back at it."
Matusz got plenty of support from the Orioles batters, who pushed across runs in the first and second innings before putting the game out of reach with a four-run burst in the sixth to jump 7-1 in front.
Nick Markakis and Cesar Izturis both homered, had three hits and drove in three runs.
YANKEES 5, BLUE JAYS 3
At Toronto, Andy Pettitte won for the first time in six starts as New York hit three homers off Roy Halladay to beat Toronto.
Pettitte (9-6), who had not won since July 1, allowed one run and four hits in six-and-two-third innings, walking four and striking out six.
He left with runners at first and second in the seventh but Phil Hughes came on and struck out Jose Bautista to end the inning.
Hughes gave up two singles to begin the eighth, then struck out two batters before being replaced by Mariano Rivera. Vernon Wells greeted the Yankees closer with a two-run double off the wall in left, cutting it to 4-3. Rivera finished for his 31st save.
Hideki Matsui gave New York some insurance by homering to center on Halladay's first pitch of the ninth. Johnny Damon and Mark Teixeiera hit back-to-back homers in the eighth for a 4-1 lead.
It was the second time this season Halladay (11-5) allowed three homers to the Yankees.
RAYS 4, RED SOX 2, 13 INNS
Evan Longoria hit his second homer of the game — a two-run shot off Takashi Saito with two outs in the bottom of the 13th — to give the Tampa Bay Rays a 4-2 victory over the Boston Red Sox on Tuesday.
Longoria, who struck out four times, homered in the eighth off Daniel Bard, tying the score at 2-all.
The Red Sox bullpen worked out of jams in the eighth, ninth and 10th innings, but couldn't hold off the Rays for a fourth time.
In other AL action it was:
• Twins 10, Indians 1
• Mariners 7, Royals 6
• Athletics 6, Rangers 0
Comments will be moderated. Keep comments relevant to the article. Remarks containing abusive and obscene language, personal attacks of any kind or promotion will be removed and the user banned. Final decision will be at the discretion of the Taipei Times.