Ferrari officials express hope Massa will return
Felipe Massa continued to show improvements in his condition on Tuesday, and Ferrari officials expressed hope that he could eventually return to Formula One.
Ferrari team principal Stefano Domenicali and his predecessor Jean Todt visited Massa and his family in the hospital, where the Brazilian driver is recuperating from surgery on multiple skull fractures following a high-speed crash.
Domenicali said Massa's recovery would be a "step by step" process but sounded optimistic about the Brazilian's chances of returning to the track.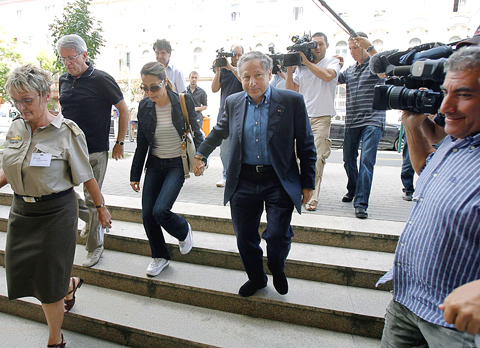 Former Ferrari team boss Jean Todt, fourth left, and actress Michelle Yeoh arrive to visit Formula One driver Felipe Massa at Budapest's AEK hospital on Tuesday. Todt flew to Budapest on Tuesday to visit Massa, who fractured his skull in an accident during qualifying for the Hungarian Grand Prix on Saturday.
PHOTO: REUTERS
"As soon as he will be back, that is his car," Domenicali said outside the hospital. "For me it was incredible to see a fantastic improvement after just three days."
Doctors said on Monday that Massa could be released as early as next week.
Asked if Massa would be back racing, a visibly emotional Todt replied: "At the moment, it is important that he is back to life."
"After such an accident, it's a relief that things are hopefully going in the right direction," he said.
Massa's family doctor, Dino Altman, on Tuesday described the racer as "more alert than he was before" and "improving continuously," adding that Massa was answering questions in three languages.
Altman also addressed what is considered one of the most crucial issues with Massa's health — vision in his left eye, which was injured in the accident.
"Yes, he can see with his left eye," Altman said. "He knows what's right and left so his left eye has no problems. His eyesight is OK."
Doctors said Massa was awake and breathing unassisted, able to move his limbs and having brief conversations with family members and the medical staff.
Peter Bazso, medical director of the AEK hospital, said his condition could still deteriorate again, but that "naturally, this risk is ­diminishing day by day."
Bazso added that it was possible to fully recover from injuries like those suffered by Massa.
"I expect him to leave the hospital on his own two feet," Bazso said. "I don't rule out [Massa] leaving within 10 days."
The 28-year-old Brazilian driver was hit in the helmet by a loose part from another car and crashed into a protective tire barrier at 190kph during qualifying on Saturday at the Hungarian Grand Prix.
F1's governing body, the FIA, is investigating the accident. Todt is a candidate to become president of the FIA when Max Mosley steps down in October.
Comments will be moderated. Keep comments relevant to the article. Remarks containing abusive and obscene language, personal attacks of any kind or promotion will be removed and the user banned. Final decision will be at the discretion of the Taipei Times.