Rays hit Sabathia, down surging Yanks
FASTBALL WORKING: The Rays' Scott Kazmir to win for the first time in more than two months as Tampa Bay collected nine hits off New York pitcher C.C. Sabathia
AMERICAN LEAGUE
REUTERS AND AP, ST PETERSBURG, FLORIDA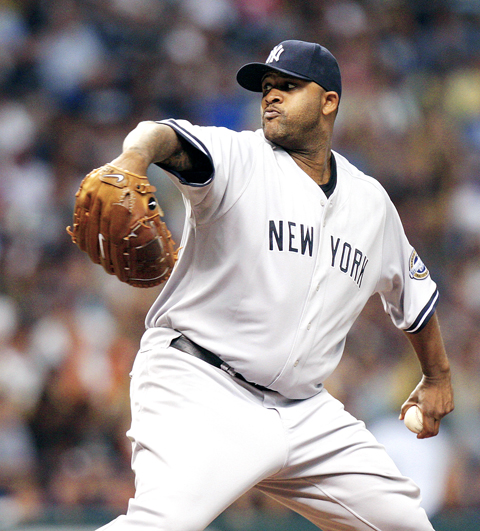 New York Yankees starting pitcher C.C. Sabathia winds up during the second inning of the Yankees' game against the Tampa Bay Rays in St Petersburg, Florida, on Tuesday.
PHOTO: AP
The Tampa Bay Rays slowed down the surging New York Yankees with a 6-2 victory on Tuesday as they chased visiting pitcher C.C. Sabathia after five-plus innings.
The Yankees had won 10 of their previous 11 games but could not overcome a 3-0 Rays lead.
The hosts collected all six of their runs and nine hits off Sabathia (10-7) before he left with two out in the sixth inning.
Scott Kazmir (5-6) got the win, boosting his confidence by allowing just five hits and one run over seven innings.
"That's as good of a game as I've seen out of him in maybe a year," Rays manager Joe Maddon told reporters after Kazmir recorded his first win since early May.
Left-hander Kazmir was delighted: "I had a good rhythm going, fastball was working. I was hitting both sides of the plate. It was a very big game for us, so I just wanted to give our team a chance to win out there."
Third-placed Tampa Bay, the defending American League champions, moved to within 6.5 games of leader New York in the American League East. Boston trail the Yankees by 2.5 games.
Tampa Bay scored once in the second on a sacrifice fly and added two more runs in the third on Carl Crawford's RBI triple and a throwing error by Yankees third baseman Alex Rodriguez.
New York got one run back on Hideki Matsui's run-scoring single in the fourth, but Evan Longoria homered for the Rays in the fifth and they scored two more runs in the sixth to make it 6-1.
A Matsui double in the ninth that drove in Rodriguez accounted for the Yankees' final run.
Sabathia was befuddled by his performance, after striking out six and walking two while allowing five earned runs.
"I don't know what to say," he said. "Not getting ahead of guys, putting myself in bad counts, not finishing guys when it wasn't a hitter's count."
TWINS 5, WHITE SOX 3
Coming off the 18th perfect game in major league history, Mark Buehrle retired the first 17 batters to set a record with 45 consecutive outs before the Minnesota Twins rallied for a 5-3 victory over the Chicago White Sox in Minneapolis, Minnesota, on Tuesday.
Buehrle (11-4) lost what would have been his second straight perfect game and his no-hitter with two outs in the sixth. He wound up allowing five runs and five hits in 6-1/3 innings.
He surpassed the mark of 41 straight batters set by San Francisco's Jim Barr in 1972 and tied by Buehrle's teammate Bobby Jenks, a reliever, in 2007.
Nick Punto had a two-run single and Brendan Harris added an RBI single in Minnesota's four-run seventh to move the Twins (51-50) into a tie with the White Sox for second place in the American League Central.
Buehrle walked Alexi Casilla on a close call with two outs in the sixth and Denard Span followed with a single to center to break up the no-hitter, ending Buehrle's bid to join Cincinnati's Johnny VanderMeer in 1938 as the only pitcher to throw consecutive no-hitters.
ATHLETICS 9, RED SOX 8, 11 INNINGS
At Boston, Rajai Davis singled home Mark Ellis in the ninth inning to send the game into extra innings, then did it again in the 11th to give Oakland the win over Boston.
Boston led 7-4 when Jonathan Papelbon blew just his third save in 28 opportunities, thanks in part to two ninth-inning throwing errors by shortstop Nick Green. It was still 7-7 with two outs in the 11th when Ellis doubled off Manny Delcarmen (2-2) and scored on Davis' single to right.
Davis scored on Adam Kennedy's career-high fifth hit to make it 9-7. Craig Breslow (4-4) pitched a perfect 10th for the win, and Andrew Bailey earned his 12th save despite giving one run back in the 11th.
Ellis had four of the A's 21 hits, and Orlando Cabrera had three.
Kevin Youkilis had three hits for Boston.
Also on Tuesday, it was:
• Rangers 7, Tigers 3
• Royals 4, Orioles 3, 11 innings
• Angels 7, Indians 6
• Mariners 4, Blue Jays 3
NATIONAL LEAGUE
AP, ST LOUIS, MISSOURI
The Los Angeles Dodgers slumped to a third successive loss for the first time this season, thumped 10-0 by St Louis in Tuesday's clash of National League divisional leaders.
St Louis' Adam Wainwright went eight scoreless innings, striking out five and issuing just one walk. By contrast, Dodgers starter Chad Billingsley conceded six runs in the sixth inning. He had a one-hit shutout going entering the inning.
The Dodgers had gone 99 games without losing three in a row, breaking a franchise record dating back to 1965.
Los Angeles has just one run in the first two games of a four-game series between the NL pennant contenders, despite getting 20 hits.
MARLINS 4, BRAVES 3
In Miami, pinch-hitter Ross Gload hit a two-run homer with one out in the bottom of the ninth to lift Florida over Atlanta. The win moved the Marlins a game ahead of the Braves in the fight for second place in the NL East.
Also on Tuesday, it was:
• Astros 11, Cubs 6
• Mets 4, Rockies 0
• Phillies 4, Diamondbacks 3
• Giants 3, Pirates 2
• Padres 3, Reds 2
• Nationals 8, Brewers 3
Comments will be moderated. Keep comments relevant to the article. Remarks containing abusive and obscene language, personal attacks of any kind or promotion will be removed and the user banned. Final decision will be at the discretion of the Taipei Times.