Daley, 15, claims gold at World Championships
Britain's 15-year-old Thomas Daley was a shock winner of the men's 10m platform event at the World Championships on Tuesday.
Daley topped the points table with 539.85 ahead of Chinese pair Qiu Bo (532.20) and Zhou Luxin (530.55).
The Briton — who finished seventh at last year's Olympics — came into the last round in third place but both Qiu and Olympic champion Matthew Mitcham of Australia made a hash of their final dives to hand gold to Daley.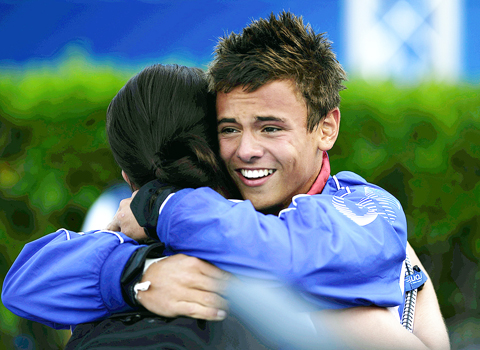 Britain's Thomas Daley, 15, celebrates after winning the men's diving 10m platform gold on Tuesday at the FINA World Swimming Championships in Rome.
PHOTO: AFP
He thus becomes Britain's first ever individual diving world champion.
"Today was never a day I thought I'd be world champion, to come away with the gold medal was just unthinkable this morning," he said before his father burst into the press conference room to give him a cuddle.
"How embarrassing," said Daley before adding: "I'm hoping to do the same thing again at the 2012 London Olympics."
"I was thinking I'd be happy with a top four or top eight finish," he said.
Daley is believed to be the youngest ever male world diving champion although the International Swimming Federation (FINA) said they could not be sure due to controversies surrounding the age of Chinese athletes.
"I hadn't realized I was the youngest person to win gold, it hasn't sunk in yet," Daley said.
British Prime Minister Gordon Brown paid a handsome tribute to the youngster.
"I am delighted at Tom's success," Brown said. "His gold medal at the World Championships shows what is possible with talent, commitment and determination."
"He is an inspiration to all those involved in British sport and to young people right across the country. My congratulations go to him, his family and his team," he said.
Going into the final round Daley appeared to be in a battle with Zhou for bronze while the gold looked likely to be decided between Mitcham and Qiu.
Things looked ominous for Daley as all three of his competitors had picked dives with a 3.8 difficulty rating whilst his was only a 3.4.
It meant if everyone nailed their dive, he could come away with nothing.
But in the end it was Daley who performed a near perfect dive while both Mitcham and Qiu cracked.
Comments will be moderated. Keep comments relevant to the article. Remarks containing abusive and obscene language, personal attacks of any kind or promotion will be removed and the user banned. Final decision will be at the discretion of the Taipei Times.