Yankees top Seattle to keep streak alive
SIX IN A ROW Mariano Rivera tossed out the first ball and the final pitch to celebrate his 500th save, while Alex Rodriguez hit his 565th career homer
AMERICAN LEAGUE
The New York Yankees shrugged off a rain delay to record a sixth consecutive victory on Tuesday, a 8-5 win over the Seattle Mariners set up by Melky Cabrera's tie-breaking double in the eighth inning.
Cabrera drove in three runs overall but the one that mattered most was an extra-base blast to break a 5-5 deadlock after the gritty Mariners had twice rallied to tie the score.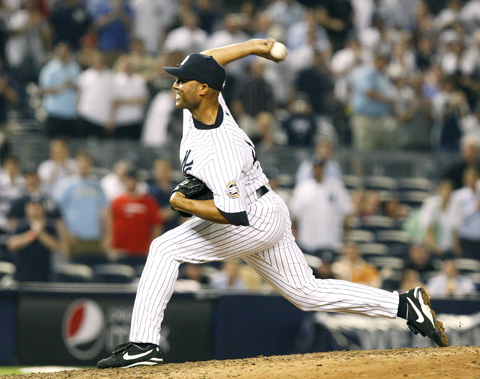 New York Yankees closer Mariano Rivera winds up in the ninth inning before earning his 501st save against the Seattle Mariners in the Yankees' 8-5 win at Yankee Stadium in New York on Tuesday.
PHOTO: AP
"Melky's had some big hits all year," team mate Alex Rodriguez told reporters. "He's really worked hard to put himself in the position to come through for us."
Rodriguez hit a two-run shot in the seventh, his 565th homer, to give the Yankees (44-32) a 5-3 lead before Seattle battled back for a second time with two runs in the top of the eighth.
Kenji Johjima, who had three hits, singled in the first run and Russell Branyan added the second with a sacrifice fly.
Cabrera, however, wasted little time regaining the initiative for the home team before Derek Jeter's single to center field brought two more runners home to complete the scoring.
Brian Bruney (3-0) picked up the win in relief by pitching the eighth inning, when the Mariners scored twice to tie the score. He was credited with the win because the Yankees scored three runs in the bottom half of the inning.
"I let the team down tonight, and they picked me up," Bruney said.
Yankees starter Joba Chamberlain was tagged for nine hits and three runs in five-plus innings.
Yankees closer Mariano Rivera threw out the ceremonial first pitch to celebrate his 500th save on ­Sunday, then returned in the ninth to retire the Mariners in order.
ORIOLES 11, RED SOX 10
At Baltimore, Nick Markakis hit a two-run double off Boston closer Jonathan Papelbon to complete the biggest comeback in Baltimore history, an 11-10 win on Tuesday night. Baltimore trailed 10-1 before scoring five runs in the seventh — three on a homer by pinch-­hitter Oscar Salazar — and five in the eighth.
Boston had defeated the Orioles eight straight times, including five this season.
The biggest previous comeback in Orioles history was Sept. 2, 1956, when they rallied from an eight-run deficit at Boston.
Mark Hendrickson gave up one run in three innings and George Sherrill got three outs for his 17th save.
Takashi Saito took the loss and Papelbon was charged with his second blown save, one night after he tied Bob Stanley's career record for saves with Boston.
Also on Tuesday it was:
• Rangers 9, Angels 5
• Twins 2, Royals 1
• White Sox 11, Indians 4, 6 innings
• Rays 4, Blue Jays 1
• Tigers 5, Athletics 3
NATIONAL LEAGUE
AP, ST LOUIS, MISSOURI
Randy Johnson won his third straight decision and 303rd of his career despite surrendering two home runs to Albert Pujols in San Francisco's 6-3 victory over St Louis on Tuesday night.
St Louis have lost three straight since acquiring Mark DeRosa, who is a quiet 0 for 9 thus far, and has dropped six of seven overall.
Johnson allowed three runs and four hits in 5-1/3 innings. All the hits he allowed were for extra bases with Ryan Ludwick adding a double and triple.
Pujols leads the major leagues with 30 homers and 77 RBIs after his third multihomer game in his last 10 and the 30th of his career.
Chris Carpenter lasted five innings and allowed six runs and 11 hits. The Giants' four-run, five-hit fifth opened with three straight hits by Aaron Rowand, Randy Winn and Pablo Sandoval and was capped by Travis Ishikawa's RBI double for a 6-1 lead.
In the day's other NL games it was:
• Rockies 3, Dodgers 0
• Padres 4, Astros 3
• Braves 5, Phillies 4, 10 innings
• Brewers 6, Mets 3
• Diamondbacks 6, Reds 2
• Pirates 3, Cubs 0
Comments will be moderated. Keep comments relevant to the article. Remarks containing abusive and obscene language, personal attacks of any kind or promotion will be removed and the user banned. Final decision will be at the discretion of the Taipei Times.