Bolt wins men's 100m at Festival of Excellence
Usain Bolt was good enough to win even if he didn't flash his world-record breaking form in the 100m at the Festival of Excellence on Thursday.
The Olympic champion from Jamaica finished in 10.00 seconds under a dark sky and in a steady downpour at University of Toronto's Varsity Stadium.
"It felt good," Bolt said. "I think I should have done a little better. For me, it's all right. I got through it injury-free, so that's a good thing."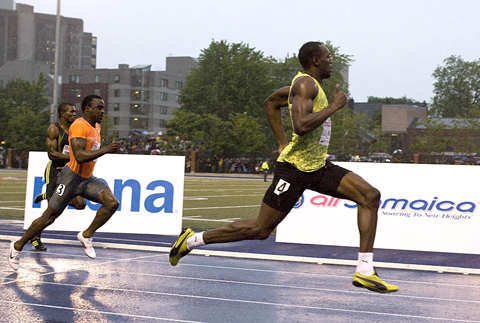 Olympic gold medalist Usain Bolt of Jamaica crosses the finish line to win the men's 100m at the Festival of Excellence track and field event in Toronto, Canada, on Thursday.
PHOTO: AP
The US' Shawn Crawford was second in 10.25, while Ivory Williams finished third in 10.28. Bernard Williams was fourth, crossing the line in 10.47.
Crawford, who won gold in the 200m at the 2004 Athens Olympics, finished second to Bolt in the 200m in Beijing. Williams won gold in the 4x100m relay at the 2000 Sydney Olympics.
Bolt won three golds in Beijing last year.
He said on Thursday he held back a little because of the cool and damp conditions. Temperatures were below 20˚C.
"That's the right thing to do," Bolt said. "You've got to be very careful because you have a lot of running to do and you can't manage to get injured at this time of the season."
Bolt's most recent race was also in wet weather. In May, ­running on a temporary street track in Manchester, England, he ran the world's fastest 150m in 14.35 seconds, breaking Canadian Donovan Bailey's 12-year-old record of 14.99 in the seldom-run distance.
Thursday's race was delayed by two false starts, with Jamaican Marvin Anderson disqualified on the second.
This was Bolt's second race since a car accident in April, when he crashed his car into a ditch along a highway. Bolt required surgery on his left foot after stepping onto thorns while getting out of the wreckage.
Earlier in the meet, reigning Olympic 400m champion LaShawn Merritt cruised to victory in a time of 44.86.
The Festival of Excellence featured 50 Olympians, but Bolt was the headliner, reportedly earning more than C$250,000 (US$225,570) for his appearance in front of 5,835 fans.
The US' Bryan Clay, gold medal winner in the decathlon in Beijing, competed in a three-event format including pole vault, 100m hurdles and the 400m. Clay won the event over Jake Arnold of the US, scoring 2,739 points.
In the women's 100m hurdles, Canadian Priscilla Lopes-Schliep, the bronze medal winner at the Beijing Olympics, narrowly beat out Canadian rival Perdita Felicien, crossing the line in 12.96 seconds.
Comments will be moderated. Keep comments relevant to the article. Remarks containing abusive and obscene language, personal attacks of any kind or promotion will be removed and the user banned. Final decision will be at the discretion of the Taipei Times.