Boston revel in 7-0 stretch over Yankees
ARCH-RIVALS Wang Chien-ming lasted less than three innings, giving up four runs with three walks as the Red Sox remained perfect against the Yankees this season
AMERICAN LEAGUE
The Boston Red Sox continued their mastery of fierce rivals New York on Wednesday, stretching their unbeaten streak over the Yankees to seven games this season with a 6-5 win.
Tim Wakefield recorded the victory for the hosts (35-24), who replaced the Yankees (34-25) at the top of the American League East. Wakefield gave up three runs over six innings to improve to 5-0 at Fenway Park in 2009.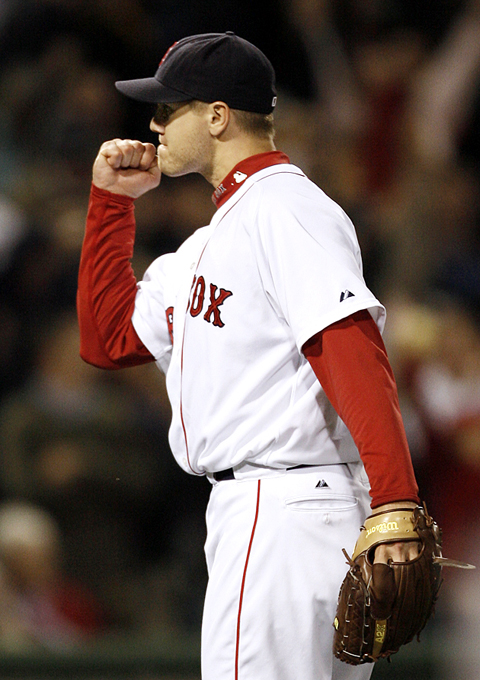 Boston Red Sox relief pitcher Jonathan Papelbon pumps his fist after the Red Sox beat the New York Yankees 6-5 at Fenway Park in Boston on Wednesday.
PHOTO: AP
Boston reliever Hideki Okajima pitched a scoreless 1 1/3 innings and closer Jonathan Papelbon escaped the threat of a runner in scoring position in the ninth.
"I think that's what we pride ourselves on," Papelbon told reporters. "I think our bullpen — we feed off of each other, and we use that momentum off each other."
The Red Sox scored two runs in the second inning, and Mike Lowell hit a solo home run in the third where the team took a 4-1 advantage. Kevin Youkilis blasted a two-run shot in the fourth to put the hosts 6-2 ahead.
The Yankees battled back, Johnny Damon and Mark Teixeira delivered solo shots in the seventh inning off Red Sox reliever Ramon Ramirez, but could not complete the comeback.
Teixeira, who has thrived since joining New York in the offseason, finished 4-for-5 with two runs scored.
Yankees starting pitcher Wang Chien-ming (王建民), who returned from a hip ailment last month, lasted less than three innings, giving up four runs with three walks.
New York will send prized acquisition CC Sabathia to the mound against Boston's Brad Penny on Thursday as the Yankees try to avoid being swept by the Red Sox for a third successive series.
"Unfortunately we are 0-7 against them, but in the American League East we're down one," Damon said. "Hopefully, tomorrow can be a different story, and we can try to get that win and start going from there."
TIGERS 2, WHITE SOX 1
In Chicago, Detroit pitcher Justin Verlander pitched a six-hitter for his first victory ever at US Cellular Field, downing Chicago.
The White Sox still fell 6.5 games behind AL Central-leading Detroit, which has won five of its past six games. Verlander struck out nine and walked just one in his second complete game this year.
Also on Wednesday it was:
• Rays 9, Angels 5
• Twins 6, Athletics 3
• Mariners 4, Orioles 1
• Royals 9, Indians 0
NATIONAL LEAGUE
AP, NEW YORK
Chase Utley led off the 11th inning with his second homer of the game, minutes after right fielder Jayson Werth saved Philadelphia with a diving catch as the Phillies beat the New York Mets 5-4 in the National League on Wednesday.
Philadelphia rallied from a 4-1 deficit in the seventh and dealt the Mets their sixth loss this season after they led by at least three runs.
The Mets stranded a season-high 16 runners, eight from innings seven through 10. Still, they nearly won it when David Wright hit the two-out liner into the right-center gap in the 10th that Werth caught.
Philadelphia is 6-3 on a 10-game trip, improving to a major league-best 22-9 away from home.
GIANTS 6, DIAMONDBACKS 4
At Phoenix, Bengie Molina homered and drove in three runs and Brian Wilson struck out the side for his seventh straight save as San Francisco beat Arizona.
Molina hit a two-run homer in a four-run third inning as the Giants took a 5-1 lead against Doug Davis (3-7). Molina added an RBI single in the ninth.
It was Arizona's second straight three-error game and two of the blunders accounted for three unearned runs charged to Davis.
Also on Wednesday it was:
• Padres 3, Dodgers 1
• Astros 2, Cubs 1
• Pirates 3, Braves 2
• Cardinals 13, Marlins 4
• Rockies 4, Brewers 2
• Reds 4, Nationals 2, 12 innings
Comments will be moderated. Keep comments relevant to the article. Remarks containing abusive and obscene language, personal attacks of any kind or promotion will be removed and the user banned. Final decision will be at the discretion of the Taipei Times.