Match Play puts Ogilvy at No. 4
Geoff Ogilvy's convincing victory in the WGC Match Play Championship vaulted him to fourth in the world rankings, but the unassuming Aussie remained reluctant to rank himself among golf's best.
"That's not really for me to decide ... where I sit in the pecking order," said Ogilvy, whose second career victory in the Match Play gave him his third title in the elite World Golf Championships series.
Already owner of one major title, the 2006 US Open, Ogilvy nabbed his second US title of the year after his wire-to-wire victory in the season-opener in Hawaii.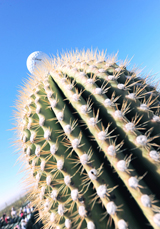 A golf ball is pictured stuck on saguaro cactus at the Match Play Championships in Marana, Arizona, on Sunday.
PHOTO: AFP
That triumph came on the heels of his Australian PGA Championship victory in December.
Ogilvy, 31, marched to a 4 and 3 victory over England's Paul Casey on Sunday, wrapping up the victory in the scheduled 36-hole final with three holes to spare.
He led from the start and didn't make a bogey all day as Casey, who boasts a strong match play pedigree himself, tried in vain to break through.
Even so, Ogilvy, who came into the week ranked eighth in the world, could think of a number of golfers he'd consider in front of himself, a list topped, of course, by world No. 1 Tiger Woods.
US star Phil Mickelson, Ireland's three-time major winner Padraig Harrington and Spain's Sergio Garcia also came to his mind, although Garcia has yet to win a major or a WGC title.
"I'm in that area somewhere," he said vaguely. "Tiger, Phil, Padraig and then I'm in the next bunch, probably."
Ogilvy, whose win put him atop both the US Tour's FedEx Cup points race and the European Tour's Race for Dubai, said his success since December followed a break from golf, which in turn followed a disappointing run of performances from a missed cut at the British Open to his failure to qualify for the US Tour Championship.
"I was pretty grumpy with golf at that point," he said. "At least six weeks off. And then ever since I've done that I haven't overplayed, I haven't over-practiced and I've just tried to really enjoy it."
"It still comes and goes," he said. "[But] when you're playing well, confidence just builds."
■MAYAKOBA CLASSIC
AP, PLAYA DEL CARMEN,MEXICO
America's Mark Wilson took over the lead of the Mayakoba Golf Classic for good with two early birdies on Sunday, yet had to fight through some wobbly play down the stretch to earn his second career PGA Tour victory.
The co-leader after the second and third rounds on the 6,923-yard, par-70 El Camaleon course, Wilson shot a 68 to win by two strokes over J.J. Henry.
Henry shot 68 on Sunday and was alone in second at 269. Kevin Streelman, whose 64 was the low round on Sunday, and Heath Slocum (67) tied for third at 270.
Bo Van Pelt, who started the day tied with Wilson, shot 76 to finish at 275 and tied for 15th.
Wilson's only previous victory was at the Honda Classic in 2007, and it took winning a four-man playoff. But that wasn't even the biggest story of that week. Wilson was on the verge of missing the cut when he took a two-stroke penalty because his caddy told another golfer in the group what club Wilson had hit on a hole, violating a rule about not giving advice. Technically it's Rule 8-1, but it's come to be known as the Mark Wilson Rule.
Comments will be moderated. Keep comments relevant to the article. Remarks containing abusive and obscene language, personal attacks of any kind or promotion will be removed and the user banned. Final decision will be at the discretion of the Taipei Times.