NBA: Streak-ending Lakers mete out Cavs' first home loss
Lamar Odom scored a season-high 28 points and Kobe Bryant added 19 as the streak-breaking Los Angeles Lakers handed the Cleveland Cavaliers its first loss at home this season at 101-91 on Sunday.
The Cavaliers came in 23-0 at Quicken Loans Arena, but were stopped by the Lakers, who ended Boston's 19-game winning streak on Christmas Day and halted a 12-game run by the Celtics earlier this week.
James finished with 16 points on just 5-of-20 shooting for Cleveland, which hadn't lost at home since Game 5 against Washington in the first round of last season's playoffs.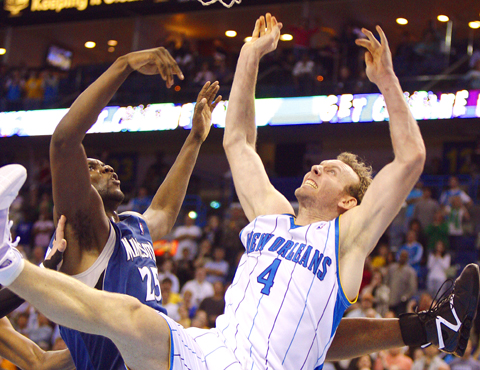 New Orleans Hornets forward Sean Marks and Minnesota Timberwolves center Al Jefferson wait for a rebound in the second half of their game in New Orleans on Sunday.
PHOTO: AP
Pau Gasol added 18 points with 12 rebounds for Los Angeles. The Lakers' trip started rocky with center Andruw Bynum injuring his knee against the Grizzlies, but it couldn't have ended any better.
Zydrunas Ilgauskas scored 22 to lead Cleveland. Mo Williams, whose All-Star snub had infuriated the Cavs, scored 19 and James finished with 12 assists and eight rebounds. It was James' first game since his apparent historic triple-double at Madison Square Garden was downgraded when the league took away one of his 10 rebounds.
SPURS 105, CELTICS 99
At Boston, Roger Mason pulled up and leaned into a 3-pointer with 20.4 seconds left and Tim Duncan scored 23 points with 13 rebounds to lead San Antonio past Boston.
Kevin Garnett scored 26 points with 12 rebounds and Paul Pierce had 19 and eight.
TRAIL BLAZERS 109, KNICKS 108
At Portland, Oregon, Brandon Roy scored at the final buzzer to give Portland a victory over New York.
Travis Outlaw made a jumper with 31.9 seconds left to pull Portland within one at 108-107 and Al Harrington missed a layup on the other end for New York. The Trail Blazers called a timeout with 4.3 seconds left before Roy took an inbound pass from Rudy Fernandez and drove for the winning layup.
Roy finished with 19 points and eight assists, while Outlaw led the Blazers with 23 points. Greg Oden had 17 points and 12 rebounds for his 15th double-double of the season. He also added a career-high six blocked shots.
MAGIC 101, NETS 84
At Orlando, Florida, Dwight Howard had 30 points and 16 rebounds to lift the Magic to a victory over New Jersey, which played without Vince Carter.
Mickael Pietrus added 17 points and Hedo Turkoglu scored 15 for the Magic.
Carter missed the game with a hyperextended right elbow.
HEAT 96, BOBCATS 92
At Miami, Dwyane Wade shook off flu-like symptoms to score 22 points and regain the NBA scoring lead, while rookie Mario Chalmers scored 16 and added a career-best 13 assists to help Miami hold off Charlotte.
Daequan Cook added 16 points and Udonis Haslem scored 14 for Miami, which shot a season-best 56 percent and won for the second time in its last six games.
D.J. Augustin scored 27 points for Charlotte, Juwan Howard added 14, while Boris Diaw and Emeka Okafor each scored 10.
WIZARDS 119, PACERS 117
At Washington, Caron Butler scored 15 straight points, including a game-winning 18-foot shot at the buzzer as Washington beat Indiana.
Butler, who missed the previous two games with the flu, scored 17 points in the fourth quarter and 35 overall as Washington overcame a 110-103 deficit with 5:08 left.
Danny Granger led Indiana with 29 points, while T.J. Ford added 23 and Troy Murphy had 18 and 10 rebounds.
HORNETS 101, TIMBERWOLVES 97
At New Orleans, Sean Marks dunked with 7.8 seconds left to cap a career-high 18-point effort as a short-handed New Orleans overcame the ejection of David West.
Rasual Butler scored 23 and Devin Brown 14 for New Orleans, which won its second straight while handing Minnesota its third-straight loss.
West was ejected late in the second for a flagrant on Mike Miller.
THUNDER 116, KINGS 113
At Oklahoma, Kevin Durant scored 39 points as Oklahoma City held off Sacramento after blowing a 19-point second-quarter lead.
Jeff Green and Nick Collison each scored 15 points and Nenad Krstic had 14 for Oklahoma City, which pulled out the win despite missing four of five free throws in the finals seconds. The Thunder have a two-game winning streak for just the third time this season.
Beno Udrich scored 29 points, and John Salmons and Kevin Martin each had 23 for the Kings.
In other games it was:
• Suns 107, Pistons 97
• Warriors 116, Jazz 96
Comments will be moderated. Keep comments relevant to the article. Remarks containing abusive and obscene language, personal attacks of any kind or promotion will be removed and the user banned. Final decision will be at the discretion of the Taipei Times.